Looking for a Used Thunderbird in your area?
CarGurus has 853 nationwide Thunderbird listings starting at $6,900.
1968 Ford Thunderbird
Overview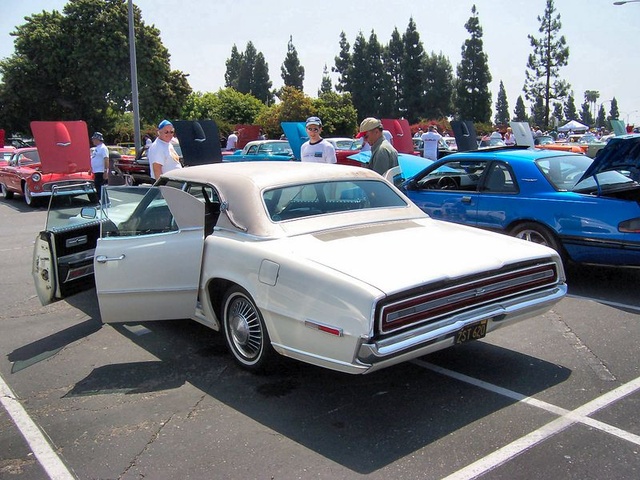 The 1968 Ford Thunderbird is a classic car, representing American luxury. The basic body style appeared in 1967. After three years, in 1970, the Tbird grew a nose and offered a hardtop version with a sloping roof line, but the rest of the body was the same. For those three years, this infamous "electric razor" style represented total American luxury. The vehicle was rear wheel drive, and weighed just under 4500 pounds.
The car came with a standard 390 cubic inch v8 engine, or the other option was the powerful 429 Thunderjet (standard equipment starting 1/1/1968). The 429 engine was a BIG BLOCK, meaning it was built to last, mine has 83,000 miles on it and it feels like its brand new. The 429 was based on the new 385 big block which was not related to FE block used by the 428 Cobra Jet, used in mustangs of that era, the Thunderbird moved pretty quickly with the 429's power, consisting of 360 horsepower and over 420 pounds of torque. All this power for this vehicle, turned out to be a pretty quick 0-60 of 9.5 seconds. Also, the 429 was designed to be more fuel efficient.
Special features of the 68 Thunderbird was the landau top, which made the car appear to be a convertible. This was the first year ford did not offer the Tbird in a convertible, so it gave an option of having the apperance of one. This was a popular option, almost as popular as the 429 engine. Another cool feature were the popup headlites. Lowbeams are the 2 far apart lights, and the high beams are all four lites. The switch for the highbeams is on the floor, near the e-brake. It's a cool feature like the horn, not in the steering wheel, but it is a metal bar that goes inbetween the center of the steering wheel and the actual steering wheel itself. it's hard to visualize, look at a picture of it lol! Some more cool features are it does not have a passanger mirror, which people get a kick out of lol. Some other features are the side lights near the front bumper, they were used to if a tbird was edging out of a corner, people could see it and not hit it.
What's your take on the 1968 Ford Thunderbird?
Have you driven a 1968 Ford Thunderbird?
Cars compared to 1968 Ford Thunderbird
Looking for a Used Thunderbird in your area?
CarGurus has 853 nationwide Thunderbird listings starting at $6,900.
Ford Thunderbird Questions
Trims
Hardtop Coupe RWD
Landau Hardtop Coupe RWD
Landau Sedan RWD
Quick Links