Toyota Dealers near Raleigh, NC
Showing Toyota dealers within 50 mi of Raleigh, NC
Authorized Toyota Dealers
8005 Capital Blvd.
Raleigh, NC 27616
(Closed Now) 12:00 PM - 5:00 PM
"I wanted the car..They showed it and sold it before they told me it would be ready."
9101 Glenwood Ave
Raleigh, NC 27617
(Closed Now) 12:00 PM - 5:00 PM
"I reached out on 4-3-18 & they were not responsive until 4 days later. Well I had already purchased a new truck by then "
1210 Laura Village Rd
Apex, NC 27523
(Closed Now) 12:00 PM - 6:00 PM
"The dealership was ready for us when we arrived. Although we did not buy the car we were initially interested in, we did buy another similar car. Our sales rep and finance rep were friendly and knowledgable. Overall, a good car buying experience!"
4516 Durham Chapel Hill Blvd
Durham, NC 27707
(Closed Now) 8:00 AM - 7:00 PM
"They we're very thorough and prompt. Even though we were not able to seal the deal. I was too far away on the value of my vehicle compared to their's. "
3321 NC Highway 87 S
Sanford, NC 27332
(Closed Now) 12:30 PM - 6:30 PM

"They were very prompt helpful& will be there when the right car comes up!"
3712 Raleigh Road Parkway
Wilson, NC 27896
"Alton, has been very good about working with my needs and offering alternative choices. He has been very good about staying in contact with me and arranging an opportunity for us to get together."
205 Toyota Lane
Henderson, NC 27537

"Good respond and service"
943 N Wesleyan Blvd
Rocky Mount, NC 27804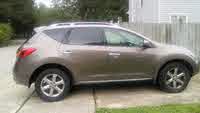 "Very bad. Said the vehicle was available. Made me drive up to an hour and the vehicle was available. Eventually sold the vehicle to another person after making me wait for it to be returned after 4 days. Not even a phone call to tell me vehicle has been sold. I drove there twice. Bad business. Will Never recommend them to anyone."
301 N. Oak Forest Road
Goldsboro, NC 27534
"Genera manager left us sitting after our last offer for a half hour with no intention of returning"
2521 Noblin Road
Raleigh, NC 27604
Displaying dealers 1 - 10 of 10