Ford dealerships near me (Reno, NV)
2 dealerships within 50 mi
Corwin Ford Reno
|
View Inventory
3600 Kietzke Lane, Reno, NV 89502 (3 mi)
The dealership responded but we decided we wanted a 2021 Ram Truck instead of a used one.

Sales hours
Sunday: 10:00 AM - 7:00 PM
Monday: 8:30 AM - 8:00 PM
Tuesday: 8:30 AM - 8:00 PM
Wednesday: 8:30 AM - 8:00 PM
Thursday: 8:30 AM - 8:00 PM
Friday: 8:30 AM - 8:00 PM
Saturday: 8:30 AM - 8:00 PM
Capital Ford
|
View Inventory
3660 South Carson Street, Carson City, NV 89701 (27 mi)
Nate the internet sales manager and his team were amazing. I was contacted within 10 minutes of my inquiry, was pre approved with Capital One thru CarGurus. Vehicle was exactly as described. Capital Ford had me complete application by phone and I was fully approved within an hour. Norm even came to my house to pick me up to go sign the docs. They practiced COVID guidelines the entire time. They detailed my car before I left. The best experience ever buying a car. Nate, Norm in financing. Tom and Preston - great team!! Highly recommend!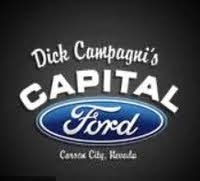 Sales hours
Sunday: 10:00 AM - 6:00 PM
Monday: 8:00 AM - 8:00 PM
Tuesday: 8:00 AM - 8:00 PM
Wednesday: 8:00 AM - 8:00 PM
Thursday: 8:00 AM - 8:00 PM
Friday: 8:00 AM - 8:00 PM
Saturday: 9:00 AM - 8:00 PM
Displaying dealers 1 - 2 of 2