Volkswagen Phaeton
Model Overview
Volkswagen Phaeton Cars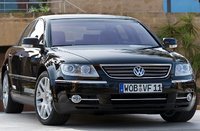 2006 Volkswagen Phaeton reviews: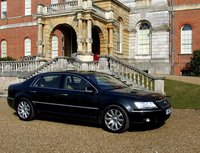 2005 Volkswagen Phaeton reviews:





2004 Volkswagen Phaeton reviews:





Questions
Can't Get In Car With Remote Or Door What Is The Problem
I Am A Mailman Does It Make Sense To Buy 2006 Volks Phaetom (love It)
I just learned about the Bentley connection I am 75 years old and never could own anything like it. My first new car was a 1969 Beetle in Honolulu when in Air Force work at Post Office own 2 houses...
My Volkswagen Giya Will Not Work And Its Seems Like Water Got Into It From ...
What Is The Good And Bad About This Car
My Vw Phaeton Boot Will Not Open With The Key Or The Switch Inside The Driv...
My VW Phaeton Boot will not open with either the Key or the switch inside the Drivers Door, so how can I get into the boot as I have my golf clubs etc in it ? Thanks Elwyn
Volkswagen Phaeton
Overview
For years, Volkswagen was known as a manufacturer of what were essentially compact cars --- the Beetle, the Golf, the Jetta, and similar cars. All that changed with the introduction in 2004 of the Phaeton, which was the German automaker's entry into the luxury sedan marketplace. And, in fact, the Phaeton shares a platform with models from Audi and Bentley, testifying to its luxury pedigree.
The Phaeton was a available with a choice of two engines -- a 335-hp, 3.2-liter V8 engine or a 420-hp, 6.0-liter W12 engine, which was created by combining two V6 engines. The V8 was linked to a six-speed automatic transmission, while the W12 came with a five-speed automatic with the Tiptronic feature that enabled drivers to manually shift gears, depending on driving conditions.
As expected for a luxury vehicle, the Phaeton came with a long list of standard features, many of which were innovations unique to this vehicle. The 4-Zone Climatronic climate control system, for example, enabled the driver and passenger in the front and both passengers in the rear to set their own temperature and air-flow preferences. The V8 Phaeton came with 12-way power-adjustable heated seats, while the W12 model's seats were adjustable in 18 different ways, including height, angle, headrest, lumbar, upper and lower body.
Of course, all the expected standard features were included, such as power windows, brakes, and door locks, anti-lock brakes, a full range of airbags, keyless entry, cruise control, an anti-theft alarm system, and four-wheel anti-lock brakes. Also included were "eagle eye" xenon headlights with headlamp washers, a navigation system, an electrochromatic rear-view mirror, a self-leveling suspension, power retractable mirrors, double-pane safety glass, and 18-inch wheels.
While drivers had no doubt about the Phaeton's power and luxury appointments, some were uncertain about buying a pricey high-end car from a manufacturer of popular compact cars. Perhaps because of that fact, sales were slow in the U.S., and Volkswagen decided to cease sales of the Phaeton in the U.S. after the 2006 model year.