Mazda MAZDASPEED MX-5 Miata
Model Overview
Mazda MAZDASPEED MX-5 Miata Cars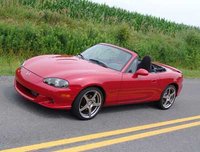 2005 Mazda MAZDASPEED MX-5 Miata
2005 Mazda MAZDASPEED MX-5 Miata reviews: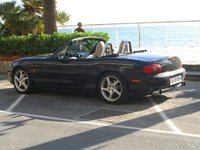 2004 Mazda MAZDASPEED MX-5 Miata
2004 Mazda MAZDASPEED MX-5 Miata reviews:
Questions
I Was Not Contacted By The Dealer For The Car I Was Interested In.
I used your site for the initial contact and was told the dealer would contact me. That never happened. The car in in BC and I am in NS but willing to either travel to drive the car back or arrange to...
I Sent A Request To Buy A Car No Reply
I sent a request for info to buy a car but no reply why
Modified Cars
I have lots of goodies added to my MazdaSpeed Miata 2005 with a wide body kit from an rx7 but fitted to the car. I have mods such as tuning roll bar blow off valve exhaust racing cooling system and...
My Car Is For Sale On Auto Trader And Craigslist. It Is A True Creampuff (8...
Wy Won't My 1997 Mazda Miata Start?
I just changed the O2 sensors and it started and drove it around. Then I disconnected the batter to reset the CEL and some sparks flew. Whe I went to start the engine I get clicking sounds, dash ligh...
Mazda MAZDASPEED MX-5 Miata
Overview
The MAZDASPEED MX-5 Miata was the second production car available in the U.S. with the special sports package created by MAZDASPEED, Mazda's in-house motorsports and specialty-car tuning division. The first was the MAZDASPEED Protege, which was available as a limited edition vehicle in 2003. The MAZDASPEED MX-5 Miata was also a limited edition, based on Mazda's popular two-seat roadster.
In creating the MAZDASPEED MX-5 Miata, the automaker focused on five areas--the Miata's performance, handling, appearance, driver-vehicle connectivity, and value. As far as performance was concerned, the MAZDASPEED MX-5 Miata received a 25 percent power boost over the standard Miata, thanks to a turbocharged and intercooled 1.8-liter four-cylinder engine that pumped out 178 horsepower. The standard transmission was a six-speed manual, with refined shift points and a strengthened clutch.
Helping to improve the Miata's handling were a lower ride height, beefed-up springs and dampers, a modified double-wishbone suspension, and rack-and-pinion steering. Outside, the vehicle was available only in two colors, which were Velocity Red and Titanium Grey.
Standard features included black cloth-trimmed upholstery, power windows, power door locks, dual second-generation airbags, a black vinyl convertible top, a glass rear window, anti-lock braking system, 17-inch alloy wheels, and a Bose six-speaker audio system with CD. A Grand Touring package added black leather bucket seats and a black cloth soft top, among other features.
Mazda MAZDASPEED MX-5 Miata Experts
View All
Find great deals from top-rated dealersTM
Search