Jaguar S-TYPE
Model Overview
Used Jaguar S-TYPE
Jaguar S-TYPE Questions
How To Reset E Brake Module On 2005 Jaguar S Type
lights left on battery went dead. aaa jumped start. since then parking brake fault light on.
Low Side Air Conditioner Port
does not seem to blow cold and maybe its age has something to do with it for it is a 2003
How Do I Solve This Type Of Electrical Problem?
2002 Jaguar S-type, 62,000 mi. So far I have had my jag in the shop five times. The car runs great, but every 10-14 days the battery goes completely dead. So far, the jag dealership can't figure ...
Engine Light On And Car Shaking
Yesterday My and my kids went shopping car was running fine got out of store got in car turned it on and it started shaking and the engine light came on . Does anyone know what it could be (only ha...
Older Jaguar S-TYPE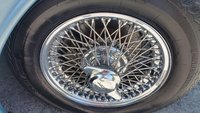 Jaguar S-TYPE
Overview
The new Jaguar S-Type was introduced in 2000 as a lower priced mid-size alternative to the flagship XJ. The original S-Type debuted in the 1960s, and the 21st century reinvention had many similar styling attributes. The oval grille is the car's most prominent retro feature.
The S-Type was the first engineering collaboration of sorts between Jaguar and its new owner, Ford. The S-Type shared the Ford DEW platform with the Lincoln LS.
S-Type production will end after 2007, and the new XF model is expected as the replacement. Highlights during the eight-year run include the addition of the supercharged S-Type R in 2003, and a light face lift in 2004.