Jaguar S-TYPE
Model Overview
Used Jaguar S-TYPE
Jaguar S-TYPE Questions
Timing Belt Replacement
Can anyone tell me what the suggested mileage is for timing belt to be replaced?
What Is The S Button For In The Jaguar Stype And What Are Some Common Probl...
I have a 2000 s type and its having issues with. Going through tires.The suspension is squeaking and when it rains i am unable to travel at high speeds. Also is it safe to drive long distances wi...
How Do I Deactivate Security System On My 2002 Jaguar S Type
2005 S-type Code P2096
Change the oxygen sensor and catalytic and still
Brake Fault Engine System Fault Light Comes Om
My 2004 jaguar goes on limp mode and lights say brake fault engine system fault
Older Jaguar S-TYPE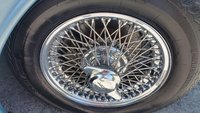 Jaguar S-TYPE
Overview
The new Jaguar S-Type was introduced in 2000 as a lower priced mid-size alternative to the flagship XJ. The original S-Type debuted in the 1960s, and the 21st century reinvention had many similar styling attributes. The oval grille is the car's most prominent retro feature.
The S-Type was the first engineering collaboration of sorts between Jaguar and its new owner, Ford. The S-Type shared the Ford DEW platform with the Lincoln LS.
S-Type production will end after 2007, and the new XF model is expected as the replacement. Highlights during the eight-year run include the addition of the supercharged S-Type R in 2003, and a light face lift in 2004.