Jaguar S-TYPE
Model Overview
Used Jaguar S-TYPE
Jaguar S-TYPE Questions
The Headlights Wont Come On
Entry Ignition Key
Took a chance and purchased a 2000 Jaguar S Type from auction with no key, or title. Can I get a key from manufacturer. What is needed?
I Replaced Fuel Pump On 03 Jaguar And Still Have No Pressure
After replacing the fuel pump on 2003 jaguar s type 3.0 i still have no pressure .any help?
Cranks But Won't Start.
I'm at a loss here. My 2000 jag s-type, 3.0 cranks but won't start. It's been sitting for over 6 mos in my garage while I was away on army reserve duty. Battery was dead so I charged it but still wo...
How Do I Get Into My Boot To Change My Battery As It Had Died
The battery is dead and i cannot get into boot without pressing the open boot button inside the car it has no power to work it
Older Jaguar S-TYPE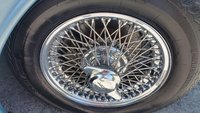 Jaguar S-TYPE
Overview
The new Jaguar S-Type was introduced in 2000 as a lower priced mid-size alternative to the flagship XJ. The original S-Type debuted in the 1960s, and the 21st century reinvention had many similar styling attributes. The oval grille is the car's most prominent retro feature.
The S-Type was the first engineering collaboration of sorts between Jaguar and its new owner, Ford. The S-Type shared the Ford DEW platform with the Lincoln LS.
S-Type production will end after 2007, and the new XF model is expected as the replacement. Highlights during the eight-year run include the addition of the supercharged S-Type R in 2003, and a light face lift in 2004.