Jaguar S-TYPE
Model Overview
Used Jaguar S-TYPE
Jaguar S-TYPE Questions
Opening Car
My car will not open when I press key,have renewed battery in key switch but still no joy.Can someone advise please.
Brakes Fail On Startup
As I said brakes fail s soon as I pull away. No braking pressure at all. Then they come back after a minute
Fuel Pump Relay
I went to NAPA and O'Reilly's and neither one of them have a listing for a fuel pump relay for a Jaguar S-Type. They tried to cross reference the relay using the numbers on the one I brought in from m...
Battery Ground
Is this car positively or negatively ground
Climate Control System
Have a 2003 jaguar s type. Had my mechanic check the system when at 70 degrees temperature was blowing cold air. Would set temperature to 78 degrees and it would blow hot for a short time then cold ...
Older Jaguar S-TYPE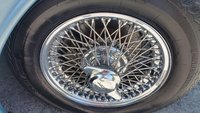 Jaguar S-TYPE
Overview
The new Jaguar S-Type was introduced in 2000 as a lower priced mid-size alternative to the flagship XJ. The original S-Type debuted in the 1960s, and the 21st century reinvention had many similar styling attributes. The oval grille is the car's most prominent retro feature.
The S-Type was the first engineering collaboration of sorts between Jaguar and its new owner, Ford. The S-Type shared the Ford DEW platform with the Lincoln LS.
S-Type production will end after 2007, and the new XF model is expected as the replacement. Highlights during the eight-year run include the addition of the supercharged S-Type R in 2003, and a light face lift in 2004.