Jaguar S-TYPE
Model Overview
Used Jaguar S-TYPE
Jaguar S-TYPE Questions
How Can I Renew My Add With Out Starting Over
Where Is The Fuse Located For My Dashboard Lights On A Jaguar S-type 2003
How Do I Replace Alternater
fault alternater
How To Reset E Brake Module On 2005 Jaguar S Type
lights left on battery went dead. aaa jumped start. since then parking brake fault light on.
Opinion
I am contemplating purchasing one of these used. I do not want to be in the shop all the time. Miles on the car are 89k. It is a gorgeous car but I also need to be practicle. Pass or go for it?
Older Jaguar S-TYPE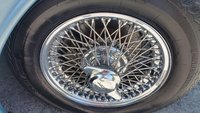 Jaguar S-TYPE
Overview
The new Jaguar S-Type was introduced in 2000 as a lower priced mid-size alternative to the flagship XJ. The original S-Type debuted in the 1960s, and the 21st century reinvention had many similar styling attributes. The oval grille is the car's most prominent retro feature.
The S-Type was the first engineering collaboration of sorts between Jaguar and its new owner, Ford. The S-Type shared the Ford DEW platform with the Lincoln LS.
S-Type production will end after 2007, and the new XF model is expected as the replacement. Highlights during the eight-year run include the addition of the supercharged S-Type R in 2003, and a light face lift in 2004.