Hyundai XG350
Model Overview
Used Hyundai XG350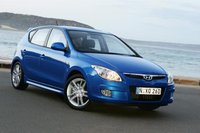 Used 2005 Hyundai XG350 For Sale
| | |
| --- | --- |
| | 3 GOOD Deals |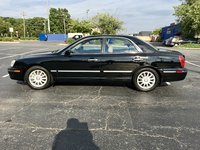 Hyundai XG350 Questions
Variable Assist Power Steering
My variable assist power steering pump on my hyundai XG350 locked up,. My question is does it HAVE to be variable assist i put back? Or can i use a pump without the variable assist on it?
Fuel Problem
My car is pouring gas out the Evac system and will not idle what could cause this
Speedometer Not Working I Replaced Everything It Specified After Replacing...
Where Is Freeze Plug Located
Car is leaking water
'02 Hyundai Xg350 Starter Will Not Actuate
'02 XG350 will not turn over. The starter spins when crossed over, but when using the key, it will not activate starter. Has new battery, new starter & solenoid and new ignition switch. Friend g...
Older Hyundai XG350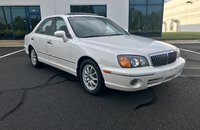 2003 Hyundai XG350 reviews: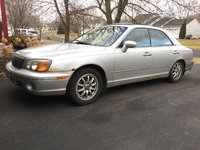 2002 Hyundai XG350 reviews:





Hyundai XG350
Overview
And you thought Hyundai was just a good college-grad car. As Hyundai's reputation and respectability grew, so did its cars and standard features. The midsize Hyundai XG350 represented the Korean automaker's foray into luxury sedans, offering many of the same features (if not more) available on the more highbrow Mercedes and BMWs of the world. It first appeared on the scene as the XG300, when it had a 192-hp, 3.0-liter Sigma V6, but in 2002 changed its name to the XG350, with an engine upgrade to a 194-hp, 3.5-liter V6.
What made the XG350 stand out for consumers was its ability to offer first-class creature comforts at economy-class prices, coupled with Hyundai's innovative 10-year, 100,000-mile warranty. Comparable in size to the Maxima, the XG350 came as either a base model or more luxurious L. For a lot less than its German counterparts, the XG350 packed in leather seats, power front seats, a CD player, and front and rear climate controls. Moving up to the L added a sunroof, heated seats, and memory settings. There were few changes to the front-wheel-drive sedan over the years until its demise in 2005, the most significant of which was the addition of a CD changer. With plenty of legroom and actually more headroom than its competition, the XG350 seated five passengers comfortably in two roomy rows, with an average-sized trunk.
Consumers were impressed with the XG350's luxury trappings, but its smooth performance and V6 power were equally surprising. By bringing a bit of upscale comfort to the masses, Hyundai expanded its customer base, added more cachet to its name, and started to give the bigger boys something to think about. In 2006, the XG350 name was dropped and the sedan was repackaged as the Hyundai Azera.