Hyundai XG300
Model Overview
Hyundai XG300 Cars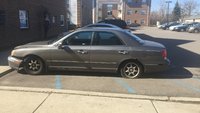 2001 Hyundai XG300 reviews:





Questions
My Car Wouldn't Accelerate, Cel Came On
My car started having some issues 5 days ago. The first sign of trouble was a rattling noise coming from the engine. It sounded like an old diesel engine. The frequency of the rattle would increase ...
Harmonic Balancer Replacement 2001 Hyundia Xg300
harmonic balancer replacement labor cost
Radio Powers On But I Get No Sound
i just bought a dual radio i have it wired up and set the radio turns on but i have no sound
Fuel
Car have been sitting with no gaafor three years do I need a fuel injection boost to stop it from stalling
Hyundai Xg30 Brake Problems
I have an xg30 reg 2000, i have an intermittent problem with the front offside brakes binding on after about 7-8 miles, it's had new pads,discs and a flexi hose, the caliper pistons have been cleaned ...