Hyundai Tiburon
Model Overview
Used Hyundai Tiburon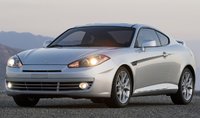 Used 2008 Hyundai Tiburon For Sale
| | |
| --- | --- |
| | 14 GOOD Deals |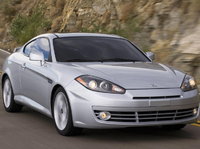 Used 2007 Hyundai Tiburon For Sale
| | |
| --- | --- |
| | 6 GOOD Deals |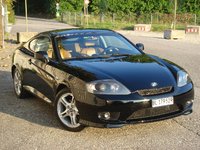 Used 2006 Hyundai Tiburon For Sale
| | |
| --- | --- |
| | 6 GOOD Deals |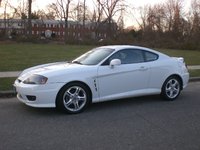 Used 2005 Hyundai Tiburon For Sale
| | |
| --- | --- |
| | 5 GOOD Deals |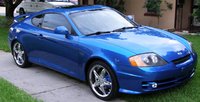 Used 2004 Hyundai Tiburon For Sale
| | |
| --- | --- |
| | 2 GREAT Deals |
Hyundai Tiburon Questions
My 2001 Hyundai Tiburon Won't Start For Me. Every Time I Take It To The Hyu...
...So I take it home and then a few days later same thing happens, it cranks and cranks but won't fire. So I let it sit for a day or two, but nothing. I get it towed to Hyundai dealer, won't star...
Thought It Ran Out Of Gas Put 4 Gallons In It Now Cranks Over But Won't Sta...
I thought I ran out of gas put 4 gallons and it turns over but won't start in the past had battery issues
Round Low On Fuel Shut It Off Next Day Cranks Over But Won't Start
I parked my car gas gauges on the next dare try to start it turns over but won't start
Hyundai Tiburon Sometimes Doesnt Turn On
For some reason, my 2003 Hyundai Tiburon doesn't turn on. Now more frequently (used to be when there wasn't heat) than before. Sometimes it turns on sometimes it doesn't can someone give me the solu...
Can I Sand Down My Spoiler And Paint It ?
the paint on my spoiler is peeling off. I want to sand it and paint it like a diy thing
Older Hyundai Tiburon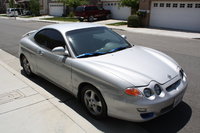 2001 Hyundai Tiburon reviews: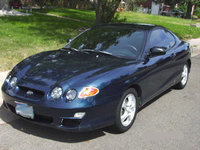 2000 Hyundai Tiburon reviews: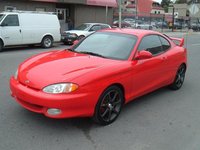 1999 Hyundai Tiburon reviews: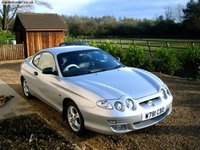 1998 Hyundai Tiburon reviews: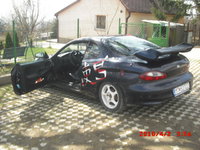 1997 Hyundai Tiburon reviews:





Hyundai Tiburon
Overview
In 1997, Korea-based automaker Hyundai unleashed a shark upon the country's highways and byways, in the form of the new Tiburon sport coupe. Deriving its name from the Spanish word for shark, the Tiburon shared a platform with the Elantra, and was designed to fill the spot of low-priced coupe in Hyundai's lineup.
Although it offers drivers sporty styling and plenty of standard features, many consider the Tiburon to be underpowered. That was in evidence in the Tiburon's first year, when a 130-horsepower, 1.8-liter four-cylinder engine was dropped under the hood of the base model, although a better-equipped FX version received a slightly more powerful 2.0-liter four-cylinder that produced 140 horsepower.
The Tiburon received some styling upgrades for the 2000 model year, and in 2003 Hyundai offered more power in the form of an optional 170-horspower, 2.7-liter V6 engine, which powered the new Tiburon GT model.
The Tiburon received additional exterior and interior upgrades for 2003 and 2004, when a GT V6 Special Edition was offered. Styling changes continued in 2005, when Hyundai introduced the Tiburon SE, which was powered by a 172-horsepower V6 and received sport-tuning and a number of upgraded standard features.
Anti-lock brakes became standard equipment for all models in 2006, when the lineup was expanded to its present configuration, consisting of four trim packages: the entry-level GS, the mid-level GT, the high-end GT Limited, and the sport-tuned SE.
For 2007, the Tiburon again received a facelift, with a new look for the front and rear end as well as new bumpers, hood, headlights, taillights, and chrome-tipped dual exhaust pipes, all of which gave the Tiburon a sleeker, more contemporary look.
The entry-level 2007 Tiburon GS was equipped with a 2.0-liter four-cylinder engine that produced 138 horsepower, while the other three trims received a 2.7-liter, double-overhead-cam V6 that produced 172 horsepower.
Standard features for the 2007 Tiburon included air conditioning, power windows and door locks, heated exterior mirrors, a remote keyless entry system, fog lights, dual front and side airbags, anti-lock brakes, and a rear spoiler. The GS came with 16-inch wheels, while the other trims were equipped with 17-inch wheels.