Dodge Neon SRT-4
Model Overview
Dodge Neon SRT-4 Cars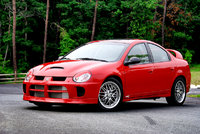 2005 Dodge Neon SRT-4 reviews: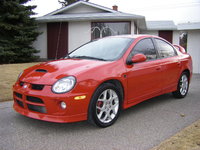 2004 Dodge Neon SRT-4 reviews: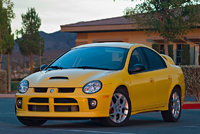 2003 Dodge Neon SRT-4 reviews:
Questions
Srt 4 Turbo I Dgaklatikn
Put in a new and bigger turbo but the stock had vacuum lines running to it that the new turbo does not have ports for these vacuum lines
Srt4 Neon How To Get Ahold Of My Oil Filter
Pro's/cons?
I am most likely going to be getting a 2004 srt-4. I was wondering if there is any problems that i should be expecting down the road...thats if there is any? and if you have ne tips or anything like ...
I Am Interested In Buying A Dodge Neon Srt? Are These Cars Reliable And Are...
Srt 4 Neon Problems
I've got compression new injectors but I'm not getting fuel to my forth cylinder it shows no codes when scanned and the piston top has no marking or scaring I'm lost any ideas
Dodge Neon SRT-4
Overview
First introduced as a concept car in 2000, the Dodge Neon SRT-4 tore onto the market in 2003, a sleek powerhorse racer housed within a four-door subcompact body. SRT stands for Strip, Road, and Track, (former Street and Racing Technology) and the 4 indicates the car's four cylinders. The biggest selling point for this street racer is not just that it's smoking off the block, but extremely affordable for the average enthusiast.
At 215-hp (later 230-hp), the Neon SRT-4 beats all of its competition and has won quite a few races on the SCCA stock car circuit. It was named the car of the year by Sport Compact Car Magazine. Dodge claims it is its second-fastest car, next to the Viper, and this is probably true. Equipped with a sports-tuned suspension, dual exhaust, ABS brakes, and 17-inch tuned wheels, it is easy to handle, agile, balanced, and smooth -- all the best traits of the regular Neon.
The sporty exterior, highlighted by an oversized spoiler, hood scoop, body-colored moldings, and low-hanging front disguise the fact that inside it is still a roomy Neon. Seating for four, lots of legroom upfront, good headroom, and split-fold rear seats mean this speedster is also practical as a family car.
And the price is right. There is very little not to like about this car, right down to its tuning potential. It lacks some options (no cruise control, power rear window), but if you think you're buying this car for anything but speed, you are in denial. The supportive race-car style front seats keep you snug when zipping around curves, but tend to be uncomfortable for long rides, and are hard to access due to high side bolsters.