Chevrolet Express
Model Overview
New Chevrolet Express

Used Chevrolet Express
Chevrolet Express Questions
Rear Heater Not Working 2005 Chevy Express Van
Control valve for rear heater has constant vacuum keeping it closed. I remove the vacuum hose and I get heat to the rear heater. What can cause it to have constant vacuum? The front heater is worki...
Where Is The Crankshaft Position Sensor Located On A 2008 Chevrolet Express...
How Does Rear Sofa Bench Seat Mount On A 1996 Xhevy Express.are Floor Mount...
01 Express Stalling When Starts
01 express 2500. I start up in the morning it idles rough to were it backfires when given gas, then stalls. If i put it into neutral starts great. Lately its been stalling when i slow down. RECENT R...
Transmission
Will a 4l60e from a chevy silverado 1997 fit a 1997 chevy express 1500 van
Older Chevrolet Express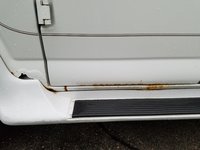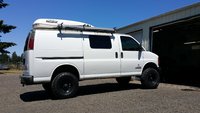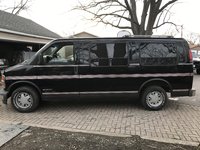 Chevrolet Express
Overview
The Chevrolet Van has existed in some form since the 1961 "Van," which was built on a Corvair platform. After decades of relatively unchanged incarnations, ending with the 1995 Sportvan, in 1996 the Van got a major overhaul and a new name -- the Chevrolet Express.
Capable of being outfitted as a cargo van for work purposes, or a passenger van for fleet and shuttle services, the new Chevrolet Express came in three categories, based on weight. These were the Express 1500, 2500, and 3500. The new version for 1996 added more inches to both the regular and extended wheelbases (135 and 155 inches, respectively). The extended wheelbase was offered only on the 2500 and 3500 models. The new Express also featured wider-swinging rear doors that opened 180 degrees, for easier loading and unloading.
The Chevrolet Express is closely related to the GMC Savana, and both compete with the market-leading Ford Econoline. The passenger van can hold up to 15 people in the extended version, and an optional driver-side 60/40 split door can be added alongside the one on the passenger side. The first Express vans came with a variety of V6 and V8 engines, dual front airbags, and ABS brakes. A 2003 redesign added an AWD option on the 1500 and a more rigid frame.
Current models come in a basic LS trim and a more comfort and convenience-oriented LT trim that offers power features and rear climate control. In 2007, the 2500 model was dropped along with the V6 engines, leaving only three V8 engines to choose from, including a flexible fuel version of a new 5.3-liter, 295-hp V8.
The Chevrolet Express has a bit sleeker, more updated look than the Econoline (as sleek as a large passenger van can get) and the power upgrade, AWD option and standard ABS are all big selling points. In 2007, the NHTSA gave the Express a five-star frontal impact rating. Gas mileage is poor and interior styling won't be featured on Martha Stewart, but with few van options out there, both the Express and its sister Savana have captured nearly 50% of the market segment.