Buick Terraza
Model Overview
Used Buick Terraza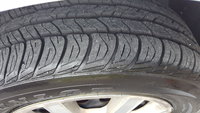 Buick Terraza Questions
Car
My 2005 buick terraza want start they said it was my fuel pump got a new and it still won't start
What Do I Take Off In Order To Get The Battery Out Of My 2005 Buick Terraza...
There is a brace and a fuze box over the battery. Do I take those off to get the battery out?
Fuel Pump
My fuel pump went out supposedly, I had it fixed 4 months later it went out again I took it to a mechanic who charged me 601$ for repairs, Recipt said fuel pump modual $350 , I took it home then ...
I Have A 2005 Buick Terraza And The Alarm Went Off When Trying To Unlock Th...
Alarm Going Off, Won't Turn Off
2006 Terraza alarm going off, key fob doesn't work. HELP!
Buick Terraza
Overview
Though technically a minivan (and Buick's first one at that), the Buick Terraza is being dubbed a sport van, in part to lend it some of the cool SUV cachet to cover up the suburban mom image so closely associated with U.S. minivans. Introduced in 2005, Buick waited a while to enter a market that first appeared back in the mid-1980s, and as a result, sales have been disappointing.
The Terraza features SUV like styling in the front, with a boxy fascia and high hood, but keeps convenient minivan features like a low step-in height. It is well equipped, even on its base model, but carries along with it a much higher price tag than better outfitted competitors. It was initially offered in both front and all-wheel drive, though the AWD was dropped for the 2007 year.
With seating for seven in three rows, the Terraza offers the now standard dual sliding doors. Second and third row seats both fold flat and can be removed, though owners have reported that removal is cumbersome and heavy. OnStar, MP3 player, cruise control, keyless entry, and a trip computer are all standard. More power features and conveniences, such as rear air conditioning and parking assist get added on as you move up the line. Though ABS, traction, and stability control are all standard, side airbags remain surprisingly optional.
Now that American family tastes are changing from the traditional minivan to the sportier and more car-like crossover SUVs, which are really just modern station wagons, the minivan market seems to be fading away. The Terraza probably came onto the scene too late to make any impression. 2008 will be the last year for Buick's experiment, and the Terraza will be replaced by the crossover Enclave.