Audi TT RS
Model Overview
New Audi TT RS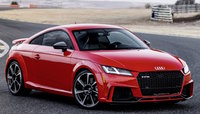 Audi TT RS Questions
Do You Do Inhouse Financing?
Do I need to borrow money elsewhere?
2004 Audi Tt
My car sometimes has hiccup when I'm driving. Recently I was going 55 miles per hour and the car has a BIG hiccup. Then the engine light came on. The code is p0411. Any suggestions?
Older Audi TT RS