Looking for a Used XF Sportbrake in your area?
CarGurus has 16 nationwide XF Sportbrake listings starting at $40,848.
2018 Jaguar XF Sportbrake
Test Drive Review
Jaguar's XF Sportbrake is a reminder that you don't need a crossover to get versatility, and you can have a heck of a time driving it, too.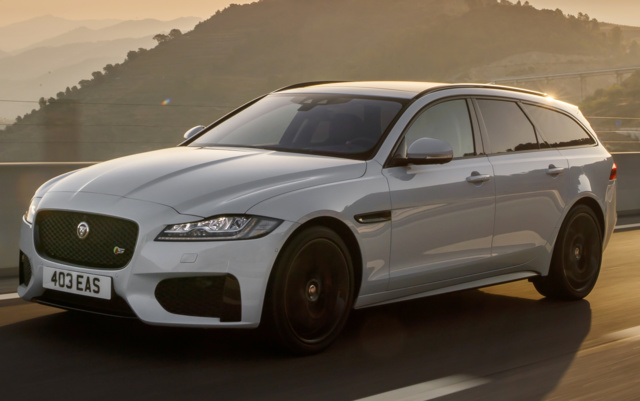 In the American automotive world, a "forbidden fruit" is any car sold on foreign shores that isn't sold here. Some of the best examples are the (pre-R35) Nissan Skyline GT-R, most versions of the Land Rover Defender, certain hot hatchbacks, and entire genres like Australia's "utes" (car-based pickup trucks). One of the most elusive and maddening of these forbidden fruits is the performance/luxury wagon.
What's most maddening is that these vehicles have been sold here in the past. Scour classifieds long enough, and you'll find the rare BMW, Audi, or Mercedes-Benz wagon, but the latest versions, like the BMW 5 Series Touring and Audi A6 Avant, are not sold here.
With that in mind, it's refreshing to see a vehicle like the 2018 Jaguar XF Sportbrake. This is a wagon version of an existing midsize performance/luxury sedan, and Jaguar could have easily made this a Europe-only vehicle.
But Jaguar elected to bring the Sportbrake here, which is a bold move. Why? Because wagons make up less than 2% of the new-car market, and that has been basically flat for the last 8 to 9 years. In that time, the crossover market has exploded. People flock to the confidence inspired by the raised ride height and soft ride of a crossover, despite the fact that many wagons offer as much (if not more) cargo space as similarly priced crossovers.
And despite all this information, Jaguar still brought a wagon to the U.S. market. Why would Jaguar make such a move? Just because it can?
The Jaguar XF Sportbrake is actually the first wagon Jaguar has offered in the United States since it parted ways with Ford. With everyone—even Jaguar—moving toward crossovers and SUVs, it's possible that Jaguar is so confident in its standing with those burgeoning markets that it can offer a niche vehicle like the Sportbrake to set itself apart with a dash of boutique-automaker behavior while strengthening its core of crossovers.
Whatever the motivation, drivers that know and appreciate the value of performance wagons know they offer the best combination of practicality and driving dynamics.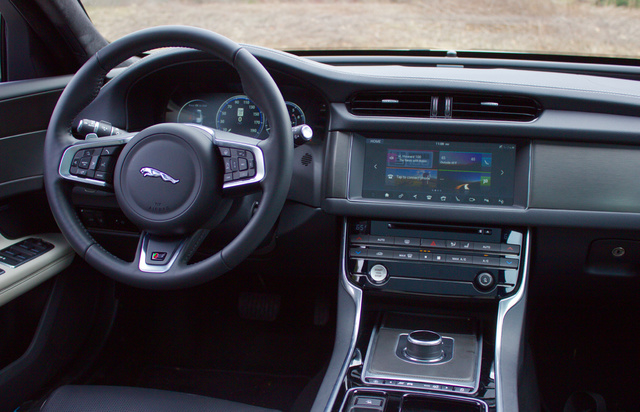 The Jaguar XF Sportbrake is destined to catch the eye. It's hard to miss such a long roofline, not to mention its even longer beltline, which carries all the way from the headlights, up through the fenders, finishing at the base of the rear quarter-windows.
This is not a traditional station wagon and has a more aggressively raked rear window—hence the Sportbrake name. A note on that naming convention: The "brake" in sportbrake does not come from its red performance brake calipers. It comes from the term "shooting brake," which originated in early 19th-century Britain. The original shooting brakes were horse-drawn wagons used to take hunting parties into the woods and carry their gear. The term evolved to mean two-door wagons, which one could drive briskly on UK back roads out to the estate—with hunting gear in the back, of course.
Some station wagons have also earned the "brake" or "shooting brake" label, and Jaguar chose to use this for its XF wagon (a two-door wagon version of the XF would simply be too niche).
With the history lesson out of the way, the XF sedan is a thoroughly attractive car, but as a wagon with a longer profile, the results are much more dramatic. In the rear, the Sportbrake features headlights that take inspiration from the Jaguar F-TYPE sports car.
The Sportbrake currently comes as the S trim, which features all-wheel drive (AWD) and one of the more potent Jaguar engine offerings. The XF sedan has lower trim levels and less-powerful engines available. It's possible that future versions of the Sportbrake may come less well-equipped for a lower price, but for now, it's just the S. And that's a good thing, as it comes standard with 20-inch wheels wrapped in performance tires. It also comes with rain-sensing wipers, a gesture-controlled tailgate, tailgate spoiler, and S-trim front bumper, rear valance, and side sills. It makes for one rakish wagon.
The XF Sportbrake features a cabin that's as eye-catching as the exterior. It features crisp lines and high-contrast black-and-white upholstery. It manages to be welcoming while still conveying modern performance and technology.
This is something Audi and BMW have both struggled with in their interiors—the technology is there, but they lack the warmth a luxury car should have. Right now, this is something Mercedes-Benz is accomplishing very well—and that is one of the few brands with better interiors than Jaguar right now.
When you start the Sportbrake, a rotary shifter rises from the center console, the dash vents open from their closed position, and the fully digital 12.3-inch instrument panel and touchscreen come to life. An 8-inch touchscreen is standard equipment, but our test vehicle had the Technology Package, which adds a larger 10-inch screen, navigation, a Wi-Fi hotspot, and a Meridian premium sound system.
Standard features on the XF Sportbrake include a massive panoramic sunroof (a feature you can't miss), leather seating with "S" embossed sport-style front bucket seats, Bluetooth connectivity, remote keyless entry with push-button start, and a 3-month complimentary subscription to SiriusXM satellite radio.
Our car also featured the available Comfort & Convenience Package, which added heated and cooled front seats, heated rear seats, and soft-close doors, so we didn't need need to slam them.
You can also get the Sportbrake as a "First Edition." That features everything from the S, but adds a Wi-Fi hotspot, upgraded Meridian sound system, the larger navigation screen, and unique 19-inch "Style 5035" alloy wheels. This First Edition also features Jaguar's Activity Key (a smart wristband that performs many of the functions of the key fob), and a hands-free gesture control for the power-retractable blind on the panoramic sunroof.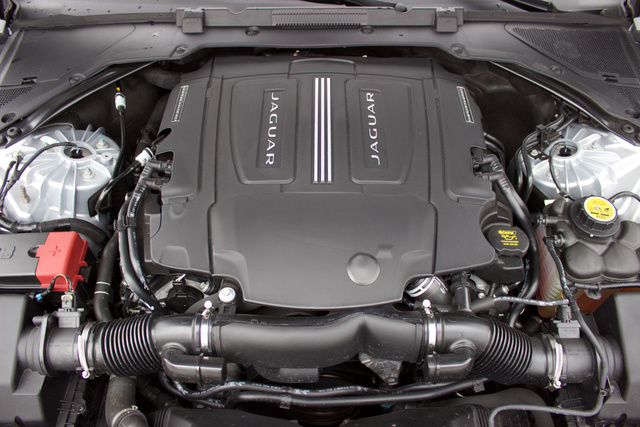 The standard engine in the Sportbrake is a supercharged 3.0-liter V6, making a robust 380 horsepower and 332 pound-feet of torque. Power gets routed through an 8-speed automatic transmission to standard AWD.
This level of power in an everyday car is fantastic, and the combination allows the XF Sportbrake to rocket from 0-60 in just 5.3 seconds on its way to a top speed of 155 miles per hour. These are incredible numbers for a wagon!
Between the shifter and the cupholders is the drive-mode selector, providing Eco, Dynamic, Normal, and Adaptive settings. Each of these modes delivers unique tuning for the steering response, transmission mapping, suspension, and throttle settings.
Getting an AWD wagon to handle like a genuine sports car is quite a feat, and it's accomplished with the help of various technological features and systems. For example, the Sportbrake's self-leveling rear air suspension will keep the vehicle level through corners, even if you load the back up with heavy items.
Even in Normal settings, the supercharged V6 provides power and acceleration that are on-par with many V8 engines. The suspension does that wonderful trick of being soft over bumpy roads while providing level cornering.
Switch the XF into Dynamic mode, and the gauges change, moving the tachometer to the center and the speedometer to the right side. Part of the gauges and ambient lighting change to red as well. More importantly, acceleration and cornering become more intense, allowing you to attack winding roads with vigor. Dynamic mode can turn a simple run for milk into a hot lap at Silverstone (that's a Formula One track in the UK).
As for fuel economy, EPA estimates are 18 mpg city, 25 highway, 21 combined. For our week of rather enthusiastic driving, the combined estimate of 21 mpg was accurate.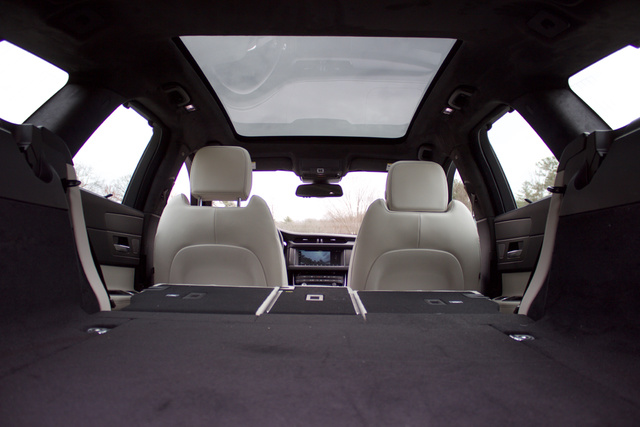 The comfortable seats and good driving position in the XF were not much of a surprise—this is a Jaguar, after all. Although the press release from Jaguar says the automaker extended the knee- and headroom, the backseat legroom still feels a bit tight for my 6-foot, 3-inch self. I can't stretch my legs out, although I was surprised that with the front seat most of the way back, the seatback barely touched the front of my legs. This is thanks in part to the fact that the backs of the front seats are somewhat scalloped, which carves out a few extra centimeters of space.
The non-Sportbrake XF sedan has 19 cubic feet of trunk space, which is very roomy for the midsize luxury sedan class. But the Sportbrake takes the XF's usability to new heights, with 31.7 cubic feet behind the rear seat. That figure expands to 69.7 cubic feet with the rear seats folded, which is actually more room than the company's F-PACE crossover has. Rear latches allow the seats to drop quickly, though the bulky divider is a cumbersome tool. Unless you are trying to shield prying eyes from the trunk, you can leave this at home.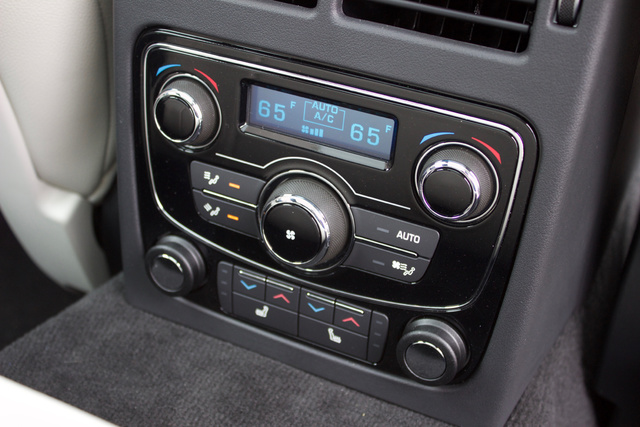 The Sportbrake runs Jaguar's InControl Touch infotainment system. As previously stated, the base system uses an 8-inch touchscreen, which has helpful tactile Home buttons running along either side. The Technology package nets the larger widescreen 10-inch InControl Touch Pro touchscreen unit. In the larger screen, the functions of those tactile buttons are represented by icons along the base of the screen.
The screen features a sensible tile layout, one box each for radio/media, seat/climate controls, phone, and navigation.
All this tech can be somewhat buggy, and occasionally when I shifted from Park to Reverse, the reversing camera didn't display. We'd be interested in the frequency of this particular issue. During our week with the XF Sportbrake, it happened maybe twice.
The XF Sportbrake is also available with a head-up display, which features turn-by-turn directions so you won't have to take your eyes off the road.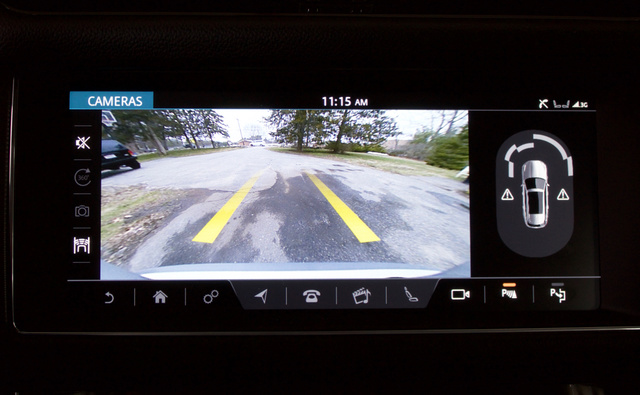 The XF Sportbrake comes standard with plenty of safety equipment, including a tire pressure monitoring system, reversing camera, blind-spot detection, lane-departure warning, and front and rear parking sensors. Other standard safety features include a full array of front and side-impact airbags, dynamic stability control and traction control, and the ISOFIX rear child-seat anchoring system.
Our test model came with a Driver Assistance package that adds adaptive cruise control, a 360-degree camera, traffic-sign recognition, and the ability to autonomously park in both parallel and perpendicular spots.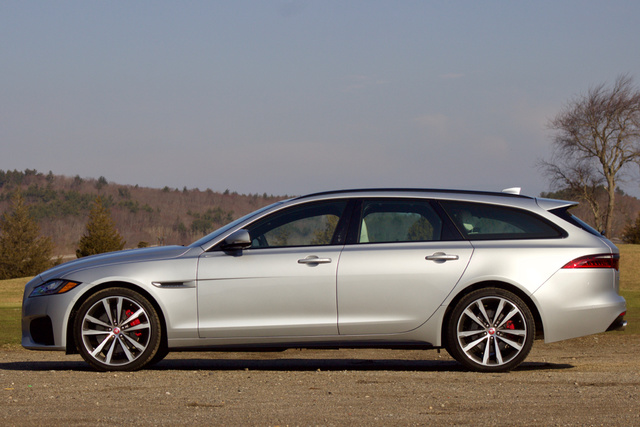 The 2018 Jaguar XF Sportbrake has a base MSRP of $70,450, and the First Edition has a starting price of $72,100. That starting price is steep, but it should be noted that the S AWD version of the XF sedan is near the top of its respective trim range. With the S, you get the fantastic supercharged V6, AWD, and a long list of standard features.
For reference, the base version of the XF sedan, with its thriftier 2-liter turbo, has a starting price of $47,775. The supercharged XF S sedan with AWD starts at $66,865. With that in mind, the wagon body style really commands a roughly $3,500 premium compared to its true sedan counterpart.
But be warned—and this goes for any vehicle in this segment—pricing can quickly escalate with the addition of options and packages. That Technology package adds $3,265. The Driver Assistance package adds another $3,495, the Comfort and Convenience package is another $1,805, and finally, the Luxury Interior Upgrade package for another $2,860. With all of these packages, as well as the upgraded Indus Silver paint ($565) and the carbon fiber trim finisher ($810), the full price of this wagon was a whopping $84,245!
And in fairness, the wagon should be judged on more than price. We can judge it on its merits, and the competition, like the Audi A6 Avant and BMW 5 Series Touring… but alas! Those vehicles aren't sold on American shores.
The XF Sportbrake's closest competition might be the Audi A4 Allroad and Volvo V90. The Allroad really isn't the same type of wagon, and while the V90 is quite stunning inside and out, it can't compete with the driving dynamics of the Sportbrake.
It's definitely a specific shopper who's looking for a high-end performance wagon, and you cannot be a successful automaker by catering to just the niche buyer. But Jaguar has its bread and butter covered with the F-PACE and all-new E-PACE, both targeted at the red-hot crossover market.
By offering offering popular crossovers, Jaguar can then take more risks on vehicles like sport wagons. The result is a family-friendly performance machine that gives you the practicality of a crossover, but a driving experience that's much closer to that of a sports car.
Updated
From open-wheel racecars to specialty off-road vehicles, George Kennedy has driven it all. A career automotive journalist, George has been a contributor, editor, and/or producer at some of the most respected publications and outlets, including Consumer Reports, the Boston Globe, Boston Magazine, Autoblog.com, Hemmings Classic Wheels, BoldRide.com, the Providence Journal, and WheelsTV.
What's your take on the 2018 Jaguar XF Sportbrake?
Have you driven a
2018 Jaguar XF Sportbrake
?
Cars compared to 2018 Jaguar XF Sportbrake
Looking for a Used XF Sportbrake in your area?
CarGurus has 16 nationwide XF Sportbrake listings starting at $40,848.
Have questions?
Ask a question
Jaguar XF Sportbrake Questions
There aren't any questions yet. Ask the first question!
Trims
First Edition AWD

2 national listings

Avg. Price: $49,966
S AWD

Avg. Price: $49,623
Quick Links