Looking for a Used Clarity Hybrid Plug-In in your area?
CarGurus has 515 nationwide Clarity Hybrid Plug-In listings starting at $15,996.
2018 Honda Clarity Hybrid Plug-In
Test Drive Review
With the debut of the 2018 Honda Clarity Plug-In Hybrid, the automaker builds a class-leading electric vehicle that won't create an ounce of range anxiety in its driver.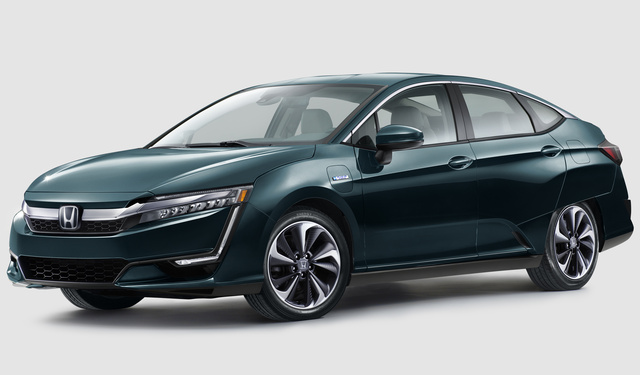 If you've never heard of the Honda Clarity before, let alone seen one, don't worry. You're not alone. Up till now, the Clarity has been a production fuel-cell car sold to a handful of Californians. Now, though, a new 50-state version of the Clarity debuts, equipped with a plug-in hybrid powertrain that supplies 47 miles of electric driving coupled with another 293 miles of gas-powered driving range. Plus, it has genuine room inside for five people and a fairly big trunk. Want to learn more? Read on.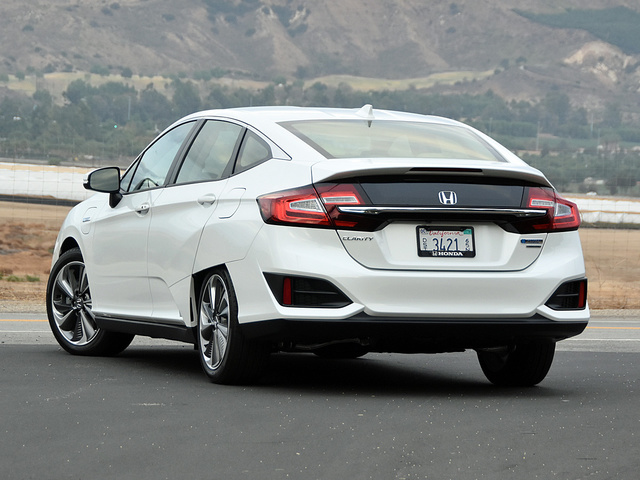 Honda still sells a fuel-cell version of the 2018 Honda Clarity, but with a redesign for the 2017 model year, the lineup expanded to three different flavors of the car.
If you live in certain California Zip codes near where hydrogen-fueling infrastructure is in place, you can lease the Clarity Fuel Cell. It costs $369 per month with $2,868 down before factoring in taxes, registration, and fees.
California and Oregon residents can also choose the new Clarity Electric, which debuted halfway through last year. A pure electric vehicle (EV) with a skimpy 89 miles of driving range, it leases for just $199 per month with $899 down.
This review is about the new 2018 Clarity Plug-In Hybrid, which is available in all 50 states. You can lease this version, too, but you can also buy it for just $33,400 before adding the $890 destination charge.
Up to $7,500 in federal tax credits are available for this vehicle, along with any additional state or local incentives and rebates, which effectively lower its price and by a significant amount. You will want to research tax credit and state/local rebate availability based on your situation and where you live. This article has more details on electric vehicle tax credits.
In California, where I live, the Clarity Plug-In Hybrid qualifies for the full $7,500 federal tax credit, plus a $1,500 California rebate. Also, don't forget that in some states, such as California, you can drive this car in the carpool lane… even when you're not carpooling.
Two trims are offered for the Clarity Plug-In Hybrid: standard and Touring. My test car is the Touring trim, which adds $3,200 to the price tag, bringing it to $36,600 (plus destination).
Touring versions include leather seats, a leather-wrapped steering wheel, simulated suede on the dashboard, an 8-way power-adjustable driver's seat, a navigation system that can help direct you to the nearest charging stations, and a remote cabin climate pre-conditioning system. Otherwise, the cars are the same, inside and out.
Speaking of the outside, the Clarity sure is one funky monkey.
It looks like a car of the future, that's for sure. But at the same time it reflects a conservative restraint that helps to make the car downright appealing, even upscale, to early adopters seeking a modern alternative-fuel vehicle, yet palatable to the indifferent public.
Inside, Honda takes a layered, high-contrast, architectural approach to the interior design, adding simulated matte-finish wood trim and plant-derived fabrics to create a forward-thinking cabin.
Also, especially in the leather-lined Touring trim, the materials exude quality. You simply feel good when you're inside this car, any quibbles you might have with the exterior design ebbing away as you revel in comfort and class.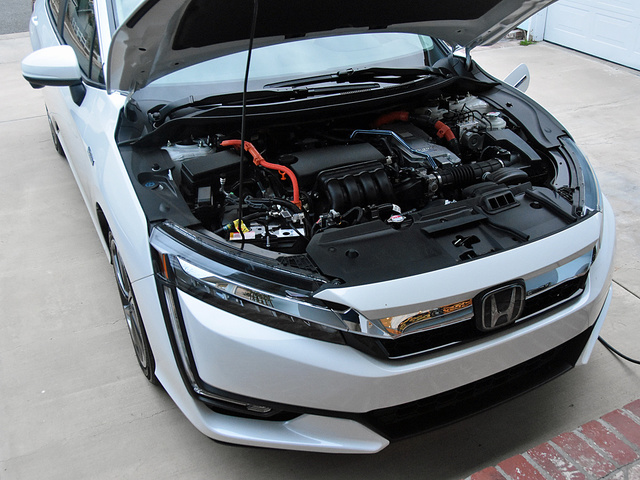 As nice as it is, the interior isn't what makes this car special. Rather, what powers the Clarity Plug-In Hybrid is what makes me think this is my new favorite "green" car.
A 17 kilowatt-hour, lithium-ion battery pack forms the foundation of the Clarity Plug-In Hybrid's drivetrain. It feeds juice to an electric motor and, when the car is used as a hybrid vehicle, is supplemented by a 1.5-liter Atkinson-cycle 4-cylinder gasoline engine. Together, these components make 212 horsepower, and the electric motor alone supplies 232 lb-ft of torque right when you step on the accelerator.
A continuously variable transmission (CVT) powers the Clarity's front wheels, and drivers can choose between Normal, Econ, and Sport driving modes. An HV mode is also available, and it preserves battery charge so that the car can be driven solely on electricity in specific driving situations.
Deceleration paddles are also standard, with four different sensitivity levels. They're designed to help recapture energy that might otherwise be lost during coasting and braking situations, feeding it back to the battery to extend driving range.
Honda claims that it takes 2.5 hours to recharge the battery with a 240-volt home charging station. It took me about 12 hours to recharge using a standard household power outlet, which aligns with Honda's estimate for this type of electricity source. Note, however, that during the course of my week with the car, it regularly tripped the GFCI outlet I was using, which meant I needed to consistently check to ensure the car was still charging.
Honda says the Clarity Plug-In Hybrid will travel 47 miles on electricity alone, and 340 total miles before you'll need to either fill the 7-gallon gas tank with regular unleaded or find an electrical outlet.
The EPA says the car will get 110 MPGe when burning through both a fully charged battery and a full tank of gas. Drive it solely as a hybrid, and it should get 42 mpg in combined driving.
In my testing, I traveled 47.2 miles before depleting the battery, running the car for about a mile in HV mode during that time and briefly switching to Sport driving mode for a portion of the ride. Otherwise, I had the car in Normal mode with the Deceleration system set to a medium intensity level.
After the gasoline engine kicked on for the remainder of my 63.9-mile drive, the car averaged 119.1 MPGe over the total course of the test route.
Driving a Honda Clarity Plug-In Hybrid is just like driving any other car, except that you plug it in and drive without gasoline for moderate distances.
In electric vehicle mode, the Clarity is whisper quiet, unless you really stomp hard on the accelerator pedal. Do that, and the car assumes you want maximum power, so the gasoline engine kicks in to help, adding a characteristic steady-state grumble from the engine and CVT to the proceedings.
Unlike, say, a Tesla, the Clarity Plug-In isn't quick, but it is fast enough to keep out of its own way. The car climbs mountain grades with little effort, but that definitely depletes the battery, and fast.
In any case, most people won't want for extra power. If you keep your heavy right foot off the go-pedal, you'll enjoy smooth, seamless, quiet electric motivation, which makes the Clarity an oasis of serenity. Wind noise is almost non-existent, and road noise is evident only on pavement with rough surfaces.
Although they're of the regenerative variety, the brakes are not grabby, and they successfully resisted fade on the mountainous portion of my test loop with temperatures in the upper 60s.
Steering is somewhat heavy, but supplies secure on-center feel and reassuringly linear response. At speed, it lightens up nicely without developing a sense of uncertainty.
Handling impresses. Thanks to the battery, lots of weight is snugged down low in the chassis, making the Clarity feel somewhat like a slot car when you pitch it into a corner or curve. And the tires are sticky enough to make doing so an enjoyable exercise.
Overall, the Clarity Plug-In Hybrid drives beautifully, which is one of its many charms.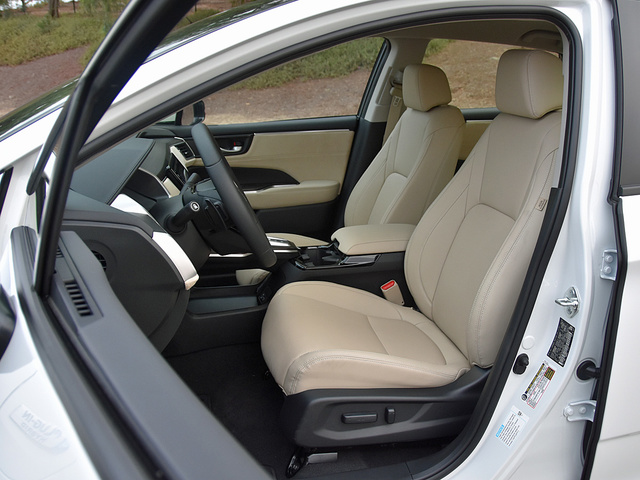 Moving to the interior, Honda appears to emphasize design over the user experience.
The cabin looks terrific, but the controls are a mixed bag, mainly due to the infotainment system. While the clean 8-inch display screen looks clean, modern, and minimalistic, an approach that is entirely appropriate for this car, it is simultaneously a perfect example of why many states have outlawed the use of smartphones and tablet computers while driving.
It's a good thing comfort levels are high for the driver, who gets an 8-way power-adjustable seat in Clarity Plug-Ins with Touring trim. Meanwhile, the front passenger's seat is limited to 4-way adjustment. Because it lacks height adjustment, the seat is mounted a bit low and thigh support is lacking. Both front seats are heated, but ventilation, a heated steering wheel, and heated rear seats are unavailable.
The rear seats are roomy enough, but similar to the front passenger's seat, they feel a little too low and lacking in terms of support. Rear air-conditioning vents help improve comfort levels. Thoughtfully, Honda also supplies handy smartphone storage pockets on the front seatbacks. Weirdly, though, you can't get rear USB ports in this car. Instead, Honda provides an old-school 12-volt power outlet.
Due to battery packaging requirements, the 15.5-cubic-foot trunk is oddly shaped, but it's roomy nevertheless. A 60/40-split folding rear seatback adds welcome utility. Still, I can't help but think Honda missed an opportunity here to offer a 5-door hatchback with even more practicality.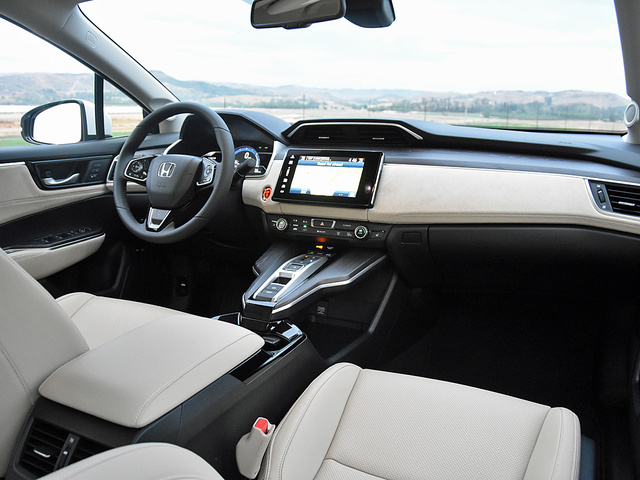 Honda does not install its best infotainment system in the Clarity. The main problem is that it lacks knobs for commonly used functions. Over time, though, owners will acclimate to using the steering-wheel-mounted controls for volume and tuning.
The system does include Apple CarPlay and Android Auto smartphone integration, text-messaging support, Pandora compatibility, and HondaLink subscription services. A HondaLink smartphone app allows for remote viewing of battery charge status and estimated driving range, in addition to setting the cabin temperature before a drive. In Touring trim, a navigation system with HD traffic is also standard.
I had no trouble pairing my iPhone 6 with the Clarity's Bluetooth connection or making and receiving calls. The voice-recognition system worked well as long as I adhered to the proper menu prompts, and it found both the nearest location of my favorite coffee shop and my Spanish-language street address without causing consternation.
Honda allows drivers to select between two different navigation map themes, but neither provided me with the clear view of Los Angeles traffic conditions that I wanted. It was hard to tell what represented traffic and the severity of that traffic, and it was impossible to determine from a so-called 20,000-foot view which direction on the freeway that traffic was causing problems.
Standard equipment also includes a multi-angle reversing camera that shows path-of-travel guidelines, which is especially helpful in a car with such a tall tail. Additionally, this car is equipped with Honda's keyless Smart Entry system with Walk Away Auto Lock. If you're like me, someone who regularly returns to check to see if a vehicle is locked, this provides extra peace of mind.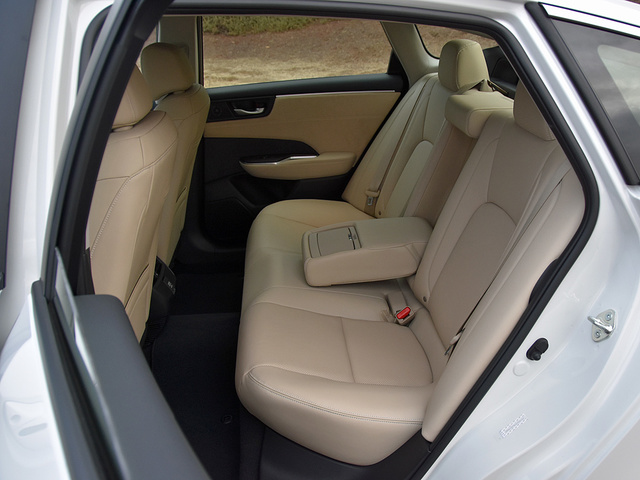 Honda builds the Clarity using what it calls Advanced Compatibility Engineering (ACE) for the body structure, meaning that the car is designed to protect occupants in collisions with a wide variety of vehicle types and weights.
To help drivers avoid a collision in the first place, Honda Sensing is standard and includes several driving-assistance and collision-avoidance technologies. Adaptive cruise control with low-speed following capability is a part of this suite of systems, along with forward-collision warning, automatic emergency braking, lane-departure warning with lane-keeping assist, and a Road Departure Mitigation system designed to discourage unintentional departure from the road.
You cannot, however, get a blind-spot monitoring system for this car, or a rear cross-traffic alert system. Instead, you get Lane Watch, which uses a camera mounted on the right-side mirror to show you what's lurking in your right blind spot by displaying a video feed on the infotainment screen. What about the left side of the car? You're on your own.
In practice, Honda Sensing systems work reasonably well. Like all such technologies, they occasionally behave imperfectly or counter-intuitively. But at the same time, they frequently perform their duties as is necessary and warranted.
It is worth noting that this is the second 2018 model-year Honda I've driven that has given me an instrument cluster warning related to the adaptive cruise control system.
In each circumstance, following a stint of mountain driving, I've tried to set the cruise control on a level stretch of coastal highway only to be rebuffed with a message telling me that adaptive cruise was not available because the slope on which the car was traveling was too steep. Eventually the system re-sets itself, apparently realizing I'm no longer driving on a mountain road, but this definitely represents a technological bug I've not witnessed in any vehicles from other brands.
As for crash-test ratings, as this review was written the Honda Clarity had been tested neither by the federal government nor the Insurance Institute for Highway Safety (IIHS). Therefore, the rating in this section is not reflective of eventual results should the NHTSA or IIHS elect to test this vehicle.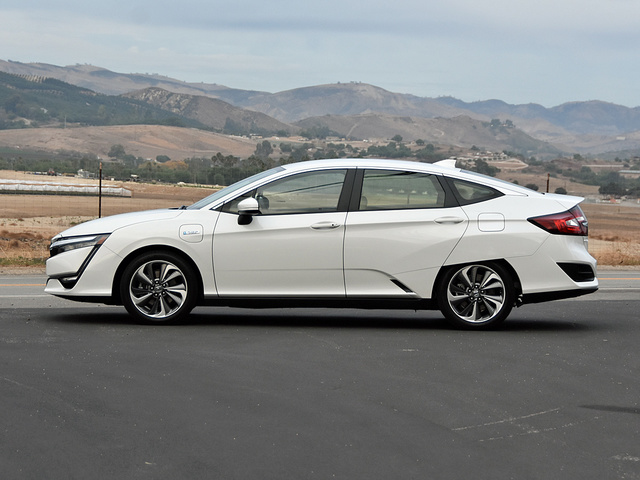 If I wanted to park a 2018 Honda Clarity Plug-In Hybrid in my driveway, equipped with Touring trim like my test vehicle, I would pay about $28,500 after the federal tax credit and the California rebate—and that's before negotiating with the dealership.
Plus, my particular home solar-panel deal keeps my electricity rates at Tier 1 status no matter how much juice I use, so I don't need to worry too much about how often I charge the car.
Also, on a normal day, my family doesn't travel farther than 50 miles, and even if we did, the Clarity Plug-In gets better gas mileage than most other vehicles you can buy for less than 30 grand, keeping operating costs to a minimum. And for those days when travel into Los Angeles proper is a necessity, well, that carpool-lane sticker sure comes in handy. (Note: This program is set to expire on January 1, 2019, as this review is written.)
Finally, you get all this value in a car that could easily wear an Acura emblem on its Stormtrooper-esque face. To call the Clarity Plug-In Hybrid an impressive value is an understatement.
Until I drove the new Clarity Plug-In, I was convinced that the Chevrolet Volt was the right electric-vehicle solution for most people, most of the time. That's because it offers enough electric driving range for most people, most of the time, without causing any range anxiety, which is the feeling of dread that electric car owners feel when their battery charge is getting low and they are nowhere near home or a charging station.
Because the Clarity Plug-In offers nearly as much EV driving range as the Volt, does not cause range anxiety, and has lots more interior space coupled with a nicer and more comfortable cabin, all for about the same price, well, the choice is easy.
Get the Honda.
Updated
Christian Wardlaw has 25 years of experience reviewing cars and has served in editorial leadership roles with Edmunds, J.D. Power, the New York Daily News, Autobytel, and Vehix. Chris prefers to focus on the cars people actually buy rather than the cars about which people dream, and emphasizes the importance of fuel economy and safety as much as how much fun a car is to drive. Chris is married to an automotive journalist, is the father of four daughters, and lives in Southern California.
What's your take on the 2018 Honda Clarity Hybrid Plug-In ?
Have you driven a 2018 Honda Clarity Hybrid Plug-In ?
Cars compared to 2018 Honda Clarity Hybrid Plug-In
Looking for a Used Clarity Hybrid Plug-In in your area?
CarGurus has 515 nationwide Clarity Hybrid Plug-In listings starting at $15,996.
Honda Clarity Hybrid Plug-In Questions
Just purchased Honda Clarity Plug in hybrid vehicle. I am not sure when the engine is running and the vehicle is not in electric mode. Help please
Is it okay to leave the charging cable plugged in to power when not charging the car?
Trims
FWD

Avg. Price: $21,875
Touring FWD

Avg. Price: $23,568
Honda Clarity Hybrid Plug-In Experts
View All
Quick Links