Looking for a Used fortwo in your area?
CarGurus has 431 nationwide fortwo listings starting at $3,450.
2016 smart fortwo
Overview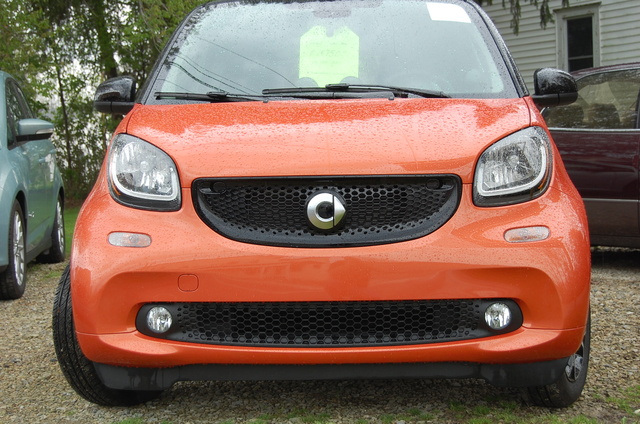 The little smart fortwo will see big changes in 2016, with all-new gasoline variants in the lineup. The electric version, sold in limited markets, will continue unchanged. Before we go too far, we should tell you we are dropping the capitalization of the make and model in order to mimic smart's way of spelling its name. Smart's quirky. That's its thing.
As the name suggests, the 2016 smart fortwo (from parent company Mercedes-Benz) is a two-seater. Available as either a coupe or convertible, it appears tiny even in comparison to subcompact cars. So one of the most important changes for 2016 is that the new chassis will be wider by four inches, reducing the overall smallness. This actually means that the fortwo will go from being much narrower than a Fiat 500 to a smidge wider. Smart is clearly bowing to public pressure here given that its early cars were said to appear tippy.
The 2016 smart fortwo coupe and cabrio (convertible) will also sport a new set of drivetrains. Expect 89 hp from a three-cylinder turbo driving the rear wheels, with a standard manual gearbox and an optional dual-clutch automatic (actually the more commonly purchased of the two). Reviewers who have had some exposure to the new models at first-drive preview events say that the fortwo's 0-60 time is slightly improved, but still well below the norm expected by American consumers.
Fuel economy does not happen to be the fortwo's forte. From its looks, one would assume the smart fortwo to be a marvel of green car technology and efficiency, but such is not the case. The fortwo base model equipped with the manual transmission is rated by the EPA at 32 mpg city/39 highway/35 combined. By comparison, a five-passenger Toyota Corolla LE Eco has a combined rating of 35 mpg, and the city benchmark for subcompact hybrids in 2016 will be 55 mpg.
The smart fortwo's actual forte is parking, the idea being that it can fit into spaces where other subcompact vehicles cannot. Smart pushes this concept, and even plans a phone app that will allow smart owners to photograph and share images of spaces that only a smart can fit into. Another strength of the fortwo is its cost. Depending upon trim level, the fortwo coupe will run from around $15,000 to $20,000. With its urban runabout function, it is conceivable that options and amenities aside from the automatic transmission may not matter much to buyers who will only be scooting around town on micro-trips.
The 2016 smartfortwo cabrio will be fitted with a canvas top. Like some other European cars (Fiat for example), the roof can be pushed back by the driver to create a sort of large sunroof. Or it can be opened all the way, which smart says will take only 12 seconds. Some might question the compatibility of a cloth convertible top with urban living, where convertibles can become easy targets for vandals and thieves who spot anything of value inside the vehicle.
The 2016 smart fortwo electric will continue using the older 2015 body style. Unlike the gasoline-powered models, the electric coupe and carbrio are most definitely green cars. Their prices, however, are hard to explain. Smart does offer lease deals, but those would be a serious commitment given the electric car segment's rapid rate of evolution. The company also offers a battery rental program in which smart will guarantee the battery's performance for ten years. The EPA rates the 2016 fortwo electric at 68 miles of range, and although the battery guarantee idea has merit, anyone who follows EVs knows that the range of new models increases dramatically with every generation. For example, the 2016 Volt has 40% greater range than the 2015 model. Do urban residents plan to keep a car for ten years? Smart does not sell the electric fortwo in all markets and has only sold about 100 per month throughout the entire United States during 2015. Plan ahead if you serious consider buying one.
For 2016, smart is also improving what it calls the fortwo's "trident safety cell." Smart is know to address safety head-on in marketing, citing government crash tests and its suite of safety measures. But the fact remains that when the Insurance Institute for Highway Safety staged a two vehicle crash with the prior generation fortwo and Mercedes' next smallest offering, the C-Class, the results were sobering. The smart went flying, pretty much destroyed, while the C-Class suffered normal damage with no intrusion into its passenger space.
Buyers who need an affordable urban car they can park in half-spaces will be the most likely to find the smart fortwo an intriguing pick.
Updated
John Goreham is a life-long car nut and recovering engineer. In the early 1990s, he was part of a team that built a solar-electric race car from scratch. In addition to his work at CarGurus, John covers automotive news at Torque News and GM-trucks.com and is a contributor to CarTalk and BestRide. Aside from all things automotive, John loves fishing and hockey, preferably in the company of his two boys.
What's your take on the 2016 smart fortwo?
Have you driven a 2016 smart fortwo?
Cars compared to 2016 smart fortwo
Looking for a Used fortwo in your area?
CarGurus has 431 nationwide fortwo listings starting at $3,450.
I don't know how to post a photo!
Trims
passion

Avg. Price: $11,114
prime

Avg. Price: $14,473
proxy
pure

Avg. Price: $10,321
Quick Links