Looking for a Used Equus in your area?
CarGurus has 175 nationwide Equus listings starting at $7,900.
2016 Hyundai Equus
Overview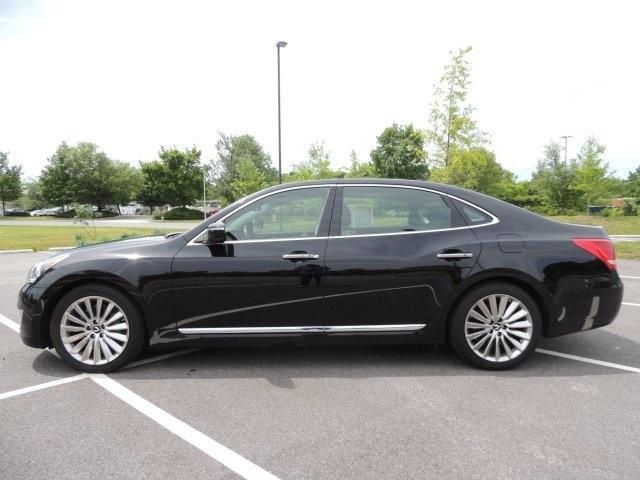 Every serious automaker has a flagship luxury sedan. At Hyundai, that model is the impressive 2016 Equus. If the word Equus sounds familiar to you, it is because it's the name of the genus that mammals like horses belong to. That alone makes the Hyundai notable, as every other automaker calls its top model by a meaningless string of numbers and letters. A significant vehicle should have a name.
The rear-wheel-drive (RWD) Equus is a very large vehicle. Both Lincoln and Cadillac presently offer their largest sedans on a front-wheel-drive (FWD) platform. By contrast, Hyundai joins the German and Japanese luxury brands by sticking with a RWD configuration. Inside, the car is huge. Although it is a 5-passenger car, the Equus is configured with two rear seats offering limousine levels of comfort. A fifth seat is accessed by putting up the large rear console. Power is important at this luxury level, and Equus' V8 tops the Lexus LS 460 in power with 429 hp. Vehicles at the top of the market offer more of everything, and the Equus is a shining example of that.
Hyundai created the Equus to raise the bar on the already impressive Genesis sedan. Like the Genesis, the Equus goes with few Hyundai markings and uses its own bird-like symbol. The owner of an Equus also enjoys special treatment from Hyundai, starting with the test drive. Hyundai will bring you an Equus when and where it works for you. Service is similar in that Hyundai will come for the vehicle, so you don't have to visit a dealership. Of course Hyundai will leave you a vehicle to drive while your Equus is worked on as well.
Like its peers, the Equus is equipped with all the go-fast bits a large sedan might need for on-road driving in the U.S. Unlike some of its peers, Hyundai does not market the Equus as a sports sedan, nor does the company offer a hot-rod version. There is also just one wheelbase, unlike some other brands that offer longer "L" trims.
The 2016 Equus has a long list of standard equipment. We could list it all out for you, but suffice it to say that a careful look reveals there are no omissions. Front seats are heated and cooled premium leather. The leather-wrapped steering wheel is heated. All the infotainment goodies are on tap, including a telematics service—in this case, Hyundai's Blue Link. Lexicon premium audio and navigation are included.
The 2016 Equus is offered in two trims, Signature and Ultimate. Comparing the two is interesting, because they are mechanically identical, and both have the full complement of safety equipment. The difference between the two boils down mostly to electronics. The Ultimate offers a TFT (Thin Film Transistor) gauge cluster, and the Signature makes do with a more conventional electroluminescent unit with a smaller TFT insert. The Ultimate also comes with haptic dial feedback on the steering wheel (it shakes to let you know your selection was felt), power front-door closure, rear-seat entertainment in front-seat headrests, a power rear sunshade, cooled rear seats with power lumbar support, lighted rear vanity mirrors, a forward-view camera, a heads-up display with turn-by-turn navigation, and a multi-view camera. New for 2016, the Ultimate trim Equus adds a hands-free trunk with automatic opening.
To compete at the top, a luxury sedan needs to have innovative and cutting-edge active safety features, and the Equus offers every safety item as standard equipment. Lane-departure warning in the Equus features not just audible and visual warnings, but the seatbelt offers haptic warnings with a tug. Forward-collision prevention with auto braking and active cruise control are also standard for both trims. Automatic collision notification via the Blue Link telematics system adds a final layer of safety.
One thing to note about the Equus is that it's not offered at every Hyundai dealership. If you are interested in buying one, the best place to start would be the Hyundai website rather than a local dealer. Like Lexus did long ago, Hyundai is making an effort to under-price the top of the luxury market. The 2016 Equus Signature will start at about $62,000. The Ultimate will be priced at about $69,000. Those that can set aside their preconceptions may find that the Hyundai Equus sedan offers world-class luxury and a premium ownership experience at a discount.
Updated
John Goreham is a life-long car nut and recovering engineer. In the early 1990s, he was part of a team that built a solar-electric race car from scratch. In addition to his work at CarGurus, John covers automotive news at Torque News and GM-trucks.com and is a contributor to CarTalk and BestRide. Aside from all things automotive, John loves fishing and hockey, preferably in the company of his two boys.
What's your take on the 2016 Hyundai Equus?
Have you driven a 2016 Hyundai Equus?
Cars compared to 2016 Hyundai Equus
Looking for a Used Equus in your area?
CarGurus has 175 nationwide Equus listings starting at $7,900.
Trims
Signature RWD

Avg. Price: $24,893
Ultimate RWD
Quick Links