Looking for a Used Fusion in your area?
CarGurus has 43,649 nationwide Fusion listings starting at $498.
Met And Exceeded My Expectations
by hitemstiff
— Very comfortable car. I chose the 2.0 Ecoboost and I am very happy I did. It has no issues with power when you want it. I was willing to sacrifice the extra MPG for the fun factor. I use this as m...
Read more
2015 Fusion
by jsfrieden
— I have only had this vehicle for a short amount of time. However, it is very comfortable, looks sharp, and handles very well. For a 4 cylinder engine, it has plenty of power. The design and feel of...
Read more
Review
by Foxyfiesta
— I think and is the perfect family car. Plenty of space, great gas mileage and up to par technology. Rides like a dream!!!!
Read more
2015 Ford Fusion
Test Drive Review
Clean, balanced proportions make the 2015 Ford Fusion look like anything but another drab rental car. Still, Ford's full-size sedan, the Taurus, has a more attractive backside.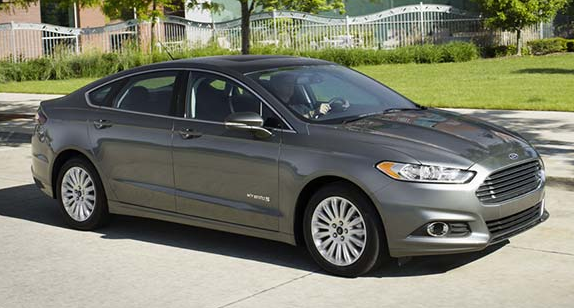 With few exceptions, the 2015 Ford Fusion is an excellent choice in a midsize family sedan. Dings and dents include mediocre real-world gas mileage, a couple of downgrades on the car's safety report card, and a handful of questionable interior control choices. But how often is a traditionally boring car like this referred to as sexy?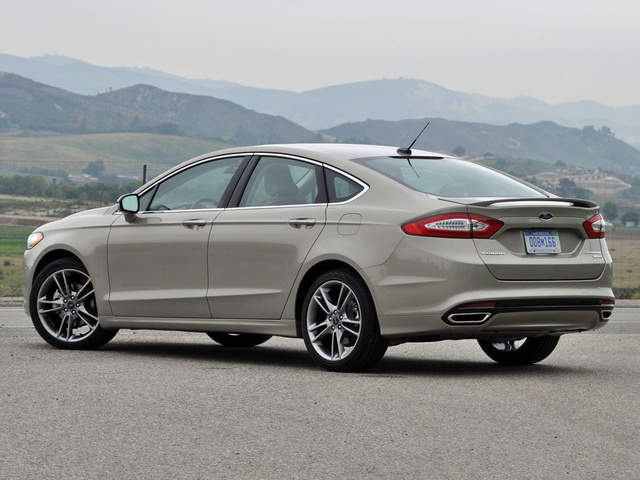 Honda Accord and Toyota Camry. Toyota Camry and Honda Accord. The two titans of the midsize family sedan class, the cars representing vast chunks of sales, profit, and brand image-making for each automaker since time immemorial, will, every so often, discover that upstarts like the Hyundai Sonata or Nissan Altima are threatening to dethrone one or the other of them. Still, the Camry and the Accord always manage to thwart such advances, retaining dominion over the family sedan kingdom and sparring over which model is truly the best-selling one in the land.
Ford is unwilling to stand for this status quo. With the current version of the Fusion, the company has charged hard at the perennial sales leaders, offering family-car buyers a compelling combination of styling, quality, comfort, and technology. While it has yet to unseat the Camry or Accord on a sales chart, the Fusion regularly earns a spot on the list of the 10 best selling vehicles in America, putting it within striking distance of victory.
Clearly, Ford is doing something right. To remind myself just how good this car is, I spent a week driving a 2015 Fusion Titanium loaded with nearly every option and wearing a hefty price tag of $39,600. That is a heady figure to be sure, especially because most fully loaded midsize family sedans cost a few thousand dollars less, but the Fusion offers extra-cost equipment that simply isn't available for other vehicles in the class.
If my test car's price tag is rather eye-popping, the Fusion's visual shock value has worn off. This remains a handsome, even sexy, car, and while it may be trite to compare its snout and swept-back headlamps to an Aston Martin, there's no denying that the Fusion's design is aging beautifully.
Viewed from the rear, the Fusion offers less visual drama, but clean, balanced proportions make it look like anything but another drab rental car. Still, and I might be the only person on the planet who thinks so aside from Sir Mix-A-Lot, Ford's full-size sedan, the Taurus, has a more attractive backside.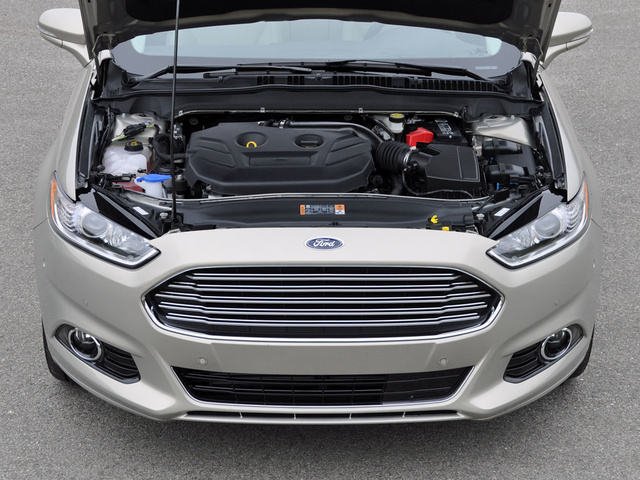 At the heart of my Fusion Titanium, a turbocharged, 2.0-liter EcoBoost 4-cylinder engine generated 240 hp and provided a broad torque curve swelling with thrust. The engine was rather noisy, but robust acceleration made up for the racket.
Previous Fusions I've tested have employed Ford's smaller and, to my ears, quieter EcoBoost engine. While the SE model's turbocharged, 1.6-liter 4-cylinder isn't as broad shouldered, I actually prefer it for its greater perceived refinement. However, the only engine offered in the top-of-the-line Titanium is the larger 2.0-liter.
A slick-shifting 6-speed automatic delivered the power to the Fusion's optional all-wheel-drive (AWD) system. One of the few midsize sedans that offers AWD for increased traction on slippery surfaces, the Fusion's foes on this front include the Chrysler 200 and the Subaru Legacy.
While acceleration proved impressive, fuel economy definitely did not. The EPA says that a Fusion Titanium with AWD should get around 25 mpg in combined driving (22 mpg city/31 highway). My average of 20.5 mpg came nowhere close to that, despite a week heavy on highway cruising.
Disappointing fuel economy echoes my experience with the Fusion's smaller, so-called "EcoBoost" engine. Given the frequency with which a Fusion needs to visit gas stations, it's nice that Ford gives you a standard capless fuel filler that lets you fill up without having to remove and then replace the cap. Alternatively, for those who are disinclined to make frequent fill-ups, Ford offers the Fusion with a hybrid powerplant in both standard and plug-in formats.
As far as driving dynamics are concerned, when you're behind the wheel of a Fusion Titanium, piloting a modern family sedan no longer feels like you've taken a hit of tryptophan. While it's not an outright sport sedan, the Fusion feels nimble and athletic, blending a supple ride quality with agile handling. The AWD system enhances traction no matter the weather, and precise electric steering combined with minimal body roll helps to make the Fusion a joy to drive.
Ford has done an exceptional job with the Fusion's interior design, a study in strict attention to detail that features sturdy construction, quality materials, and attractive tones and textures.
Minimalism characterizes the dashboard, which features smooth, touch-sensitive surfaces and lacks knobs and buttons for controlling the infotainment and climate systems. For 2016, Ford is changing this approach, adopting more traditional switchgear for these functions, so if you like this cleaner, high-tech appearance and type of functionality, then get a 2015 Fusion while you can. In my opinion, the switch back to buttons and knobs for the 2016 model year is a good thing.
Furthermore, while Ford has made continuous strides to improve its MyFord Touch infotainment system interface, it's still not as easy or as intuitive to use, nor as responsive in terms of speed, as what some competitors offer.
Comfort is not a problem with the Ford Fusion. The driver's seat represents a lovely perch from which to pilot the car, and the sportier seats installed in my Titanium trim test vehicle had just the right amount of bolstering. Also, hooray—the front passenger's seat has height adjustment in all Fusion SE and Titanium versions of the car.
Rear-seat riders will be happy, too, as the Fusion supplies generous legroom and space for feet, though headroom is at somewhat of a premium. The bottom cushion provides excellent thigh support, and a center armrest helps occupants while away the miles.
Longer trips are made easier thanks to 16 cubic feet of trunk space, giving the Fusion one of the larger cargo areas in the midsize sedan class. The 60/40-split folding rear seatbacks allow the car to hold longer items, but the Fusion lacks a smaller center pass-thru for skis, an odd omission in a vehicle that offers optional AWD.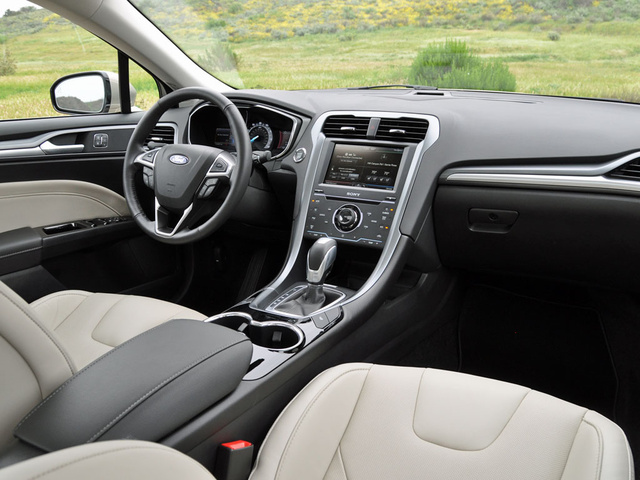 As a self-professed semi-Luddite, some of these newfangled infotainment control panels and driver-assistance technologies confound me. Simplicity ought to rule within a car, yet complexity is increasingly common.
Ford, like many automakers, swung too far into the future by introducing the current Fusion with touch-panel controls for the audio and climate-control systems. For 2016, the company is resolving the problem, adding buttons and a large center knob beneath the MyFord Touch display screen.
My 2015 Fusion test vehicle did not have these, and so making adjustments to the stereo and climate-control systems required me to look down and away from the road ahead in order to make sure my finger was on the correct control. That's too distracting. Buttons and knobs have topography, and once you learn where the most commonly used functions are located, you can use them by touch without looking away from traffic ahead.
This change doesn't address similar concerns with the MyFord Touch display screen, a necessary evil given the endless number of options for entertaining yourself and staying connected, especially when you've paired your smartphone to the system. Like other such systems, MyFord Touch can be hard to learn and to use, but you eventually acclimate. Also, while Ford has made improvements and tweaks to MyFord Touch over the years, there are still times when it can be slow to respond and frustrating to use, meaning that I give up trying to figure out how to change the radio station and just end up shutting the system down.
In my opinion, the equivalent of an iPad does not belong on your dashboard. While many of the MyFord Touch functions can be controlled by voice or by using the steering-wheel controls, the automatic default for many drivers is to use the familiar knobs and buttons located on the main center stack. Luckily, internal Ford research appears to agree, and next year, the Fusion will have more buttons, more knobs, and less techno-gimmickry.
Here's another feature that I have trouble understanding. The Fusion's automated parallel-parking system might be useful to those who lack this particular talent, although how they passed their Driver's Ed class without some semblance of the skill eludes me. The problem is that the process requires slow driving to first identify a large enough spot, and then requires the driver to pull fairly far ahead of the open spot to engage the system. Both of these requirements possess plenty of potential for angering fellow motorists on a busy street.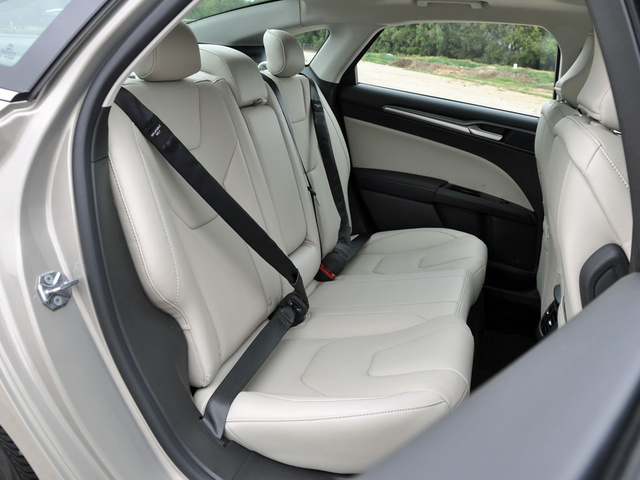 Ford provides Fusion buyers with a menu of unique safety features uncommon to the midsize sedan class, but whether or not they're useful may be debated.
For example, my test car was equipped with inflatable rear seat belts that are designed to provide some extra protection in a collision. At the same time, the design made the belt rigid, heavy, and balky enough that my 6-year-old couldn't buckle herself into her booster seat.
Features like a reversing camera, a blind-spot information system with cross-traffic alert, and a forward collision-warning system are useful, but I'm not a fan of lane-departure warning and lane-keeping assist systems. The former quickly becomes an irritant (even when it works accurately), and the latter makes the car behave in an unexpected fashion (especially when it works inaccurately).
In the event that a collision is unavoidable, the 2015 Fusion boasts a Top Safety Pick rating from the Insurance Institute for Highway Safety, albeit with a grade of Acceptable in the small overlap, frontal-impact test. The National Highway Traffic Safety Administration gives the 2015 Fusion a 5-Star overall rating, but please do note the mediocre 3-star individual rating for driver protection in a side-impact collision.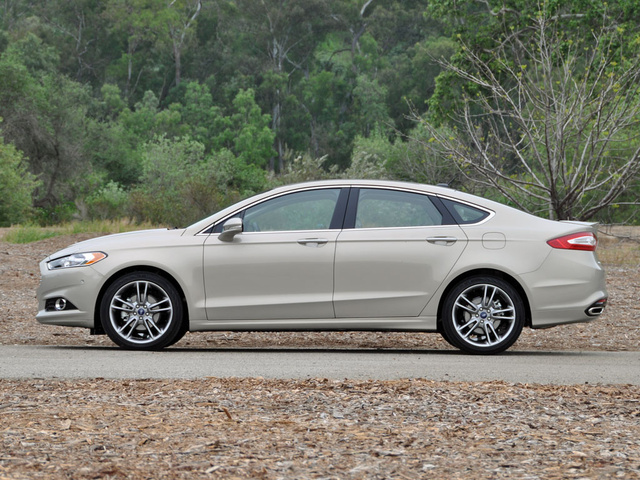 Ford really wants you to buy a new Fusion, and now is a good time to do it, especially if you own a vehicle from a competing automaker. Dealerships are eagerly clearing out remaining inventories of the 2015 model, and Ford is offering an impressive menu of lease, finance, and rebate programs (including conquest cash for trading in your competing make of vehicle). So if you can live without the new stereo and climate-control system knobs and buttons that are arriving in the 2016 Fusion, get to a Ford dealership, pronto.
All that money you can save up front helps to offset the Fusion's average ratings in other cost-of-ownership categories and to pay for gas when the car fails to hit its EPA fuel-economy estimates. The warranty program is average. The Fusion's ALG depreciation rating is average. Consumer Reports and J.D. Power think long-term quality and reliability will be slightly better than average, though. So that's good news.
While great deals certainly make the Fusion more appealing, and could substantially drop the price of my nearly $40,000 test vehicle to something approaching affordable for a dual-income family, it is the Fusion's blend of style, comfort, and driving dynamics that supplies long-term reward. The fact that you can load one up like a luxury car, or get a hybrid or plug-in hybrid version, or choose a relatively simplistic and basic model that needs nothing more than a nice set of wheels to look far more upscale than the price you paid, makes a Fusion genuinely compelling.
Updated
Liz Kim has worked within the world of cars for 15 years, at various points reviewing and writing about, or analyzing and marketing, everything automotive. It's no wonder that she married a fellow automotive journalist. Liz can be found examining and assessing the latest vehicles when she's not busy keeping the peace between, and the schedule for, her two young daughters.
What's your take on the 2015 Ford Fusion?
2015 Ford Fusion Top Comparisons
Users ranked 2015 Ford Fusion against other cars which they drove/owned. Each ranking was based on 9 categories. Here is the summary of top rankings.
Have you driven a
2015 Ford Fusion
?
Cars compared to 2015 Ford Fusion
Looking for a Used Fusion in your area?
CarGurus has 43,649 nationwide Fusion listings starting at $498.
Have questions?
Ask a question
Ford Fusion Questions
Do I Need To Drop Subframe To Change Rack And Pinion
need to replace the rack and pinion in my fusion, 2015 model, question is do I need to lower the subframe? or is there enough room to wiggle it out without doing that?
Ford Fusion Shifting
I have a 2015 ford fusion and it turns on and shifs but does not move in any gear what vould be wrong with it
Speakers Not Working
Hello everybody, my 2015 ford fusion speaker's are not working. When I drove to the store everything was working, when I turn on the car to drive back home the speaker's stopped working, everything...
Trunk Randomly Opens
The trunk on my 2015 Ford Fusion pops open randomly. Any suggestions on how to fix this?
2015 Ford Fusion Brake Lights Won't Go Out And It Won't Accerate
2015 ford fusion won't accerate past 40 and when I turn the car off the brake lights stay on.
Trims
S

Avg. Price: $11,056
SE

Avg. Price: $12,399
SE AWD

Avg. Price: $13,064
Titanium

Avg. Price: $12,987
Titanium AWD

Avg. Price: $14,371
Find great deals from top-rated dealersTM
Search
Quick Links