Looking for a Used i3 in your area?
CarGurus has 1,628 nationwide i3 listings starting at $9,595.
Review
by Nicole
— Great car with very low mileage car seems to been taken care of
Read more
Review
by GuruG3JWP
— I test drove it and bought it. Plugging in currently.
Read more
2015 BMW i3
Test Drive Review
The BMW i3 is an interesting proof-of-concept for the automaker that battery-first tech has a future in the rest of its lineup.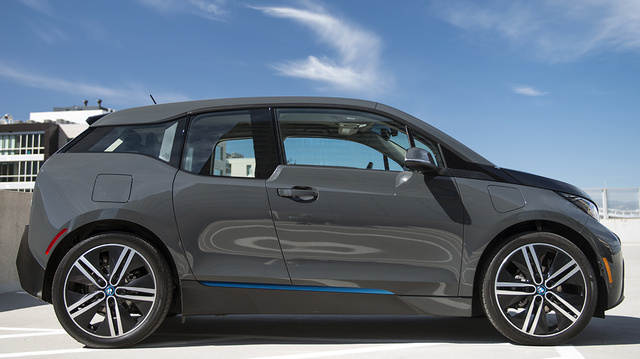 The small, lumpy i3 hatchback may not look like a BMW underneath all of its badges and grilles, but it does have enough tech to make up for it. A carbon fiber and aluminum body, and lightweight materials inside, help a 22kWh battery power the i3 for 80 miles on electricity alone—when fitted with an optional "range extending" gas-powered generator, twice that. Its $42,400 entry price isn't for the squeamish, but the "gee-whiz" tech helps make up for that.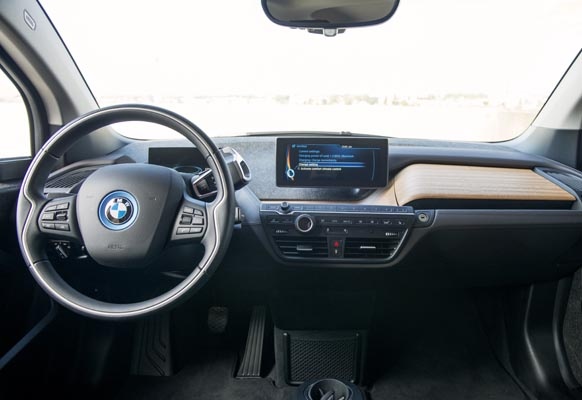 The 2015 BMW i3 is the Bavarian automaker's second half of its "i" lineup, an experimental mix of practicality and power, which may expand in coming years.
New last year, the i3 is BMW's most aggressive attempt at a battery-powered car—even though it can be paired with an optional traditional internal combustion engine, which adds $3,850 to the bottom line. On batteries alone the i3 can run up to 81 miles, and the range extender roughly doubles that.
The i3 comes in three trims or "Worlds"—Mega, Giga, and Tera—and with or without the 34-horsepower 2-cylinder engine in the rear that gets used only as a generator. The gas-powered engine never mechanically drives the wheels, which separates it from the Chevrolet Volt that has a similar powertrain system, but it's debatable if the i3 is a fully electric car, or if it just comes close like the Volt.
The three trims are awash with BMW comforts: the Mega sports 19-inch tires and Sensa-tec fabric, the Giga adds leather seats and an open-pore eucalyptus-wood dash (responsibly farmed, of course), and the Tera adds a leather dash and hand-stitched accents. Optional 20-inch tires can be fitted to the top two trims.
The i3 is a 5-door hatchback that looks unlike any other car in BMW's portfolio. The rear doors swing outward from the front doors like the Honda Element's. The whole car may be a little bit of a frump underneath the blue-accented kidney grilles and "look-at-me" interior, but that's the reality of a lightweight carbon fiber and aluminum body that's meant to be efficient first and look good second.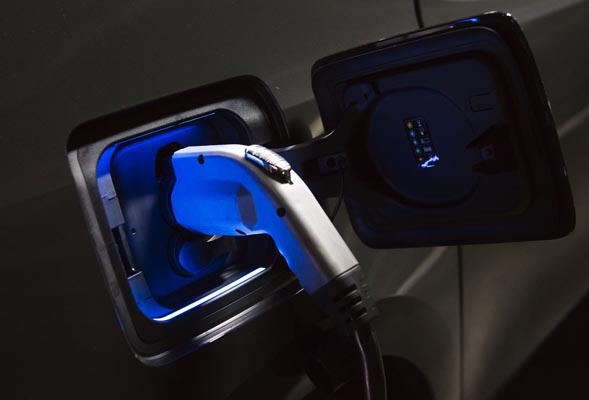 The i3 is motivated by a 170-hp, all-electric powertrain that sends power to the rear wheels via a single-speed transmission. A 22kWh charge is good enough for roughly 80 miles of city driving and will take 5 hours on a Level 2 (240-volt) charger. A regular wall plug would take more than 12 hours to replenish the i3's battery.
The optional engine, which BMW calls the i3's "range extender," is a 600cc engine borrowed from its motorcycle lineup that acts only as a generator for the car. Its 34 hp doesn't add to the i3's total horsepower figure like in a traditional hybrid, rather, the engine kicks in only to add juice to the battery. Predictably, the car's performance slows when it's using the gas engine to recharge the battery, and it's not a usable long-term replacement for regularly recharging the i3.
The i3 is notable not only for how it goes, but also for how it slows.
The BMW i3 uses the most aggressive brake regeneration system on the roads today, and the little Bavarian runner drives like nothing else on the road.
The brakes bite noticeably hard when you let off the gas, and the braking system does its best to recoup electrons from slowing the car. It is a completely different way of driving a passenger vehicle and is comparable to the way a golf cart slows when you let off the gas.
After a couple days of driving the i3, it becomes clear that the brake pedal is purely optional—or for use only in case of emergency—and it's easy to drive just about anywhere using the gas.
Power is shifted from the motor to Bridgestone Ecopia tires that were specifically made for the i3. At just 155 millimeters wide, the tires are skinnier than the shoes on a 1970s BMW 2002.
The EPA has given the i3 a rating of 117 mpge on electricity alone, and 39 mpg when using the range extender, which runs on premium fuel.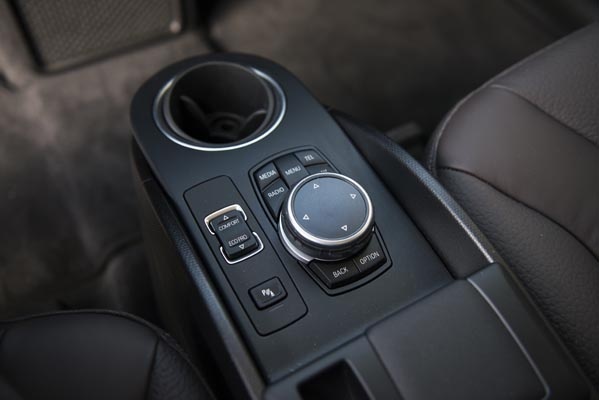 The BMW i3 is built specifically to be a city car, and its internal layout reflects that purpose. The open, airy cabin uses lightweight sound-deadening material and "gee-whiz" aesthetics that aren't necessarily conducive to long hours spent in the car.
The open-pore eucalyptus-wood dash looks like a cheeseboard and sets the table for the car's unique features elsewhere. A stalk-mounted shifter and exposed carbon fiber everywhere confirm what most people think when they first step foot in the i3: The car is completely different than anything else on the road.
Despite focusing heavily on lightweight materials, the seats feel neither cheap nor uncomfortable. Finding a suitable driving position isn't hard, and the tilting steering wheel can be configured to give a decent perspective to the small instrument cluster ahead of the driver.
Clambering into and out of the back seat could be challenging for adults, but children should fit just fine.
The aforementioned driving dynamics (aggressive regenerative braking) take center stage ahead of any of the other on-road characteristics of the i3. In reality, it's a rear-engined lightweight car with skinny tires—or on paper, an old Porsche 911.
As any electric car owner would attest to, the low-end torque of electric motors is phenomenal, and the i3 can run up to 60 mph in 6.5 seconds. Once there, it'll deplete its batteries quickly, so it's better from 0-30-0 mph every day of the week.
The car won't break beads on its skinny tires, however, it's unusually heavy in the front end and won't be confused with a speed machine. There's a considerable amount of road noise in the wide-open cabin, likely because sound deadening and acoustic glass would add much to the car's 3,000-pound heft.
The driving experience isn't completely numb, and it's more fun than many econo-hatchbacks. The drawback is, of course, that it's twice as expensive.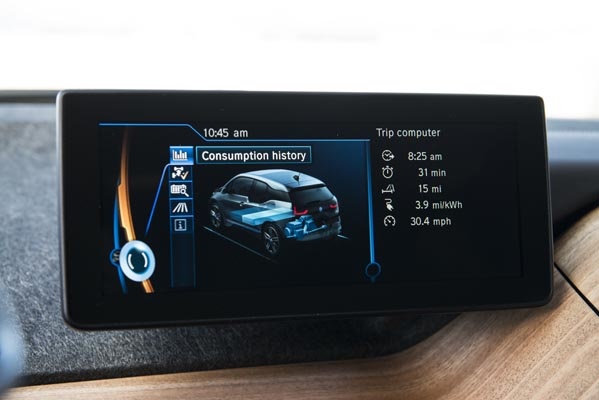 It's entirely possible that the i3 wouldn't be much of a BMW without its tech, so the German luxury carmaker stuffed it full of fun features.
The aforementioned dash and stalk and BMW's iDrive system headline the car's visible tech. Its optional 10.2-inch high-definition screen is expressive and clear, and the system is easy to navigate, even though it's older than Mercedes' and Audi's systems.
"Indirect tech," or the stuff you can't see, is where the i3 shines. The carbon fiber construction is visible in places such as the doorsills, and the lightweight materials in the i3 almost certainly have a future in BMW's mainstream cars in the future as the automaker stretches to meet fuel-economy requirements.
The car drives in either Normal, Eco Pro, or Eco Pro+ mode, and each Eco mode improves battery efficiency by 12 percent. Cranking the geek button all the way up to Eco Pro+ limits the i3's top speed to 56 mph and cuts off the air conditioning to conserve electrons. Unsurprisingly, there's no Sport button in the i3.
The i3 can also be fitted with an optional Parking Assistance Package ($1,000) that uses sensors to help "see" around the small car. Despite being a small hatchback, it's surprisingly difficult to see the front hood of the i3. An optional Technology + Driving Assistance Package ($2,500) adds the high-def screen and real-time traffic info.
Of course, the i3's unique powertrain qualifies as tech, and the range extender could be how future automakers offer battery-powered cars with ranges comparable to those of normal cars.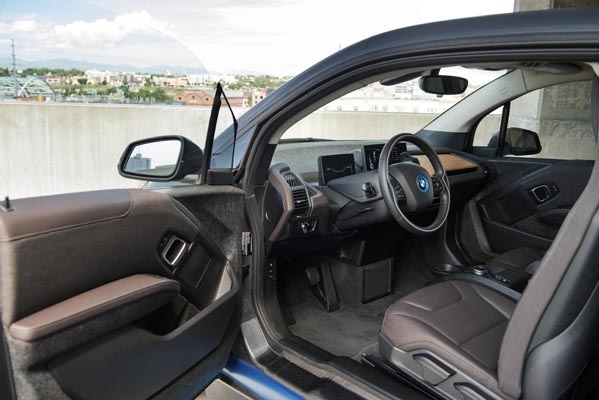 Due to its extremely low volume, neither the National Highway Traffic Safety Administration nor the Insurance Institute for Highway Safety has rated the i3 for crash safety.
According to the manufacturer, the i3 uses a LifeDrive construction to compartmentalize and protect the passenger cabin in a crash. Carbon fiber composites were used to reinforce collision areas, and the i3 has front- and side-impact airbags.
Antilock brakes and child seat safety latches are standard across all versions.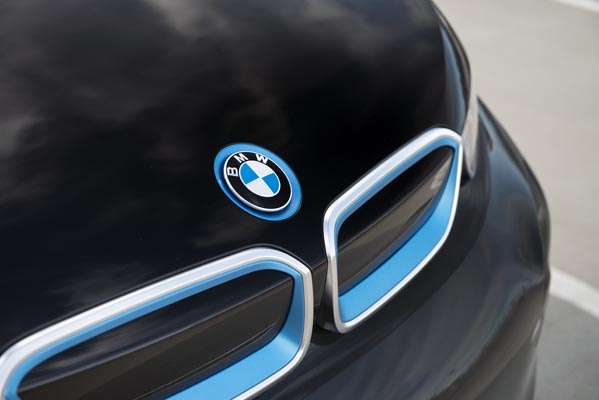 Starting at $42,400, or $46,250 with the range extender, before federal and applicable state incentives, the BMW i3 is considerably more expensive than other electric cars in its class. It's also twice as expensive as some gas-powered compact hatches, if you reach that far.
Our tester, a fully decked i3 Tera with range extender, topped out at $54,450, which is an eye-watering figure considering its 140-mile range.
But it's clear that BMW is positioning the i3 for early-adopter buyers looking for a bleeding-edge car who are willing to trade battery range and affordability for "look at me" tech.
Updated
Forced into early retirement before his 1988 debut bout against "Million Dollar Man" Ted DiBiase for the Intercontinental Championship belt, Aaron is a syndicated automotive columnist in newspapers spanning the Louisiana and Gadsden purchases and the Northwest Territories. When he's not writing about cars, he's driving them. And when he's not driving them, he's probably eating or sleeping because you need to do that too.
What's your take on the 2015 BMW i3?
2015 BMW i3 Top Comparisons
Users ranked 2015 BMW i3 against other cars which they drove/owned. Each ranking was based on 9 categories. Here is the summary of top rankings.
Have you driven a
2015 BMW i3
?
Cars compared to 2015 BMW i3
Looking for a Used i3 in your area?
CarGurus has 1,628 nationwide i3 listings starting at $9,595.
Have questions?
Ask a question
BMW i3 Questions
Selling Car With Lien On It
Need some advice on selling my BMW i3 , i still owe money on it and i have a buyer who wants to buy it with cash but wants to take car right away (make sense) but bmw does not have physical location...
2015 BMW 3i What Is The Difference Between 6speed And A 1 Speed?
What is the difference between 6speed and a 1 speed?
Star Rating
What does star rating mean?
Trims
RWD

Avg. Price: $14,545
RWD with Range Extender

Avg. Price: $15,266
Find great deals from top-rated dealersTM
Search
Quick Links