Looking for a Used Highlander in your area?
CarGurus has 23,249 nationwide Highlander listings starting at $2,995.
2014 Toyota Highlander
Test Drive Review
[T]he Highlander is just as capable and competent running to the corner store as it is running up to the mountains for the weekend.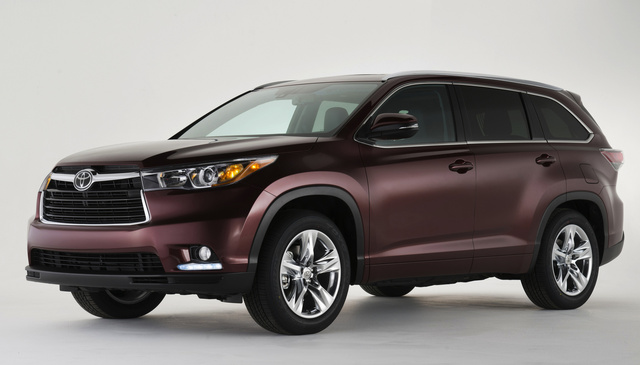 The crossover has come a long way. Sure, that sounds like a tired trope, but when you are in the market for such a ubiquitous family vehicle, you should probably be used to over-done terms like "In a world…" and "Looks like someone has a case of the Mondays!" Let's face it, crossover ownership means what minivan ownership once did—your younger years are wrapping up, and family is taking precedence over fun.
Luckily for you, Toyota has taken what was once one of the most staid and boring crossovers around (in fact, the very model that resulted in the crossover segment being labeled "boring") and injected it with a healthy shot of youthfulness and excitement. The 2014 Toyota Highlander won't pull a quarter-mile in 12 seconds or go off-roading on the Rubicon trail. But it has just enough power, technology and athletic styling that you can actually get excited about driving the kids to soccer practice.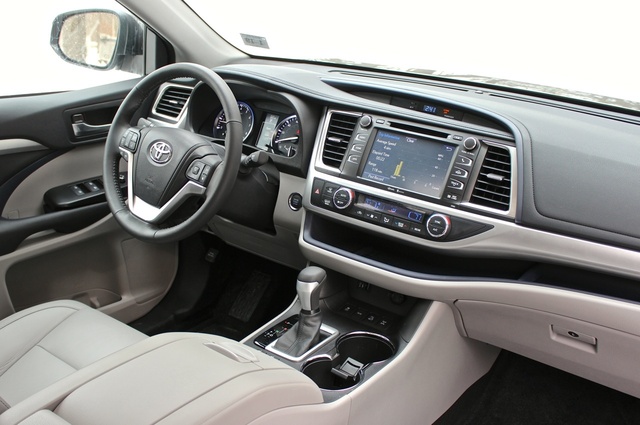 The Highlander was once the definition of vanilla. In fact, you could go to the corner store and find ice cream in vanilla, vanilla bean or Highlander flavors. It was never available in frozen yogurt, because that would have been just too darn trendy.
But now the Highlander has a brawny outward appearance, dominated by sharply raked headlights, a menacing grille, pronounced taillights and flared fenders. The whole package looks athletic and actually exciting. If you're able to detect some surprise between the lines of this review, it's because the Highlander never before had these traits. Every previous generation of the Highlander was merely a design evolution of the one before it. This once did well for Toyota, but the Japanese automaker is seeking to change its image. At the 2014 North American International Auto Show, Toyota CEO Akio Toyoda vowed "no more boring cars." Akio said his company's vehicles should have "style that stirs people's emotions and makes them say 'I want to drive this'." He seems to have accomplished that with the 2014 Highlander.
The base LE trim of the Highlander comes in at $30,075 and features standard seating for 8, a 6.1-inch touchscreen, backup camera, standard Bluetooth hands-free calling and more cupholders and cubbies than you can shake a stick at.
The next trim is the LE Plus, which adds three-zone climate control with rear climate toggles, a leather-wrapped steering wheel and shifter, and SofTex leatherette seating in place of the standard fabric seating. Above the LE Plus is the XLE, which carries a starting price of $37,175 and features standard navigation, leather seating and the addition of a detailed color digital display in the instrument panel. The top trim is the Limited, which costs $42,355 and features 19-inch wheels, a JBL audio system and upgraded safety tech like a blind-spot monitoring system.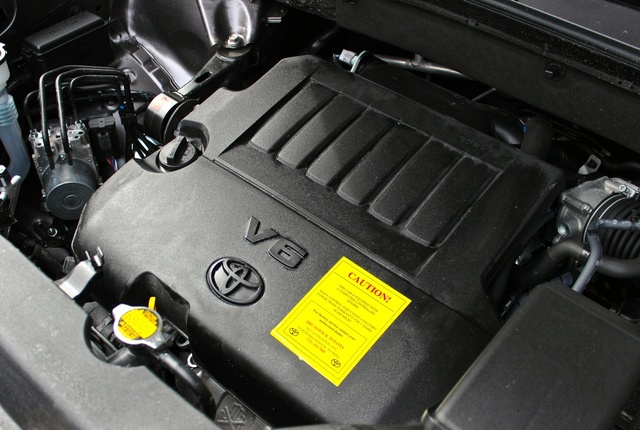 The 185-hp 2.7-liter inline 4-cylinder (I4) found in the base LE trim is barely enough to pull the 4,500-pound Highlander. Thankfully a 3.5-liter V6 is optional in the LE and standard in the LE Plus and above. The V6 makes 270 hp and is paired well to a 6-speed automatic transmission. The prevailing trend for competitors in the crossover market is to offer a continuously variable transmission, which offers neither performance nor ideal fuel economy. Luckily the gear ratios of the automatic are set up for both. Eco mode can be engaged whenever full power is not required. It slows throttle response and keeps the Highlander in a high gear, helping it achieve 19 mpg city/25 highway in front-wheel-drive (FWD) V6 trims. Trims with the I4 and FWD get 20/25, but the lack of acceleration is not worth the savings. Our XLE AWD (all-wheel drive) test trim was listed at 18/24, though we achieved just under 20 mpg in mixed driving.
Click the gear selector over to "S" (Sport), and the Highlander comes alive. You won't be doing any burnouts, but it provides the ability to get up to highway speed and overtake other cars on the freeway with impressive hustle.
The Highlander's AWD system is a little more robust than your typical AWD system. Since the advent of crossovers in the early 2000s, the problem has been that they sometimes use car-based AWD systems. In the last several years, crossovers have become vehicles that, despite their car-based DNA, actually have AWD systems capable of the rougher stuff—and the Highlander's AWD system is a prime example of this newfound capability.
As displayed by the AWD monitor in the instrument panel, the AWD system can distribute power front to rear and modulates the brakes side-to-side, giving the driver optimal control in a number of conditions. Several toggles in the center console include those for the Downhills Assist Control and center-locking differential. The former allows the Highlander to move downhill at a controlled pace without the driver having to ride the brakes. The latter ensures all 4 wheels move at the same rate, allowing the Highlander to claw through more beaches, ruts and sand than it might otherwise be capable of doing. As a result, the Highlander is just as capable and competent running to the corner store as it is running up to the mountains for the weekend.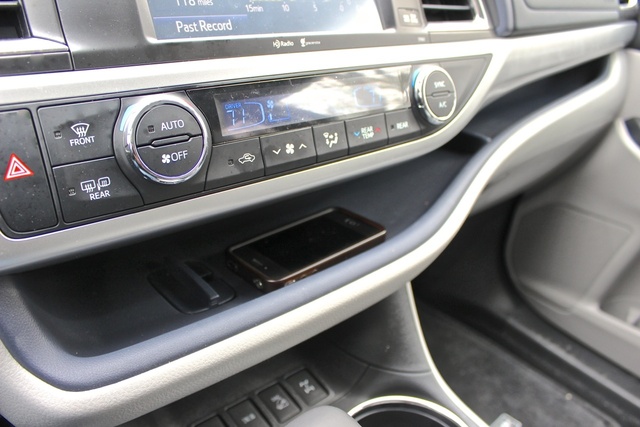 Highlanders have not always been exciting, but the engineers behind the full-size Toyota crossover have always had a handle on how owners actually use their vehicles on a daily basis. The 2014 Highlander continues this tradition with an interior layout that is ergonomic and attractive.
The Highlander features a clever "ledge" that runs from the center stack all the way to the passenger-side door. A pair of dividers helps keep things open, but also keeps them from rolling from one side of the compartment to the other.
The real proof of Toyota's understanding of everyday use is the cavernous center console. It has room for just about every thing you can toss in there. Lest you think Toyota would let you make a mess of its lovely crossover, a movable tray is provided, keeping essential stuff on top and letting toys, DVDs, sippy cups and the like fall into the dark abyss.
The only major knock on the driver controls is the placement of the USB and auxiliary power port. It's tucked a little too far into a small recess. That makes it hard to successfully connect a USB cable without having to move the gear selector into Neutral or Drive. We don't have to illustrate how dangers could arise from doing that.
Out back, both the second and third rows are 60/40 split/folding, and the second row slides forward very easily, providing access to the third row. We would suggest opting for at least the LE Plus trim to get the remote power liftgate.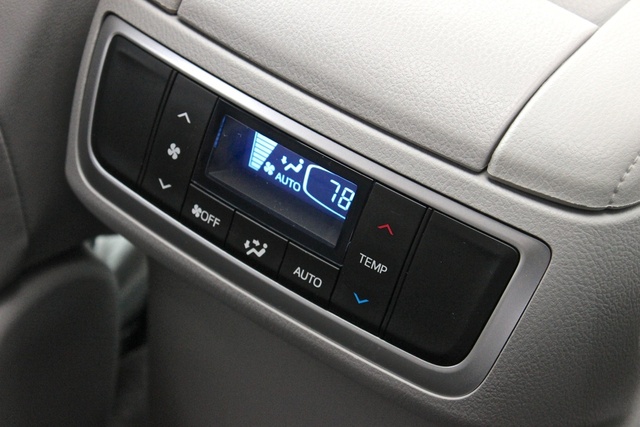 Today, more and more of your connected life is making its way into your car's dash—and Toyota happens to be one of the brands leading that integration. Entune is a multimedia touchscreen interface, but it also has a suite of apps, including Pandora streaming radio, Yelp, Bing and others.
This is great, but requires some navigation through the "Apps" menu. Speaking of which, it is a little frustrating that vehicles equipped with navigation do not have a dedicated button on the dash. The navigation function is accessed through the Highlander's app page. Paying extra for a navigation system and not having it a single button touch away is disappointing.
But that disappointment might disappear when you learn about the live-pausing radio. The Highlander will record the station you're listening to up to a certain point, much like a DVR. If you miss a key bit of information in a newscast or want to know what song just played, simply hit Pause, Rewind and Play. You won't use it all the time, but when you do use it, you'll really enjoy that it's there.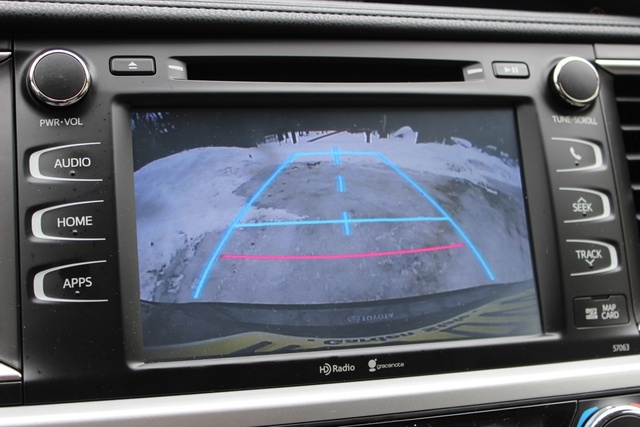 The Highlander comes standard with a backup camera, tire pressure monitoring system and a full array of advanced front and side impact airbags. When the Highlander is selected with the available pre-collision system, it is a 2014 Top Safety Pick Plus award winner.
The Highlander is available with other safety tech, like the lane-departure warning system, automatic high beams, a blind-spot monitoring system and rear cross-traffic alert system. It has more safety tech than you feel you'll ever want—until the moment you need it!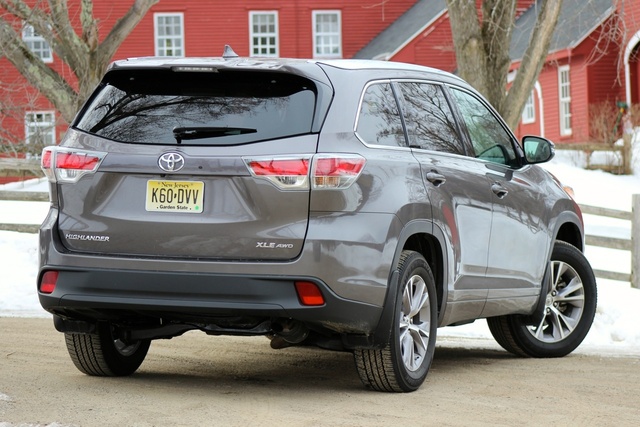 Our XLE V6 with AWD came in at $38,360. It had everything we could really want in an 8-passenger crossover. The complaint from the back-seat peanut gallery was that the second-row seats were not very comfortable, but with plenty of power outlets, you can placate pint-size critics with their mobile devices.
The crossover market is massive and highly competitive. It features the biggest players on the automotive stage all vying for a piece of market share. That competition means crossovers get better and better every year. This is no different for the Highlander, which truly delivers an amazing amount of content for the price—no matter which trim you select.
The great thing about the Highlander is that it feels more like an expensive SUV than a crossover. Many who buy a crossover are doing so because despite needing a vehicle like a minivan, they'd prefer not to own one. The added machismo found in the 2014 Toyota Highlander pushes this crossover beyond vanilla and closer to "cool." That alone is easily worth the price of admission.
Updated
From open-wheel racecars to specialty off-road vehicles, George Kennedy has driven it all. A career automotive journalist, George has been a contributor, editor, and/or producer at some of the most respected publications and outlets, including Consumer Reports, the Boston Globe, Boston Magazine, Autoblog.com, Hemmings Classic Wheels, BoldRide.com, the Providence Journal, and WheelsTV.
What's your take on the 2014 Toyota Highlander?
Have you driven a 2014 Toyota Highlander?
Cars compared to 2014 Toyota Highlander
Looking for a Used Highlander in your area?
CarGurus has 23,249 nationwide Highlander listings starting at $2,995.
Toyota Highlander Questions
Trims
LE

Avg. Price: $18,404
LE AWD

Avg. Price: $18,713
LE I4

Avg. Price: $16,849
LE Plus

Avg. Price: $18,452
LE Plus AWD

Avg. Price: $18,984
Limited

Avg. Price: $22,696
Limited AWD

Avg. Price: $24,339
Limited Platinum

Avg. Price: $21,486
Limited Platinum AWD

Avg. Price: $25,368
XLE

Avg. Price: $21,024
XLE AWD

Avg. Price: $22,475
Quick Links