Looking for a Used Q7 in your area?
CarGurus has 3,371 nationwide Q7 listings starting at $5,000.
2014 Audi Q7
Overview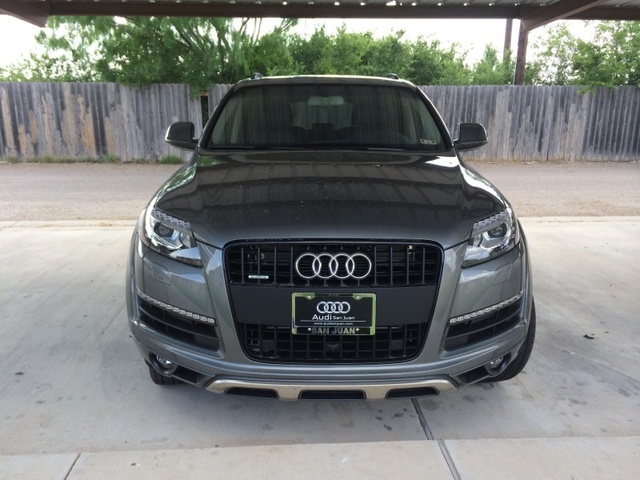 Audi's 7-seater loses over 100 pounds and shows off a brand new beach-babe body for 2014, looking more like a beefcake TT than a portly wannabe Porsche. Just 8 years ago Audi debuted this full-size luxury crossover after the unexpected-hit Porsche Cayenne's image, which then spawned the Audi Q5 and Q3 that only further popularized luxuriously nimble utes. Their massive success only means more than the recent Q5 Hybrid, Q5 TDI and SQ5 additions are on the way, even if you totally discredit Porsche's maneuvers as being exclusive to that particular Volkswagen child.
For instance Porsche is promising to debut a midsize version of its Cayenne for 2015, possibly called the Macan, borrowing the now best-selling Q5's platform. The 2014 Q5 added yet more changes to the 2013 best-seller that may be adopted by their Porsche siblings as well as this biggest Q in due course—such as the Q5's supercharged rather than turbocharged TDI netting better output and efficiency, a Hybrid electric-boosted engine option and maybe an official SQ7 rather than limited edition after limited edition attached to S-Line Prestige trim options—but "mum's the word" out of Audi so far.
The maker seems more focused on saving its visual appeal than anything else at this point, and the Q7 will be its toughest testing ground, since it was the most-bullied Volks Touareg stepchild until now. Hence, these changes are likely only the beginning of a heavy series of rolling updates as Porsche rolls out its versions of the same, if the Q7 can survive the Q5's long sales shadow.
The full-size Q7 hasn't been as favored as its midsize brother, mainly for detriments that typically result from cramming 3 seating rows into something that doesn't look and drive like a brick on wheels. Namely, a cramped third row and sub-30-mpg estimates on premium fuel cut deepest into its practicality. Dimensions, features and basically everything interior stay the same for 2014 in spite of these reviewer concerns, probably because Audi is rightly more interested in real-world results, and drivers are foremost exceptionally pleased with the quiet and smooth fuel-efficient power of this TDI and the Q7's overall utility secondarily, just as a taste of the long string of common wow points.
Looks were drivers' only complaint, and a looks overhaul is what they got without any announced plans to modify Q7 functionality in the slightest, unless you count thus-far unsupported rumors of an extended-wheelbase edition. While its current 10.9 cubic feet for cargo with all 7 seats up may not seem like much, the Q7 compares favorably to all other luxury crossovers by offering 42 cubic feet and seating 5 in total comfort with the third row folded flat, or 72.5 cubic feet with all rows folded for cargo. All 3 V6 engines (280-hp and 295-lb-ft/torque supercharged 3.0T, 333-hp and 325-lb-ft/torque supercharged S-Line and 240-hp and 406-lb-ft/torque turbodiesel TDI) also carry over completely unchanged and still direct power through the familiar 8-speed shiftable automatic and snow-ready Quattro all-wheel-drive system.
Nobody has their hands on one yet to say definitively, but the weight reduction should at least slightly improve overall fuel economy and acceleration beyond last year's 18 mpg city/22 highway for either 3.0T or 17/25 estimated for the TDI, and no slower than 7.5 seconds to 60 mph from a standstill (though reports even then differed by as much as an entire second in an unusually grand show of Audi conservatism somehow missing out on the base 3.0T's 6.6-second potential). Drivers also report 28 mpg highway in the TDI—at 78 mph.
Aside from reportedly gaining high-intensity headlights across the entire Q7 lineup for 2014, it's safe to expect the very same feature content and available options as 2013 models if not better. That includes the 3.0T baseline still available in Premium and Premium-Plus trims, the TDI also still in those trims as well as Prestige, with the Q7 S-Line the only gas-powered Prestige offering. Some option packages are now included by default in certain trims, such as the Comfort package that was already largely included in Q7 Premium trims netting just a leather interior as a new 2014 standard, among other similarly minor changes.
Updated
Your prototypical "Tom Girl" Patricia got her start digging into Ford engines before she aged into double digits. Gifted with a mechanical mind, her favorite pass-time in the summer is picking up a fixer-up'r at the local public auction and massaging its every ailment until it's primed for a new lover. From dirt bikes to land yachts, every partner offers something truly special in her love affair with the road - just don't tell her husband.
What's your take on the 2014 Audi Q7?
Have you driven a 2014 Audi Q7?
Cars compared to 2014 Audi Q7
Looking for a Used Q7 in your area?
CarGurus has 3,371 nationwide Q7 listings starting at $5,000.
Trims
3.0 TDI quattro Premium AWD

Avg. Price: $19,913
3.0 TDI quattro Premium Plus AWD

Avg. Price: $22,319
3.0 TDI quattro Prestige AWD

Avg. Price: $24,471
3.0T quattro Premium AWD

Avg. Price: $20,348
3.0T quattro Premium Plus AWD

Avg. Price: $20,755
3.0T quattro S-Line Prestige AWD

Avg. Price: $23,407
Quick Links