Looking for a Used GX in your area?
CarGurus has 4,175 nationwide GX listings starting at $16,249.
2013 Lexus GX
Overview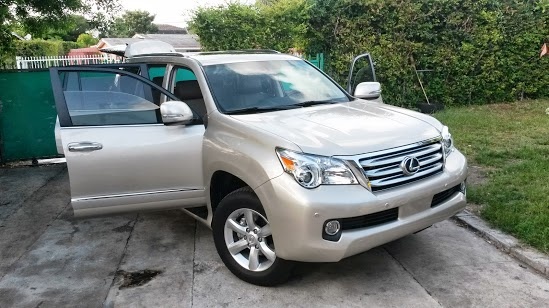 Headed into its 4th year of this generation, the only change for the 2013 Lexus GX 460 is a $200 price increase. Given all of Lexus's recent shuffling and remaking for the rest of its lineup, this can't bode well for the GX 460. This full-size, full-luxury and full-capability 7-passenger SUV promises the horizon by any path you wish to take, but laggard sales and limited interest in such luxurious utility just might mean the demise of this increasingly endangered species.
Last year the Base and Premium received side moldings and shiny wheels, respectively. The year before saw the addition of Smart Stop technology, where the engine will automatically shut off if both brake and gas pedals are pressed, and that brings us to its last overhaul for 2010, where the highly capable 4.6-liter V8 neatly upgraded the GX 460 with 65 more horsepower for a bit less engine, alongside refreshed style and interiors.
Lexus certainly didn't push any envelopes in that 2010 redesign, and if it was going to bring the GX 460's body out of the '90s, Lexus surely would have done it for 2013. Yet there isn't even so much as a rumor or leaked sketch for any update, not for 2013 or 2014, and the usually over-informed Lexus fans are even left shrugging their shoulders. Either Lexus learned Bentley's art of secrecy, or there's absolutely nothing over that horizon.
This reviewer is inclined to believe the 2013 GX 460 is our last shot at exploring the open non-roads and fields in luxurious comfort with that famous new-car smell. That said, there is still a chance Lexus might release a replacement under a different nameplate. The company did swap out one hybrid nameplate for another just recently, and the equally specialized market for total crossover utility just might merit the same treatment in the company's perspective.
For now the 4Runner-based, ruggedly body-on-frame, yet smooth-sailing GX 460 continues on in its 4-wheel-drive form with a 6-speed automatic calling the shots through a dual-range transfer case. The 4.6-liter DOHC V8 pumps out 301 hp and 329 lb-ft of torque for a slightly above-average zip-to-60 in 7.2 seconds, but just 15 mpg city/20 highway for economy. The GX 460 may not be the most practical crossover SUV, but for lovers of rugged quality, comfort and real off-road capability with a 6,500-pound towing capacity, there's just no equal.
Nowhere else is this more apparent than in the Premium trim, which offers a variable suspension and an adjustable rear height control for easily hitching trailers, gaining height clearance and dialing in the otherwise smooth ride to your preference. Continuing in the spirit of dreaming big, the Premium also notably features auto-dimming sideview mirrors and superior climate considerations for not just the front, but also separately for rear passengers alongside a long enough gadget list to keep the family geek squealing for weeks.
Updated
Your prototypical "Tom Girl" Patricia got her start digging into Ford engines before she aged into double digits. Gifted with a mechanical mind, her favorite pass-time in the summer is picking up a fixer-up'r at the local public auction and massaging its every ailment until it's primed for a new lover. From dirt bikes to land yachts, every partner offers something truly special in her love affair with the road - just don't tell her husband.
What's your take on the 2013 Lexus GX?
Have you driven a 2013 Lexus GX?
Cars compared to 2013 Lexus GX
Looking for a Used GX in your area?
CarGurus has 4,175 nationwide GX listings starting at $16,249.
I traded in a lexus gx260 for a lx-570 in late september or october. I've not received a notice that the gx260 was paid off, which it was a pretty much even swap, and the lx was financed on a differen...
Trims
460 4WD

Avg. Price: $26,762
460 Premium 4WD

Avg. Price: $27,300
Quick Links