Looking for a Used Civic Coupe in your area?
CarGurus has 3,143 nationwide Civic Coupe listings starting at $1,623.
Review
The Good
Honda's Civic is still one of the most versatile vehicles on the road, and 2012 brings increased refinement, efficiency and power.
The Bad
The 2012 Honda Civic is drifting away from its roots and becoming softer and larger with age, while still offering a dearth of room in the back seat and a lack of insulation that will make your ears ring.
The CarGurus View
With this newest release, Honda claims it has "made the best even better," but that's difficult to back up. Competitors offer more power, more space, better fuel economy and better interiors and do it all for less money. It seems the 2012 Civic is resting on its laurels, and that can kill a car quick—even one as cemented as the Civic.
At a Glance
The Civic Coupe missed its scheduled redesign a few years back thanks to a lackluster economy, so rather than a ninth-generation Civic for 2010, we see it in 2012. Unfortunately, despite a stiffer chassis, more room inside, better fuel economy and a more powerful engine for the Si, the Civic feels like a 2010 car. Even more unfortunate, its competitors don't suffer the same shortcoming.
But before we talk about all the high points of the competition, the Civic would like to make its debut. For 2012, the Honda Civic Coupe gets a wider body that provides 3 extra inches of shoulder room, so passengers don't feel like they're riding the subway, as well as other exterior massages, and the sport-inspired Si gets a new 2.4-liter engine lifted from the Acura TSX sedan.
Drivetrain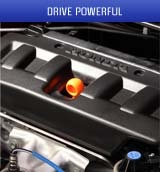 Before we talk about the new power play on the field, let's take things in order. The base trims get no bump and stay with the 1.8-liter engine that debuted in the Civic in 2006. However, even with no drivetrain changes, the aerodynamic benefits of the new steeply raked windshield mean an increase in fuel economy. Rolling resistance has been combated as well, and as a result the Civic lineup gets a claimed 3-mpg increase across the range. This comes with the 5-speed automatic or 5-speed manual transmission in DX, LX and EX trims, and with the automatic that comes with the EX-L and EX trims equipped with navigation. Again, rivals offer newer, more-efficient 6-speed transmissions, and despite the increase in economy this won't go unnoticed for potential Civic customers. They're a smart bunch.
The sport-inspired Si suffers from no such shortcomings, with its new 2.4-liter engine mated to a 6-speed manual transmission. It offers a substantial power upgrade from 2011's 2.0-liter lump in the form of 4 extra horsepower and 31 extra lb-ft of torque, which makes a huge difference in the daily drivability of the Si. Even with its stiffer suspension and louder engine and exhaust notes, it's the best offering for daily use, as the extra torque means the engine doesn't have to be wound up quite so high before getting the motivation to leave the line.
Ride & Handling
Because of the increase in chassis stiffness, insulation and especially overall size, the Civic just feels heftier. This despite a drop in weight that ranges from 20 to 60 pounds across the range. Sadly, you won't notice. A slower ratio and stiffer structure for the steering column further the numbness we already felt, and changes to the front strut/multi-link rear suspensions yield more travel and decreased rigidity for even more loss of feel and agility. So much for those of us who like to turn.
Cabin & Comfort
While the Civic may have grown this year, the Coupe still deals with its inherent limitation. It offers 3 inches less headroom than its sedan siblings and a knee-busting 5 inches less legroom in the rear. As such, the rear seats are still best left to small children and luggage. The extra space is definitely welcome up front, however, helped by a windshield that shows up with that aforementioned more rakish angle. Thinner A pillars help visibility and also contribute to the feel of a more spacious interior, even if they don't actually add any extra space. The same can be said about larger windows, which open up the cabin a bit. However, the windshield's angle necessitates a large expanse of dash, frustratingly composed of great swaths of hard plastic. It does little to help perceived quality and negates much of the interior improvements the Civic has received.
Another of this year's improvements is a 5-inch display mounted in the center of the dashboard in all but the DX trim, hosting readouts for Honda's Intelligent Multi-Information Display (i-MID) and controlled by 14 buttons crammed onto the tilt-and-telescoping steering wheel. That's right: 14. Add navigation and things get more confusing still, although the two-tier cluster does work well once you've adjusted.
While the interior improvements are welcome, they still fall short of the strides competitors like the Focus and Elantra have made, neither of which feature the hard plastics the Civic still offers. Additionally, the lack of sound insulation the compact class is known for doesn't seem to have been addressed in this latest-generation Civic—despite Honda's claims—and the Coupe is even worse than the sedan in that regard.
Safety
The 2012 Civic Coupe gets dual front, front-side and curtain-side airbags, traction and stability control, daytime running lights and antilock front brakes with assist. The EX bumps up the braking with 4-wheel antilock discs, and the Si additionally gets larger, 11.8-inch front brakes as opposed to the 10.3-inch units on other trims. They're good for 11 fewer feet in 60-0 stopping distance—a nice upgrade from the 131 feet it takes to stop non-Si trims. In fact, DX and LX trims even drop the rear disc for a drum setup, exacerbating the situation further.
The 2012 Civic Coupe also experienced some recalls to address fire-inducing fuel leaks as well as separating drive shafts, but these issues should be taken care of by now. As such, the Insurance Institute for Highway Safety (IIHS) awards the Civic Coupe its highest rating of Good in all tests, and the National Highway Traffic Safety Administration (NHTSA) rates the Civic Coupe at 4 stars in all tests other than front and side impacts for the driver, which garnered 5-star ratings, and side barrier ratings for the driver, which got 3 stars.
What Owners Think
Owners are split, as the Civic Coupe moves further away from its origins while getting more comfortable, more powerful and more efficient. Many lament the loss of legs that's come with electric steering and suspension sacrifices, but numbers don't lie: The Civic is still one of the best-selling cars on the market. Complaints about lack of steering feel and not enough insulation abound, and you'll still hear the usual boy-racer complaints about the Si not being aggressive enough.
Updated
A CarGurus contributor since 2008, Michael started his career writing about cars with the SCCA - winning awards during his time as editor of Top End magazine. Since then, his journalistic travels have taken him from NY to Boston to CA, completing a cross-country tour on a restored vintage Suzuki. While his preference is for fine German automobiles - and the extra leg room they so often afford - his first automobile memories center around impromptu Mustang vs. Corvette races down the local highway, in the backseat of his father's latest acquisition.
What's your take on the 2012 Honda Civic Coupe?
2012 Honda Civic Coupe Top Comparisons
Users ranked 2012 Honda Civic Coupe against other cars which they drove/owned. Each ranking was based on 9 categories. Here is the summary of top rankings.
Have you driven a 2012 Honda Civic Coupe?
Cars compared to 2012 Honda Civic Coupe
Looking for a Used Civic Coupe in your area?
CarGurus has 3,143 nationwide Civic Coupe listings starting at $1,623.
Honda Civic Coupe Questions
Trims
DX
EX

Avg. Price: $8,935
EX with Nav

Avg. Price: $8,530
EX-L

Avg. Price: $9,758
EX-L with Nav

Avg. Price: $11,259
LX

Avg. Price: $8,649
Si

Avg. Price: $11,173
Si with Nav

Avg. Price: $11,436
Si with Nav and Summer Tires

Avg. Price: $11,667
Si with Summer Tires

Avg. Price: $11,261
Quick Links