Looking for a Used Mariner Hybrid in your area?
CarGurus has 14 nationwide Mariner Hybrid listings starting at $5,900.
2006 Mercury Mariner Hybrid
Overview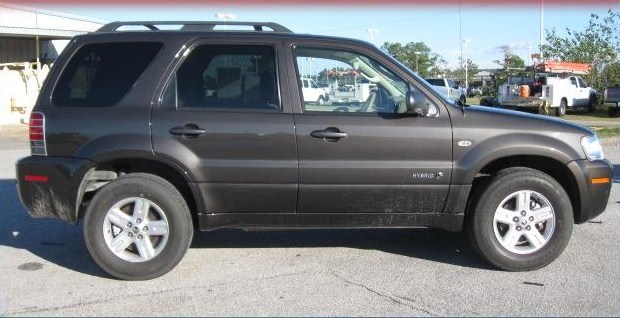 Ford used its Escape Hybrid to provide the underpinnings of the Mariner Hybrid. Mercury added upscale exterior and interior styling to the Mariner, along with a more-compliant suspension to attract youthful, luxury-oriented buyers.
The Mariner employs a hybrid system similar to that of the Toyota Prius: It combines a fuel-efficient four-cylinder gasoline engine with two electric motors and transmits their power through an electronically controlled CVT (continuously variable transmission) - differences are limited to the size of the engine, motors, and battery pack.
The 2.3-liter, 133-hp gas engine powers the wheels and the electric generator that powers the electric traction motor, which adds its 94 hp to the wheels and handles reverse gear. The 38-hp starter motor recharges the battery pack, controls the CVT transmission, and adds power to the traction motor. The battery pack recharges during braking, via the gas motor, or through the electric generator. The driver can monitor the power transmission on a dashboard view screen. Up to 25 mph, the electric motor does all the work, thus city mileage produces the highest gas mileage figures.
Start the Mariner Hybrid, and you'll listen to the sounds of silence, since only the electric motor switches on. While seamless in its city performance, which involves lots of switching between gas and electric propulsion, reviewers complained about excessive engine noise at highway speeds.
Careful driving achieved the best gas mileages. The EPA claims 29/32 mpg, highway/city. However, one reviewer got an average of 27.6 mpg. Adjusting his driving style - restrained acceleration, sticking to speed limits, staying under 20 mph between stop signs - he recorded an average 31.4 mpg in 500 miles of mixed driving. Another reviewer reported 30 to 35 mpg in mixed driving, but after employing "every trick" to conserve fuel, recorded 44 mpg.
Hybrid technology adds $3,000 to the price of an equally equipped standard Mariner, but a tax credit offsets some of this added expense.
The Mariner Hybrid, with its energy efficiency packaged in an upscale, compact SUV, offers you cake - lots of room for it - and the opportunity - by saving you on your fuel bills - to eat it, too!
What's your take on the 2006 Mercury Mariner Hybrid?
Have you driven a 2006 Mercury Mariner Hybrid?
Cars compared to 2006 Mercury Mariner Hybrid
Looking for a Used Mariner Hybrid in your area?
CarGurus has 14 nationwide Mariner Hybrid listings starting at $5,900.
Mercury Mariner Hybrid Questions