Looking for a Used Fiero in your area?
CarGurus has 41 nationwide Fiero listings starting at $4,495.
A Sporty Car That Isn't Exactly A Sports Car.........yet
by Fierostreet
— Honestly i am biased because it is my first car and i basically raised it from the dead, because it is a 26 year old car i am defiantly going to be replacing a lot of the parts but at the moment it's ...
Read more
Small & Sporty
by Adam
— No matter how much crap I got for trying to restore this, I still love the Fiero. Although mine kinda sucked these cars are still really cool to me. I love the styling on both the base and gt's. Th...
Read more
A Two-seat, Mid-engine Car That Performs Like A Sports Car.
by Adam
— The 1984 Pontiac Fiero was a trend setter that threatened the Chevy Corvette's niche and was shut down by Pontiac. Loved by almost everyone that owns one, the Fiero was a mid-engine 4 cylinder or...
Read more
1984 Pontiac Fiero
Overview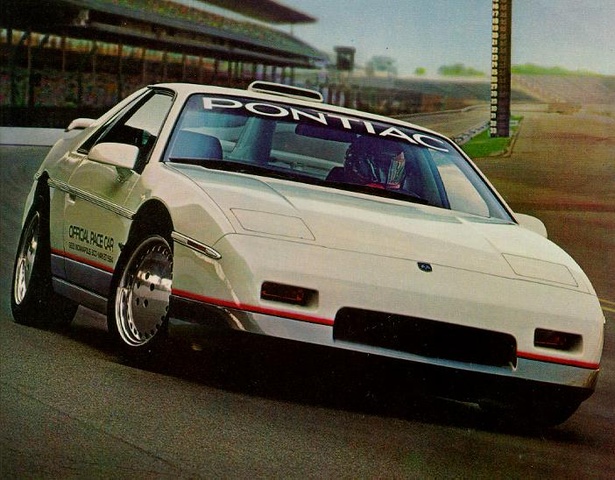 The history of the Pontiac Fiero actually started with a person that most of you would have never thought of. In fact a lot of readers may not even know who he is. His name is John DeLorean. His inspiration for the car came from a prototype of a car called the Pontiac Banshee. However in the end the cars design fell to Hulki Aldikacti. And to be honest except through research I really do not know of that name very in the design world. There were several names tossed around for the car but the final decision came to be Fiero which is Italian for the word Proud in English. To me that turned out to be a perfect name. The car was to be a fuel efficient commuter car. But as always we the car enthusiasts had other plans for this car, with it being at that time the only mid-engine car ever mass produced in all of North America. I personally always thought if it as an American answer to the European car market. Although it probably was not that at all. The car was produced from 1984-1988. But there was a prototype produced in 1990 that never saw production. This car had many hardships over its short lived production one the worst being that its front suspension was inherited from the lowly Chevy. Chevette. Not a car known for its great handling. This was finally corrected in 1988 which turned out to be its last full production year. But even with that suspension the car seemed to handle reasonably well. There were many models through its production there was the base model also referred to as the 2M4 which translates to 2 seat mid-engine 4-cylinder, then was the 2M6 or 2 seat mid-engine 6-cylinder, The Formula which shared the same engine as the GT model but only with a slightly modified base 2M4 body style. And finally there was the GT. Which from its first appearance had a much more aggressive look. The car actually look as if it was moving while it was standing still. Engine types and power for these models are as follows. The base model 2M4 was a 2.5 liter in-line 4 cylinder that produced 98Hp and 135FtLb of torque. The 2M6, Formula, SE, and the GT all shared the same engine a 2.8 liter V-6 which produced 135Hp and 160FtLb of torque. These numbers may not seem to impressive unless you remember that the car only had a curb weight of 2778 Lb�s.1986 saw a re-design for the GT model a much more rounded more aerodynamic body and the old GT body became know as the SE. The base 4-cylinder engine got some refinements pushing it up to the Hp listed above. In 1987 Pontiac decided it was time to start to get this car right. The 5-speed manual transmission which was standard on all models got a much needed upgrade to a 5-speed Muncie- Getrag and was only available with the V-6 models.1988 Saw the end of the production of the Fiero even though it was the best Fiero yet. This was also the year of the Formula model which was basically a standard Fiero but with many of the GT features including the engine. The GT had many refinements including suspension, brakes, steering, it was the only year that T-Tops became a dealer option. I have driven many of these cars, and was lucky enough to own a 1988 model GT for a short time and I can honestly say that out of all the cars I have driven or owned I had more fun driving that car than any other. It was really fast. Top speed 120 Mph I can prove that. Its size made it fast and agile, and if you are lucky enough to find one take a look at the price. Many of them sell now for more than they did brand new. And for good reason. Think about it, how often do you see one just driving down the road. You see more people trying to buy them than you do people trying to sell them. This car is number 5 of my all time favorite American cars. And this car has one of the most loyal group of followers I have ever seen.
What's your take on the 1984 Pontiac Fiero?
Have you driven a
1984 Pontiac Fiero
?
Cars compared to 1984 Pontiac Fiero
Looking for a Used Fiero in your area?
CarGurus has 41 nationwide Fiero listings starting at $4,495.
Have questions?
Ask a question
Pontiac Fiero Questions
How To Remove Gas From 84 Fiero?
How do I remove fuel from the tank of an 84 fiero se without dropping the tank? I've heard about connecting a hose near the fuel pump, and I've also heard siphoning, but i can't get a hose deep en...
1984 Fiero Swaps
I was wondering if there are any other transverse transmissions that are compatible with the RWD 1984 pontiac fiero or are 85-88 the only fiero thats can be modded
Will A 1996 3.8 Fit Into A 1984 Fiery?
Will a 96 3.8L with trans fit in an 84 fiero. The engine is gm I believe it can from a lumina
Where Is The Plug For The Scanner
1984 Pontiac Fiero Wont Start
I did the spark plug and wire on my Fiero then i try to turn it on. The engine made a loud popping sound like a gun shot. So my dad fixed it and now it still don't want to turn on. It sounds like ...
Trims
Base

1 national listing

Avg. Price: $6,858
SE or Indy

2 national listings

Avg. Price: $8,342
Sport

4 national listings

Avg. Price: $6,358
Quick Links