Rising Gas Prices Will Mean Sticker Shock for Used Car Shoppers This Summer
CarGurus Predicts 15% Increase in Fuel-Efficient Used Car Prices by August; Winter Months Offer Better Deals
CAMBRIDGE, Mass., March 5, 2012 -- CarGurus (www.cargurus.com), the auto research and shopping site, is forecasting that as gas prices climb towards $4.50 a gallon, prices on fuel-efficient used vehicles will follow with an increase of 15% by August. CarGurus analysts say the correlation between gas prices and prices of fuel-efficient used cars has been notably high over the past 13 months: As gas prices climbed to nearly $4 a gallon last year, demand for used fuel-efficient cars followed, which sent prices on such vehicles up soon after. This year, CarGurus analysts expect to see a similar price correlation, the key difference being that prices on fuel-efficient used cars never fully recovered from last year's highs, so consumers will see prices peak in August at levels 10% higher than the same time last year.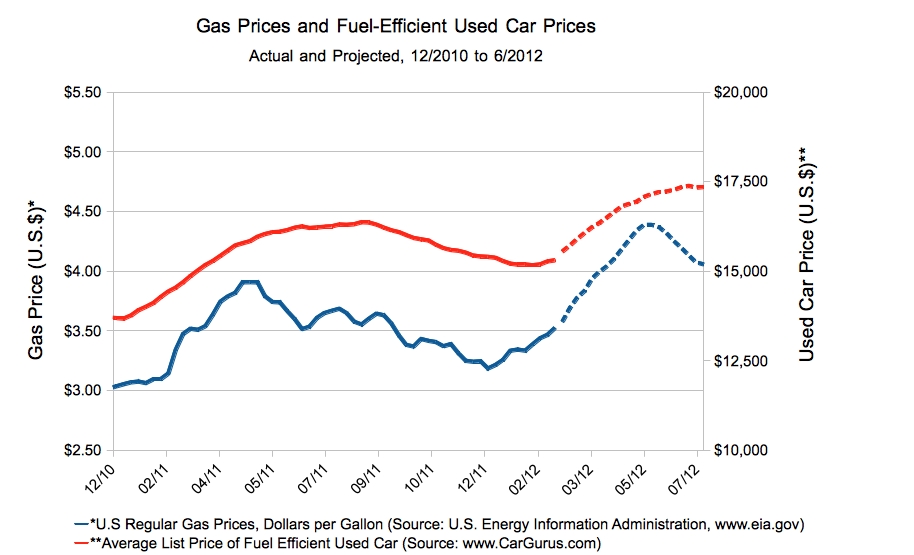 "Gas prices have proven a reliable indicator of where used car prices are headed, and consumers in the market for a fuel-efficient used car this year should be mindful of that correlation," said Langley Steinert, founder and CEO of CarGurus. "The best advice for shoppers is to get ahead of the cycle by buying soon, when they will find the best deals on small, fuel-efficient used cars. Alternatively, consumers should consider waiting until the fall and winter months when there is typically less price volatility in the used car marketplace."
Methodology
CarGurus has tracked the list prices on used cars since August 2010 and regularly provides insights on related market trends. To arrive at this forecast, CarGurus analysts studied the correlation between 2011 gas prices and the historical average prices on a subset of fuel-efficient cars. CarGurus then considered the current market conditions to project prices through August 2012. (Note: Models from Asian carmakers were excluded from this study to control for the effect of last year's tsunami and subsequent supply issues on price.) Gas price trends used in this study were obtained from the U.S. Energy Information Administration (www.eia.gov). For more information about price trends on specific brands and models or in specific regions of the country, please visit www.cargurus.com/Cars/price-trends/.
About CarGurus
CarGurus (www.cargurus.com) is a leading online automotive destination focused on making the car shopping and research experience more transparent for consumers. CarGurus' free listings search tool analyzes prices on millions of available cars and enables consumers to quickly find the best local deals from the best rated dealerships. Unlike many other listings sites, the search results rankings are unbiased by listings providers.
Located in Cambridge, Mass., CarGurus was founded by Langley Steinert, co-founder and former Chairman of TripAdvisor, the largest travel site in the world.
Amy Mueller
CarGurus
617-216-2900
pr@cargurus.com
###