FIAT dealerships near me (Orlando, FL)
3 dealerships within 50 mi
Greenway Fiat Alfa Romeo
|
View Inventory
9103 E. Colonial Dr., Orlando, FL 32801 (6 mi)
Open Now

9:00 AM - 7:00 PM
Today we bought our first Alfa Romeo in Greenaway Dealership. And we are so happy about it. The best part besides our new Stelvio was the amazing service from Efren, since the beginning he was so helpful and got us approved besides my not as nice credit..... please if you are looking for a great place to buy your dream car, just contact Efren, he will make it happen.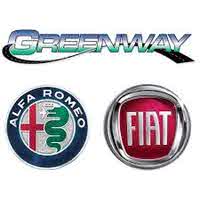 Sales hours
Sunday: 10:30 AM - 7:00 PM
Monday: 9:00 AM - 7:00 PM
Tuesday: 9:00 AM - 7:00 PM
Wednesday: 9:00 AM - 7:00 PM
Thursday: 9:00 AM - 7:00 PM
Friday: 9:00 AM - 7:00 PM
Saturday: 9:00 AM - 6:00 PM
Fiat Alfa Romeo of Winter Haven
|
View Inventory
190 Ave K SW, Winter Haven, FL 33880 (44 mi)
Open Now

9:00 AM - 7:00 PM
The dealer did respond to my query. I was interested in having a car shipped. I had trouble getting a price for this service.

Sales hours
Sunday: Closed
Monday: 9:00 AM - 7:00 PM
Tuesday: 9:00 AM - 7:00 PM
Wednesday: 9:00 AM - 7:00 PM
Thursday: 9:00 AM - 7:00 PM
Friday: 9:00 AM - 6:00 PM
Saturday: 9:00 AM - 6:00 PM
Daytona Chrysler Dodge Jeep Ram & FIAT
|
View Inventory
1450 N Tomoka Farms Rd, Daytona Beach, FL 32124 (48 mi)
Open Now

9:00 AM - 9:00 PM
Sales hours
Sunday: 11:00 AM - 6:00 PM
Monday: 9:00 AM - 9:00 PM
Tuesday: 9:00 AM - 9:00 PM
Wednesday: 9:00 AM - 9:00 PM
Thursday: 9:00 AM - 9:00 PM
Friday: 9:00 AM - 9:00 PM
Saturday: 9:00 AM - 7:00 PM
Displaying dealers 1 - 3 of 3