Pontiac Aztek
Model Overview
Used Pontiac Aztek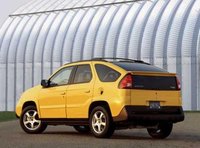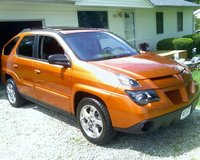 Pontiac Aztek Questions
Why Do I Feel Heat In The Car When Not On
Hi there, any pontiac aztek drivers, or experienced car drivers, that can help me understAnd why does it feel like heat is coming into car while it's not on and im driving
Temp Guage
Hi there fellow drivers, wonder what would cause temp guage to go higher than it should. Mainly when idling. Doesn't go as far as to overheat but its getting close to that side. Once driving it...
I Have A Car That Won't Start!
I have changed the started had the battery and alternator tested. It comes on but won't crank.
Whinning Noise
Hi everyone my pontiac aztek 2003 seems to be making a high pitched whinning noise, when accelerating. Just looked at the transmission fluid and it's very very low. Could this have caused damage...
Tranmission
Want to know what transmissions will work for a 2003 pontiac aztek. Or will only a pontiac aztek transmission work for that vehicle. I don't know if this is a dumb question or not, but seriously
Older Pontiac Aztek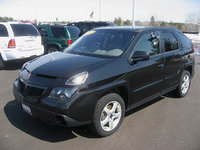 2003 Pontiac Aztek reviews: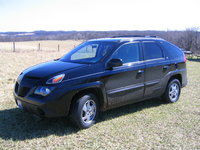 2002 Pontiac Aztek reviews: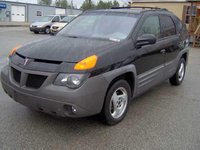 2001 Pontiac Aztek reviews:
Pontiac Aztek
Overview
How do you survive being called "the ugliest car in American history?" Sure, that comment came from Mad Magazine, but it reflected a general view of Pontiac's foray into the crossover market with the Aztec. Introduced to America as a grand prize on the first season of "Survivor" in 2001 (and like that show, people either loved it or hated it), that TV series has proved to be much longer lasting.
The Aztek was the first U.S.-produced crossover vehicle, a happy medium between station wagon and SUV for those wanting the versatility and solidity of an SUV with more car-like handling and better safety ratings. But the Aztek's Achilles' heel was its strange looks. Based on the Montana minivan platform, it looked like it had grafted the front end of a minivan to the bulk of an SUV and the rear body of a souped-up hatchback. It's too bad that we focus so much on appearance in this country, because according to owners, the Aztec handled smoothly, was incredibly comfortable and had more storage configurations and capacity than any SUV.
Aimed at an adventurous youth market, the Aztec offered some unique features. One was a removable front console that doubled as both a CD holder and a cooler. In the back, a special package included a built-in tent and blow-up mattress for car camping, enhanced by rear stereo controls and a lighter. A drop-down tailgate made loading and partying easier. Another unique feature was the fold-down front passenger seat. With the fold-down rear seats, this created 93 cubic feet of cargo space and could easily fit oversized or long objects. The dash was designed by a former NASA engineer, and another unique option here was the heads-up display, a design that's used by fighter pilots to access readouts in the least distracting way.
Sales were disappointing for the Aztek, and some feel that Pontiac never spent enough time marketing what made the crossover so cool and fun to drive. Owners say it was responsive, handled easy, got great gas mileage and was fairly speedy. The cargo capabilities were its biggest draw. Beyond the funky looks, other complaints centered on poor rear visibility due to the spoiler placement, and a heavy hatch that never closed properly. An underpowered engine and poor depreciation also did not sit well with owners. We wonder if "Survivor" winner Richard Hatch still owns his.