Maserati Quattroporte
Model Overview
New Maserati Quattroporte

2020 Maserati Quattroporte
The 2020 Maserati Quattroporte has been announced, but it is not yet available for purchase.

Used Maserati Quattroporte
Maserati Quattroporte Questions
Rear Fan Motor Repair Or Replacement
I have a 2014 Maserati Quatroporte S Q4 and the fan motor for the rear seat has begun making a semi-loud whirring noise and it sounds like it is inside of or under the center console. Could you poss...
Maserati Quattroporte S Q4
I have a 2014 Maserati Quattroporte S Q4 and the rear seat blower is making noise and is obviously in or under the center console. How do I get the center console out to service that rear fan? Are t...
Have A 2014 Maserati Quadroporte S Q4. How To Replace Noisy Rear Fan Motor...
I own a 2014 Maserati Quadroporte S Q4. The rear seat fan has become noisy and I have been trying to figure how to access it so that I might replace it. It sounds like the motor is in the center con...
Can I Put My 2016 Maserati Quattroporte With One Year Left On The Lease At ...
Can I put my lease with 1 year left and 16000 miles to go. For take over.
How Are The Vehicles Priced..
I have been watching Maserati's in a 200 mile radius. I offered a price based on CARGURUS assessment that the vehicle was overpriced. Since contacting the dealer the overpriced mark has continually ...
Older Maserati Quattroporte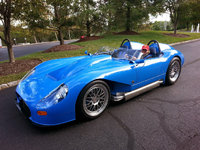 1985 Maserati Quattroporte
Find great deals from top-rated dealersTM
Search