Lamborghini Gallardo
Model Overview
Used Lamborghini Gallardo
Lamborghini Gallardo Questions
Lamborghini Gallardo Battery Replacement
After I put a new battery in my Lamborghini Gallardo now it has no power anywhere! what could be wrong? a fusible link or Master fuse?
How Much Is A 2004 Lamborghini Gallardo, 26,000 Miles?
What is the retail value of a 2004 Lamborghini Gallardo with 26k miles?
Can I Get Body Panels For A Lamborgini?
Car crunched on right side.
When Am I Supposed To Replace My Lamborghini Gallardo 2005 Spark Plugs?
No problem has the car encountered, I just took it for a service and the dealer said I have to replace the spark plugs even though the kilometer has only reached 34000
Older Lamborghini Gallardo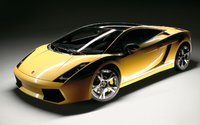 2005 Lamborghini Gallardo
2005 Lamborghini Gallardo reviews: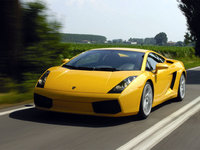 2004 Lamborghini Gallardo
2004 Lamborghini Gallardo reviews:
Lamborghini Gallardo
Overview
With its forward-leaning side mirrors and stern angular front end, the Lamborghini Gallardo is a fighting bull in every sense of the word, poised to unleash its V10 fury on a waiting world. Introduced in 2004, the Gallardo is the new entry-level racer in the Lamborghini lineup, a cheaper (for what that's worth) Murcielago that's also intended to be an all-round road-burner.
Meant to rival the Ferrari F430, the Gallardo has become Lamborghini's top-selling car in just four years on the market, easily outpacing the previous best-seller, the Diablo. The reason may be that the Gallardo gives drivers all the speed and racing action they desire, while throwing in some everyday comfort and practicality, like all-wheel drive, front and side airbags, and stability control. A lighter aluminum body helps offset the extra weight of the all-wheel drive, not compromising at all the mid-mounted 5.0-liter V10 engine. This V10 is new for Lamborghini and was originally rated at 492-hp, until it got a boost to 512 in 2007. It does 0-60 in just over 4 seconds.

The Gallardo is also the first Lamborghini to have 19-inch tires, compared to the Murcielago's 18-inch ones. Unlike the Murcielago, the doors are front-hinged. The Gallardo features more brittle angles, and even the folding side mirrors angle forward. Sitting only 18 inches off the ground, it is low-down and mean. An optional clear cover panel can be placed over the engine to show the beast lurking beneath.

Originally offered as a coupe, the Gallardo expanded in 2006 to a Spyder convertible, with a power-retractable soft top, and in 2007 offered a limited edition Nera coupe, with Alcantara leather seats and a menacing all-black exterior. Facing such a monster head to head, I'd put my money on the fighting bull.
Find great deals from top-rated dealersTM
Search