International Harvester Pick-Up
Model Overview
International Harvester Pick-Up Cars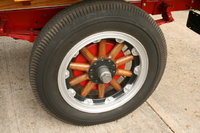 1968 International Harvester Pick-Up
1968 International Harvester Pick-Up reviews:
1941 International Harvester Pick-Up
Questions
1967 Internation Pickup
I just purchased a 1967 International pickup. It has a crack in the windshield(middle). My mechanic is telling me that it isn't worth fixing because the windshield is irreplaceable. He suggests I sell...
Were Can I Find Parts To Restore A 1974 IH Pickup Brake Drums Wheel Cylinde...
1972 International Pickup, 392 V8 Started Just Fine, Drove To Destination,...
I have a 1972 International 1210 with a 392 V8. It has run great since I got it with no issues. This evening, I started it right up, drove to my destination and shut it down now problems. I was i...
Under Cab Gas Tank
Bought a 1970 1 ton 4wd flatbed it has the hole in the cab for a gas tank on the passenger side under the cab anyone have a used one with filler tub for sale? I'm in Portland Or so shipping makes...
Won't Stay Started
I have a 1968 International Pickup it was running just fine yesterday and when I turned it off but something happened I'm not sure what. It will not start it does have spark and it does have gasoli...
International Harvester Pick-Up Experts
View All
Find great deals from top-rated dealersTM
Search