Chevrolet 3600
Model Overview
Chevrolet 3600 Cars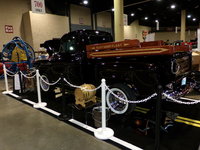 Questions
Truck Turns Over But Won't Run
I have a 1954 Chevy 3600 with a 72 350sbc and rodchester 2jet carb. The truck ran fine then randomly wouldn't start the next day, no signs of power loss or failure previously. I've replaced the st...
2001 Chevy Impala Transmission
2001 Chevy Impala transmission cannot shift into gear with shifter inside of car if you disconnect the cable you can shift it into gear with a pry bar drives great just cannot move the selector fr...
Starter Kicking In When Shutting Down Motor
I have a 57 chevy model 3600 pickup that when I go to shut off the engine, the starter is kicking in? The truck cranks properly and runs fine, but when I go to shut down the starter kicks in until the...