Looking for a New Toyota Corolla in your area?
CarGurus has 1,293 nationwide Toyota Corolla dealers with 8,021 new car listings.
2021 Toyota Corolla
Test Drive Review
If you buy a 2021 Toyota Corolla with SE or XSE trim, you might choose it for its racy styling, but you'll come to appreciate it for its enjoyable driving dynamics.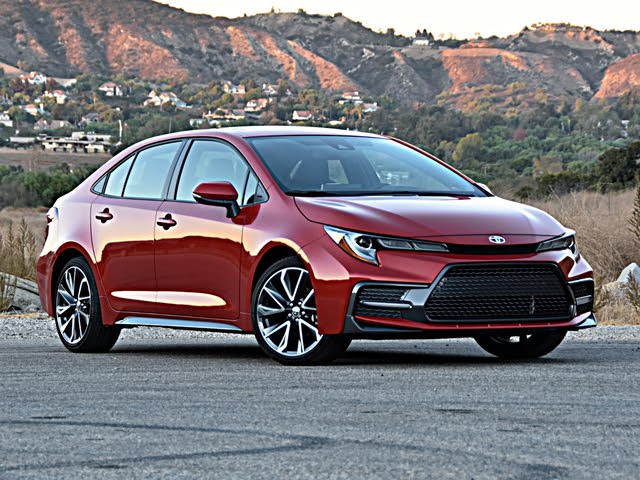 Everybody knows somebody who owns or has owned a Toyota Corolla. Thanks to a deserved reputation for affordability, reliability, and efficiency, the Corolla is what comes to mind when all you want is a cheap, dependable, and thrifty set of wheels.
Over the nameplate's 55-year history, Toyota built a handful of Corollas that were anything but rolling appliances. But those fun-to-drive gems were relative rarities. Under the tenure of Akio Toyoda, the automaker's current president and a man who loves to drive, the Corolla has become something more than a bore. It's a car that makes you want to cruise instead of snooze.
We're talking about the Corolla SE and XSE, of course. Toyota still makes dull and duller versions of its compact car, but the SE and XSE trim levels add some spice to the basic commuter-car recipe.
This year, the 2021 Toyota Corolla SE and XSE are available in a new limited-production Apex Edition flavor. It's got a track-tuned sport suspension, a lowered ride height, revised steering calibration, a sport exhaust system, and lightweight 18-inch gloss black aluminum wheels that you can wrap in optional summer performance tires. Unfortunately, it also comes with a "Lookit me, Officer, I like to go fast!" body kit.
Fearing this would be the example Toyota sent to us for review, we instead happily accepted the key fob to a Barcelona Red Corolla XSE and discovered that you don't need the Apex Edition treatment to enjoy driving this car.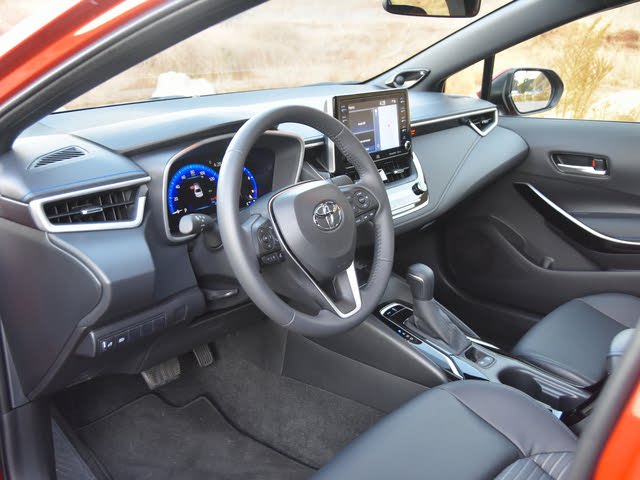 More than any Corolla in recent history, the 12th-generation version currently on sale is also arguably the most attractive. This is especially true when you choose SE or XSE trim, which adds sport-design bumpers, a mesh grille insert and matching diffuser panel, a subtle body kit, a twin-outlet exhaust, and terrific looking 18-inch aluminum wheels. Dip it in Celestite Gray metallic paint, which has a beautiful blue undertone, and the Corolla is genuinely appealing.
But there's still something off about the design. For example, the hood shut line that runs to the headlight assembly and into the jutting bumper visually truncates the front end while drawing attention to the Corolla's massive overbite and gaping maw. The car's best angle is the rear quarter view, but here even the standard Corollas have a wildly over-styled rear bumper. And the new Apex Edition only amplifies the stranger aspects of the Corolla's appearance.
If you seek anonymity on the road, choose the Corolla L, LE, or XLE. Toyota also sells a Corolla Hybrid with the same powertrain found in the Toyota Prius. It comes only with LE trim, and it offers a slightly more affordable path to 50+ mpg than the Prius. These versions cost anywhere between $19,925 and $24,325, not including the destination charge.
This review covers the Corolla SE ($22,375) and Corolla XSE ($25,825). These are the car's sporty versions, and they have a more powerful engine, different transmissions, a Sport driving mode, and bigger wheels and tires. For more performance tuning, the Apex Edition (starting at $25,070) is what you want. Our test car had XSE trim, the optional Connectivity Package, and a set of floor mats. With the $995 destination charge, it came to $28,704.
Toyota does an excellent job with the Corolla XSE's interior, and the car's cabin is light years ahead of previous examples of the model in terms of materials. Soft leatherette for the dashboard, densely padded upper door panel trim, and robust switchgear all lend the latest Corolla an impression of substance.
Simplicity guides the design and layout, resulting in a clean, minimalist look without any of the user experience compromises that can often result. However, practical storage for everyday items is lacking, due in part to a center console design that emphasizes form over function.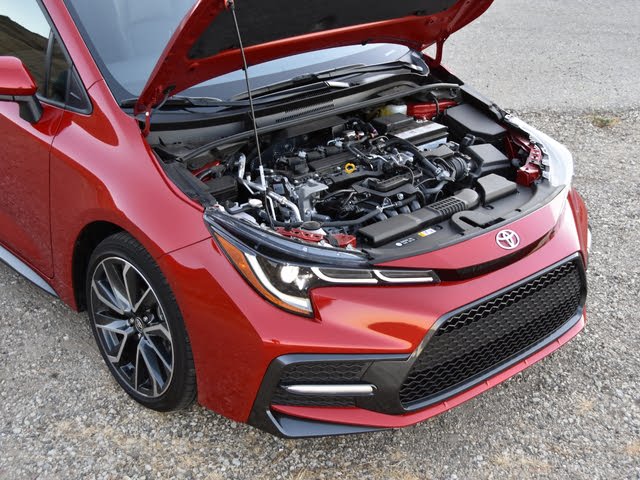 Toyota installs a 2.0-liter 4-cylinder engine in the Corolla SE and XSE, good for 169 horsepower at 6,600 rpm and 151 lb-ft of torque at 4,800 rpm. It pairs with a Dynamic Shift continuously variable transmission (CVT), a set of paddle shifters, and a Sport driving mode, a drivetrain combination that usually promises more than it can ever hope to deliver. Incredibly, a six-speed manual gearbox with downshift rev-matching is an option with SE trim, costing an extra $200.
Our XSE test car's Dynamic Shift continuously variable automatic transmission (CVT) is one of the best examples of this type of transmission. It uses a mechanical first gear to get the car off the line and moving, eliminating what can sometimes feel like drivetrain slip with a traditional CVT. Once the hand-off to the CVT is complete, yes, there are occasional hints of characteristic droning. Still, its ten programmed ratios (sequential steps in Toyota-speak) do an excellent job of hiding the traits that typically make a CVT so awful.
The Corolla sits on the Toyota New Global Architecture (TNGA) that forms the basis for everything from this car to the Sienna minivan. Few modern Toyotas don't use the TNGA platform, which the automaker, under the careful watch of company president Toyoda, engineered for a low center of gravity and enjoyable driving dynamics.
Additional mechanical components include electric steering, vented front and solid disc rear brakes, and a MacPherson strut front, multi-link rear suspension. The only difference between the SE and XSE and other Corollas is their 18-inch aluminum wheels and more aggressive 225/40 all-season tires.
Having recently driven a Hyundai Elantra N prototype, a Mazda3 2.5 Turbo, and a Volkswagen Jetta GLI in the mountains above Malibu, California, we weren't expecting to have much fun in the comparatively tame Corolla XSE. But fun we did have, in part because there simply isn't enough power here for a driver to get into serious trouble, and in part because the XSE demonstrates unflappably predictable handling characteristics.
This isn't a sport sedan. Instead, it is a remarkably competent compact car similar to a Honda Civic or a standard Mazda3. With the 2.0-liter engine, it's quick enough, it's engaging enough, and it's capable enough in corners that you don't feel like you've assigned yourself to drive a penalty box on wheels. You might buy a Corolla SE or XSE because you prefer the sportier styling but then come to like the car for its dynamic traits, as well.
As far as fuel economy goes, the EPA says the Corolla XSE should return 34 mpg in combined driving. We averaged 31.1 mpg on a mountainous route, and our driving included switching between Eco, Normal, and Sport driving modes and using the paddle shifters for a short time.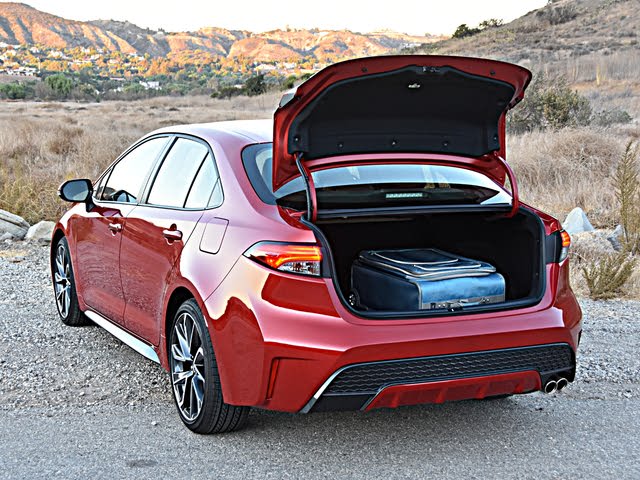 When you choose the XSE trim level, you get numerous upgrades over the Corolla SE. Among them are SofTex leatherette seats with trendy striped fabric inserts, front-seat heating, and, more importantly, eight-way power driver's seat adjustment.
Not only does this feature provide added comfort and a commanding driving position with clear sightlines forward, but it helps to make the Corolla easier to enter and exit. The front passenger does not get a height adjuster, but the omission doesn't matter much because the seat cushion supplies good thigh support.
The rear seat cushions also provide terrific support and sit reasonably high off of the floor. Perhaps too high. Headroom is just as tight as legroom, and there are no air conditioning vents for rear passengers. But, on a chilly day, if you fit, the Corolla sedan's back seat is just fine.
The Corolla's trunk offers 13.1 cubic feet of cargo space, less than some competitors and more than others. The Corolla hatchback, covered in a separate review, offers 17.8 cubic feet behind the rear seat. There is no handle on the inside of the sedan's trunk lid to use to swing it shut.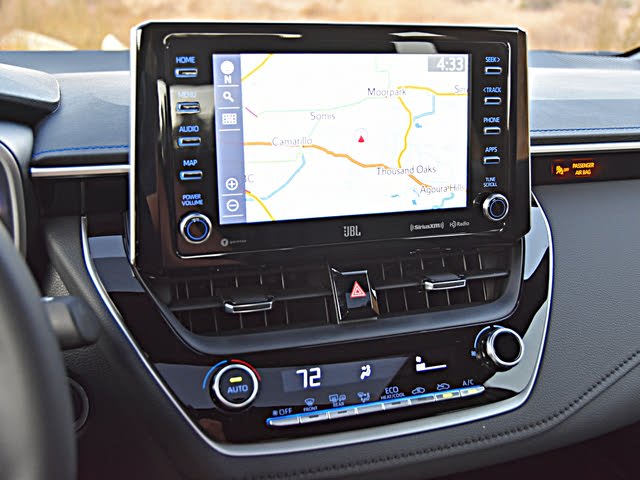 If you've got an Android-based smartphone, you'll be pleased to know that for 2021 the Corolla adds Android Auto smartphone projection as standard equipment. It joins Apple CarPlay, Amazon Alexa, and SiriusXM satellite radio as standard equipment. Every 2021 Corolla also has a free year of Safety Connect services and free access to a Wi-Fi hotspot for three months or 2GB of data use, whichever comes first.
That's an impressive infotainment package in a base-trim compact car. In the Corolla SE, the 8-inch touchscreen is larger than the standard 7-inch display, while the Corolla XSE benefits from standard Service Connect and Remote Connect. Remote Connect is free for a year and includes remote engine starting, a Guest Driver function that sends the Corolla's owner alerts when the person borrowing the car exceeds certain programmed limits, a vehicle finder function, and more.
Additionally, the SE and XSE offer a nine-speaker JBL premium sound system, while dynamic voice recognition, dynamic navigation, and Destination Assist service are exclusive to the XSE trim level.
From a user experience perspective, the infotainment system is a model of simplicity. It has knobs for radio volume and tuning, and it has physical shortcut buttons to easily reach menus related to the audio system, navigation system, and more. The XSE test car's dynamic voice recognition is terrific, too, quickly and accurately responding to all queries and commands.
If there is anything at all to complain about, the radio knobs could extend further from the infotainment system's surface because they can be hard to grasp. Also, the JBL sound system offers depth but is thin on clarity. But these are comparatively minor quibbles.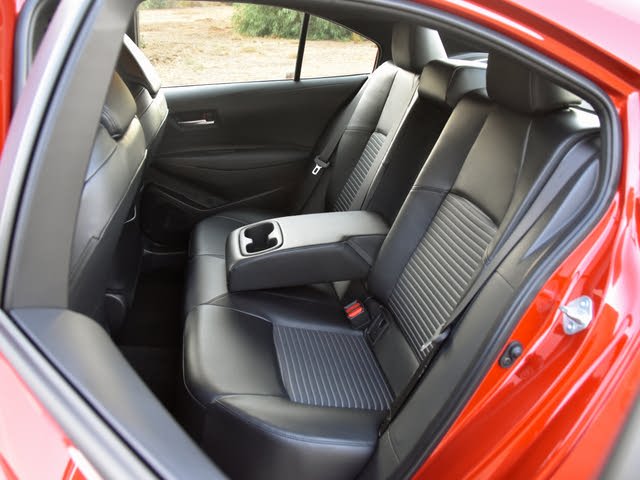 If the 2021 Corolla's infotainment system is impressive, so is the standard Toyota Safety Sense 2.0 (TSS 2.0) collection of advanced driving assistance systems (ADAS). Standard features include adaptive cruise control, forward collision warning, pedestrian detection and cyclist detection, automatic emergency braking, lane-departure warning, lane-keeping assistance, lane-centering assistance, automatic high-beam headlights, and more. This year, Toyota adds standard rear side-impact airbags to the Corolla, and the available blind-spot warning system gains a new rear cross-traffic warning function.
The question is, how does all of this technology perform? The answer is remarkably well and in a mostly refined manner. Sometimes the adaptive cruise control displays uneven braking as it tries to maintain distance to the vehicle ahead, and occasionally the driver needs to override the lane-centering assistance system. These characteristics make these features less pleasing to use. Otherwise, we observed no serious false alerts or flaws while driving the Corolla.
Last year's Corolla earned a "Top Safety Pick" rating from the Insurance Institute for Highway Safety (IIHS). That accolade applied only to Corollas with the optional curve adaptive headlights, which the IIHS deemed Acceptable. The National Highway Traffic Safety Administration (NHTSA) gave the 2020 Corolla its top 5-star overall rating.
Because Toyota added two new airbags to the 2021 Corolla, both the IIHS and NHTSA must re-test the vehicle before assigning new ratings.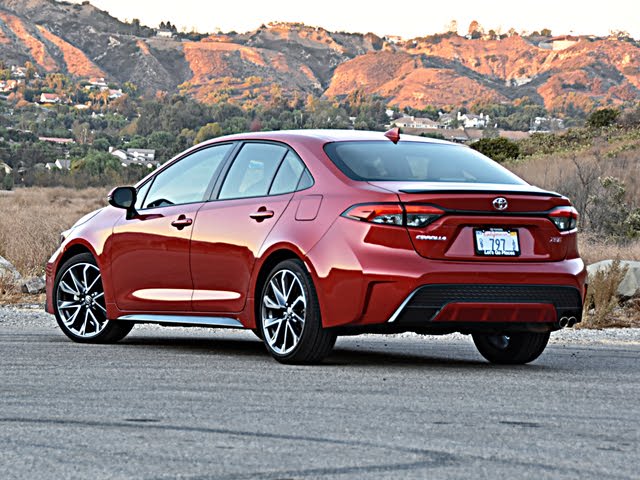 Priced at nearly $29,000, our well-equipped Corolla XSE stretched the boundaries of cost-effectiveness in a compact car. This is especially true given the rather cramped back seat and average trunk size.
That's one reason we think choosing the less expensive Corolla SE makes more sense. It saves several thousand dollars, and now that the infotainment system runs both Apple CarPlay and Android Auto, you don't need the dynamic voice recognition and navigation upgrades. Plus, it looks exactly like the XSE from the outside.
Sure, if you get the SE, you'll need to live without the eight-way power driver's seat, the heated front seats, the wireless smartphone charger, and the curve-adaptive LED headlight upgrade, but you can still get the JBL sound system as an option. And, if you like to row your own gears, the SE is the only way to get a manual transmission.
Now that we've recommended the Corolla SE, how does this Toyota compare to the competition in terms of value? It shines brightest with regard to its free maintenance plan (two years or 25,000 miles) and generous trial periods to connected services. It's also safe, and it has that legendary reputation for bulletproof reliability. The chances are good that it will also be easy to sell when you're ready to drive something else.
Unfortunately for Toyota, the Corolla competes against the redesigned 2021 Hyundai Elantra and the frequently overlooked 2021 Kia Forte. Both supply excellent warranty and roadside assistance programs and Hyundai provides jaw-droppingly good free maintenance and free connected service plans. Plus, the new Elantra is stylish, high-tech, and rewarding to drive in its own right. And the hybrid version doesn't look cheap the way the Corolla Hybrid does.
Other worthy competitors include the handsomely tailored and delightful-to-drive Mazda3, the value-rich Nissan Sentra, the roomy Volkswagen Jetta, and the still exceptional Honda Civic. And if you want all-wheel drive for winter weather, Subaru's Impreza is ready to rock.
Among this collection of genuinely appealing compact cars, the Toyota Corolla is competitive but doesn't stand out in any particular way. But that's always been the case with the Corolla, and it certainly hasn't dented the car's popularity or reputation.
Updated
Christian Wardlaw has 25 years of experience reviewing cars and has served in editorial leadership roles with Edmunds, J.D. Power, the New York Daily News, Autobytel, and Vehix. Chris prefers to focus on the cars people actually buy rather than the cars about which people dream, and emphasizes the importance of fuel economy and safety as much as how much fun a car is to drive. Chris is married to an automotive journalist, is the father of four daughters, and lives in Southern California.
What's your take on the 2021 Toyota Corolla?
Have you driven a 2021 Toyota Corolla?
All Corolla Incentives
Enter your zip to see incentives for a new Corolla in your area.
Cars compared to 2021 Toyota Corolla
Looking for a Used Corolla in your area?
CarGurus has 24,363 nationwide Corolla listings starting at $1,995.
Trims
L FWD

Starting At: $19,872
LE FWD

Starting At: $18,774
SE Apex FWD

Starting At: $24,102
SE FWD

Starting At: $20,904
SE Nightshade Edition FWD

Starting At: $21,670
XLE FWD

Starting At: $22,661
XSE FWD

Starting At: $22,990
Quick Links