Looking for a Used Model X in your area?
CarGurus has 524 nationwide Model X listings starting at $55,830.
2016 Tesla Model X
Overview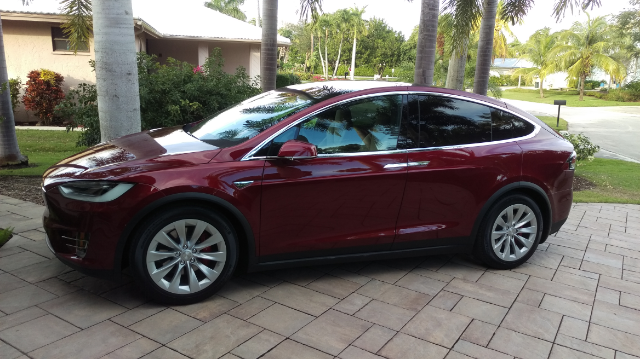 First came the Roadster, next was the highly acclaimed Model S. Now, get ready for the Model X, Tesla's first foray into the crossover world.
Tesla's engineers appear to have nailed it. Journalists who have been lucky enough to test it have lauded everything about the Model X, from its funky innovations to its near-complete silence when you mash the accelerator to the floor.
Powering the Model X will be not one, but two electric motors. Stick to the base 90D and you'll get an all-wheel-drive setup with two 259-hp motors—one sending its ponies to the front, the other to the back. That's good for a 0-60 time of 4.8 seconds and a top speed of 155 mph. Not only that, the Model X will also be able to tow up to 5,000 pounds. Those are simply astounding numbers for an electric crossover with an EPA-estimated 257-mile range on a single charge.
Available in trims labeled Signature and Founder, the P90D (which will be the first version on sale) will have the same 259-hp motor up front, but in back you'll find a monstrous 503-hp power plant. While the P90D will have the same 155-mph top speed as the 90D, where it sets itself apart is in acceleration. Put the pedal to the metal and you'll be cruising at 60 mph in 3.8 seconds. Want more? Purchase Tesla's Ludicrous Speed Upgrade (standard on the Founder) and the P90D will hit 60 in 3.2 seconds. The best part? The P90D will still have an EPA-estimated 250-mile range.
While the Model X will certainly go down in history as a game changer for electric cars, it brings more innovation than just its impressive power and range. Likely the first things you'll notice about the Model X are its falcon-wing rear doors, designed to automatically adjust their opening angle so as to not hit obstacles close to the car (all the car's doors also open and close automatically). Jump inside and it's impossible to miss the panoramic windshield (the largest single-piece windshield in production), extending back over the driver's head and giving the Model X excellent visibility.
Look behind the driver's seat and you'll be impressed with what Tesla's done in the second row. Each seat sits on a single post (creating loads of storage space underneath), reclines independently, and can be tilted forward to hug the seat in front of it, creating more cargo space. Couple that with fold-flat third-row seats and the Model X has enough room in the back to haul around full sheets of plywood. You'll also be able to choose if you'd like two or three second-row seats, giving the Model X 6- or 7-passenger seating capacity.
Inside the Model X you'll find something often hard to come by on city streets—clean air. The Model X will come with a medical-grade high-efficiency particulate air (HEPA) filter designed to keep pollen, pollution, bacteria, and viruses out of the cabin. Aside from the common air filtration modes (circulate outside air and re-circulate inside air), the Model X will also boast a "bioweapon" defense mode that will create positive pressure inside the car to protect passengers in the event of a disaster.
For times when bioweapons aren't the major concern, the Model X has an active safety system that continually scans the road with cameras, radar, and sonar to give the driver as much information as possible to help avoid crashes (these systems also work as blind-spot monitors and parking sensors). If a crash appears imminent without computer intervention, the Model X will automatically apply the brakes. If you do end up in a crash with a Model X, you'll be happy to hear it should be the first SUV to get 5 stars in every crash-test category. Thanks to its lack of a gasoline engine, the Model X has a trunk in front, giving it even more cargo room and helping to create a larger crumple zone in the event of a collision. Adding to its safety pedigree, the Model X is hard to roll over, thanks to its heavy battery pack being mounted under the floor—giving the car a very low center of gravity (and making it quite fun to drive).
Like the Model S, with which it shares many of its underpinnings, the Model X will sport Tesla's massive 17-inch touchscreen display, which controls most of the car's systems, and comes with navigation (complete with real-time traffic information). That navigation will come in handy when it's time to find a place to recharge—Tesla operates a Supercharger network with 520 stations across North America, all of which are free for Tesla owners.
The Model X is practical, good-looking, environmentally friendly, and extremely fun to drive. It truly is a car for everyone—everyone who can afford the price tag, that is. With the P90D Signature carrying an MSRP of $132,000 and the P90D Founder costing $142,000, the car is affordable only to a select few. Even so, sales have been good so far—order a Model X today and you'll have to wait about 9 to 12 months for delivery. Here's to hoping strong early sales speed up the release of the 90D, which should come in below the $100,000 mark.
Updated
Zach is a gearhead and travel junkie who loves to check out cars wherever he goes. Having lived abroad in Germany and Russia, he has grown particularly fond of European cars, but has found nothing able to top his love for his first car: a 2001 Toyota Tacoma.
What's your take on the 2016 Tesla Model X?
Have you driven a 2016 Tesla Model X?
Cars compared to 2016 Tesla Model X
Looking for a Used Model X in your area?
CarGurus has 524 nationwide Model X listings starting at $55,830.
Trims
60D AWD
70D AWD

Avg. Price: $58,259
75D AWD

Avg. Price: $62,851
90D AWD

Avg. Price: $67,884
P100D AWD

Avg. Price: $75,220
P90D AWD

Avg. Price: $72,246
Quick Links