Looking for a Used Model S in your area?
CarGurus has 1,780 nationwide Model S listings starting at $24,000.
2016 Tesla Model S
Overview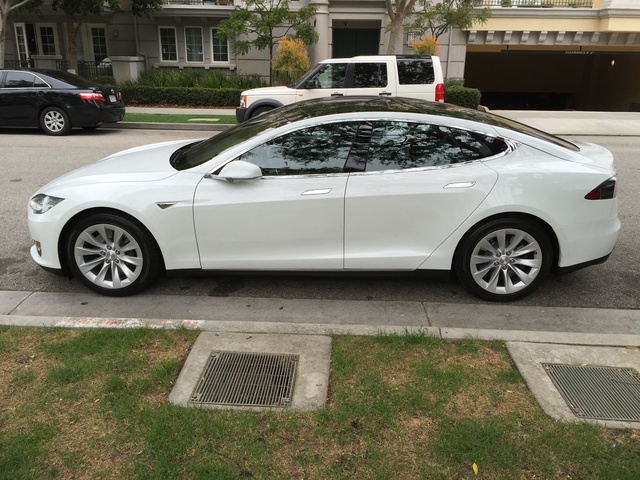 Maybe now, after they've been on the road for four years, people are starting to understand. That blur that just whipped past you on the highway, that luxury sedan that could be the better-looking cousin of a Jaguar or Maserati, that whisper quiet 4-door sliding into the night--that's the Tesla Model S.
There's nothing else on the road like it. The all-electric Model S challenges supercars for acceleration bragging rights, can travel around 240 miles before needing a recharge at one of Tesla's free Supercharger network stations, combines space-age aerodynamics with old-school elegance in its exterior lines, doesn't burn a drop of gasoline, and has German automakers scrambling to come up an with electric luxury sedan of their own that can somehow compete with it.
As it does with most every facet of manufacturing, Tesla takes a different approach to model year assignments. Every Model S that is fully assembled on or before Dec. 31, 2015 is a 2015; every Model S produced from then until the beginning of 2017 is a 2016. So the 2016 Tesla Model S won't be available until January at the earliest, but there are some recent updates that will impact Model S sedans that roll out of the Fremont, CA factory in 2016.
The Model S exterior remains unchanged, but the vaunted electric powertrain gets some "Ludicrous" upgrades. Literally. The Model S P85D, which was the fastest Model S before these upgrades, had an "Insane" mode that would rocket the car from 0-60 mph in a scant 3.1 seconds. But Tesla has created an option that adds 5 kWh hours to that battery, upping it from 85 to 90 kWh, meaning the new high-end performance Model S is the P90D--and has, as you may have guessed, a "Ludicrous" mode that pushes the car from 0-60 mph in just 2.8 seconds.
There is also a new base Model S, the 70, which starts at $70,000 and replaces the 60. The 70's powertrain consists of a 70 kWh battery and an electric motor that powers the rear wheels with 382 hp and 325 lb-ft of torque, able to send the car from 0-60 mph in 5.5 seconds. Driving range depends on average speed, outside temperature, whether or not you're running the heat or a/c, and what size wheels you choose. Teslamotors.com has a great calculator that allows you to alter all those factors and get ranges for each model, and for a Model S 70 that's driven at 65 mph in 50-degree weather with no heat or a/c and with 19-inch wheels, the range is 242 miles.
Stepping up to the 70D trim adds another motor for the front wheels, which not only makes this Model S an all-wheel drive (AWD) vehicle, but also increases the horsepower to 518, the torque to 387 lb-ft, and decreases the 0-60 time to 5.2 seconds. Under the same conditions described above (65 mph average speed in 50-degree weather with no heat or a/c and 19-inch wheels), the 70D has a range of 248 miles.
The Model S 85, 85D and P85D are still available, although most consumers are choosing to upgrade to the 90 kWh battery, even if it does coast an extra $10,000. Like the 70, the 85 and 90 trims produce 382 hp and 325 lb-ft of torque, but the range for these trims, in the conditions described above, is 271 miles for the 85 and 287 for the 90. The 85D and 90D get the extra motor for the front wheels, 485 lb-ft of torque, 518 hp, and go from 0-60 in 4.2 seconds. The 85D has a range of 279 miles in our chosen conditions, and the 90D can go 296 miles before needing to hit the ever-expanding Supercharger network.
The top of the line P85D (the P stands for performance) and P90D (which can top $140,000 with all the options) produce an astonishing 713 lb-ft of torque. The P85D delivers 691 hp and the P90D ups that to 762, which is more power than the Lamborghini Aventador SV and the McLaren 670S. Ludicrous indeed. The P85D has a range of 272 miles in our conditions and the P90D bumps that to 288 miles.
As we've already said, the Model S has absurd acceleration. What we didn't mention was that acceleration is available instantly. Unlike combustion engines that need to rev to high RPMs to deliver torque, the electric motor produces it as soon as you hit the accelerator. What's more, it rockets forward in silence.
The Model S doesn't handle like some nimble sports car--the sedan is too big for that--but the enormous battery provides a low center of gravity and excellent traction, which in turn let you attack corners aggressively. If you don't want to attack, just sit back and enjoy a smooth ride, especially if you've chosen the $2,500 air suspension option.
Like the exterior, the Model S interior is sleek and elegant. A 17-inch touchscreen, which controls most of the car's functions and has received ample praise for its graphics and ease of use, commands most of the dashboard space. The seats (both front and rear) are comfortable, although the rear-facing jump seats in the cargo bay (which push passenger capacity to 7) are definitely best left to small children. Unlike the exterior, the Model S interior does not excel in terms of function--there are simply not enough storage spaces, including a lack of rear cupholders--and this seems to be just about the only critique for this vehicle.
Standard features for all Model S trims include flush-mounted door handles, power-folding and heated exterior mirrors with memory, navigation, 12-way power and heated front seats with memory, 60/40-split rear seats, cruise control, an HD backup camera, automatic and dual-zone climate control, WiFi connectivity, Bluetooth, and a 200-watt, 7-speaker sound system.
After a pair of battery fires in 2014 caused by road debris, Tesla developed a battery shield to prevent such accidents from happening again. Other than that, the Model S has had an exceptional safety track record. Standard safety features on all Model S trims include stability control, traction control, anti-lock disc brakes, blind spot warning, lane departure warning, parking sensors, automatic emergency braking, and 8 airbags (head, knee, and pelvis in the front plus two side curtain airbags).
Updated
After working at gas stations and car washes in high school, driving across the country more than a dozen times and even living on the road in a well-outfitted truck, Tim O'Sullivan finally started putting some of his automotive knowledge to work when he began writing for CarGurus in 2008. He's also an award-winning journalist and the Sports Editor at the Concord (NH) Monitor.
What's your take on the 2016 Tesla Model S?
Have you driven a 2016 Tesla Model S?
Cars compared to 2016 Tesla Model S
Looking for a Used Model S in your area?
CarGurus has 1,780 nationwide Model S listings starting at $24,000.
Trims
60 RWD

Avg. Price: $46,646
60D AWD

Avg. Price: $46,816
70 RWD

Avg. Price: $45,743
70D AWD

Avg. Price: $49,406
75 RWD

Avg. Price: $51,160
75D AWD

Avg. Price: $50,921
85 RWD
85D AWD

Avg. Price: $52,388
90D AWD

Avg. Price: $56,144
P100D AWD

Avg. Price: $74,007
P85D AWD

Avg. Price: $63,634
Show 1 more trim
Quick Links