Looking for a Used 458 Italia in your area?
CarGurus has 170 nationwide 458 Italia listings starting at $159,995.
2015 Ferrari 458 Italia
Overview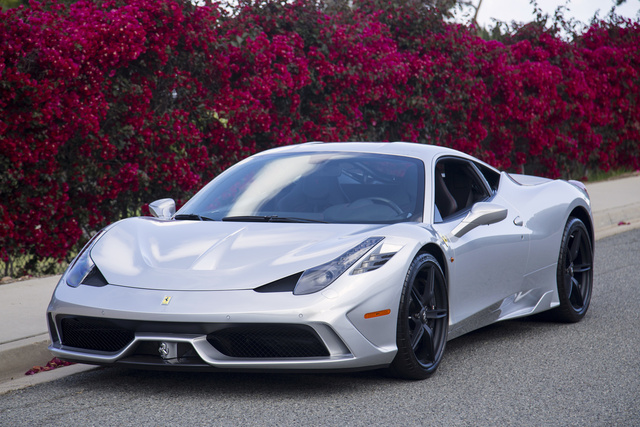 How would you imagine your dream Ferrari to be laid out? If a 2-seat, mid/rear-engine platform with a high-revving V8 engine is your fantasy, the 2015 Ferrari 458 Italia is your car. It is as beautiful as it is capable—this is a Ferrari any owner can enjoy on the world's best roads, and it is also the Ferrari best suited to club racing. All Ferraris are fast, but this car was designed to be Ferrari's V8 sports car.
The successor to the F430, the all-new 458 Italia was introduced as a 2010 model year car in 2009. The Ferrari 458 Italia is a notable car for many reasons, but its engine's very high specific output was one aspect of the car that placed it in the record books upon its launch. The heart and soul of the 2015 Ferrari 458 Italia is its 4.5-liter V8 engine. This is a normally aspirated engine, meaning it has no turbos. Still, it generates 562 horsepower. Equally important, it generates 318 lb-ft of torque at 3,250 RPM, and torque peaks at 398 lb-ft at 6,000 RPM. That's only two-thirds of the way to this car's amazing 9,000-RPM redline. This was Ferrari's first mid-mounted V8 with direct injection, and it uses variable valve timing on both intake and exhaust valves. The result is almost unmatched power per liter of displacement for a normally aspirated engine.
The distinctive sound of a Ferrari V8 is epitomized by the 458 Italia. Having heard this sound first-hand, I can attest to the siren-song syndrome that makes you instantly want one. This sound is mostly generated by the engine's exhaust note, but the intake plays a key role. It's straight and short, and that allows air to enter the engine as efficiently as possible. Direct fuel injection, which causes unwanted noise in many vehicles, adds a bit of rasp to the engine's note. But there's more contributing to the V8 song of this Ferrari than just its lightweight exhaust. The mechanical music here is special, and it's real, not artificially generated, which is the new trend.
If your dream of a Ferrari involves three pedals and a brushed aluminum gated shifter, you will have to look to the pre-owned market. Ferrari has moved away from manual transmissions. We can debate the merits and heartbreak of this, but we cannot debate the resulting increases in speed and fuel efficiency. The 2015 Ferrari 458 Italia comes only with a 7-speed F-1 style dual-clutch automatic transmission made especially for Ferrari by an outside supplier. Ferrari's E-Diff3 electronic differential keeps the power down.
The body of the 2015 Ferrari 458 was lovingly designed by Pininfarina. There was a time when this was taken for granted at Ferrari, but that time has passed. The body is designed to be beautiful and functional in equal proportions. The skin's shape provides significant downforce at all speeds that allows the car to hold the road more firmly. At its top speed of 202 mph, the aerodynamics of the body push the car down with a force of 800 pounds.
Covering the 2015 Ferrari 458 Italia requires some discussion of the Ferrari ownership experience. Many automotive manufacturers talk the talk when it comes to special ways their cars can be enjoyed, but Ferrari walks the walk. The 458 Italia is the car from which the Ferrari Challenge cars are derived. Yes, there is a gentlemen's (gentlepersons'?) racing series built around the 458 Italia. The cars are called 458 Challenge cars and have some slight aerodynamic modifications. They also come with built-in air jacks that lift all four wheels off the ground when air is applied at the rear, which is the single coolest thing you will see at a racetrack other than racing. Having been at Lime Rock when the cars arrive in their pristine trailers driven by mechanics in tailored red Ferrari overalls, I can only imagine the full experience. Buy one of these cars and you can live it.
There are a couple of trims derived from the 2015 Ferrari 458 Italia. There is a convertible called the 458 Spider, and the 458 Speciale is called "the highest-performance V8 Ferrari ever" by Ferrari.
The 2015 Ferrari 458 Italia can be configured online at the Ferrari site, but you won't find prices there. However, a budget of $300,000 would normally be suggested. Ferrari limits its production, and each car gets built to the customer's specifications. Most first-time Ferrari buyers do not buy new. Starting a relationship with your dealer is a wise first step if you hope to buy a 2015 Ferrari 458 Italia.
Updated
John Goreham is a life-long car nut and recovering engineer. In the early 1990s, he was part of a team that built a solar-electric race car from scratch. In addition to his work at CarGurus, John covers automotive news at Torque News and GM-trucks.com and is a contributor to CarTalk and BestRide. Aside from all things automotive, John loves fishing and hockey, preferably in the company of his two boys.
What's your take on the 2015 Ferrari 458 Italia?
Have you driven a 2015 Ferrari 458 Italia?
Cars compared to 2015 Ferrari 458 Italia
Looking for a Used 458 Italia in your area?
CarGurus has 170 nationwide 458 Italia listings starting at $159,995.
Ferrari 458 Italia Questions
Trims
Coupe RWD

Avg. Price: $277,205
Speciale A Spider RWD
Speciale Coupe RWD

Avg. Price: $556,312
Spider RWD

Avg. Price: $302,930
Quick Links