Looking for a Used M6 in your area?
CarGurus has 286 nationwide M6 listings starting at $12,000.
2015 BMW M6
Overview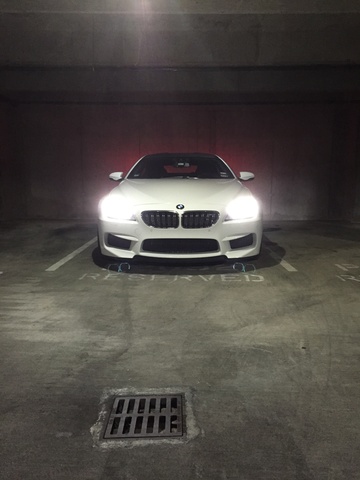 The M6 serves a very specific segment of the automotive market, and perhaps not the one you might think. If you find the "lesser" M editions too bland, if you miss V8 power, and especially if you want to still feel the natural feedback of a hydraulic steering system, the M6 may just be the car for you.
Let's be honest: The M6 is nothing but subtle, so it's refreshing to see the understated grace of a hydraulic system still available here. Unfortunately, this particular system is missing quite a bit of that understated grace, with drivers reporting an "overboosted" feeling at low speeds and a numbness when the needle climbs. Sad, but understandable for a car weighing nearly 4,500 pounds.
Yes, the M6 may be the sportiest looking vehicle in BMW's stable, but at its heart it's a luxury sports car—luxury comes first. It's heavy, it's big, it's powerful, and it's chock full of every bit of tech and comfort feature you can imagine. It also just happens to have a whopping 4.4-liter, twin-turbo V8, ready to deliver 552 hp and 502 lb-ft of torque between 1,500 and 5,750 rpm. That's a lot of time to scare yourself. Or rather it's not, as the M6 will jump to 60 mph in just 4.1 seconds, according to BMW, which usually means quite a bit quicker in the real world.
And anyone who's been behind the wheel of a 2-ton rocket like the M6 knows that stopping is just as important as going. With that in mind, BMW has fitted the M6 with standard 15.7-inch front and 15.6-inch rear rotors, both clamped by 6-piston calipers. If you don't mind tacking nearly 10K onto the already substantial sticker, you can even have some larger, fade-free carbon-ceramics to bring things to a halt even quicker.
But if you're looking at an M6, it's not just performance you're interested in—it's style—and this is the kind of car that doesn't just attract attention, it demands it. It's BMW's answer to anyone who ever called them bland, and if just pulling into the parking lot doesn't make everyone's head turn, the magical maneuvering you'll have to do just to get in and out of the low-slung driver's seat should do the trick. Bonus points if you can keep from screaming when you wrench your back or smack your head.
You can have your M6 in Coupe, Convertible or 4-door Gran Coupe Sedan form, for the full GT experience. And while the 7-speed, dual-clutch automated manual is standard, a 6-speed manual transmission was made available last year to the delight of drivers everywhere.
While the powertrain is impressive, the M6 is one of those rare cars that understands the importance of the interior, where you'll be spending most of your time. It's unfortunate that the sticker price has to go so deeply into 6 figures before this becomes a consideration, but it's certainly evident here. What isn't covered in leather or Alcantara gets the carbon fiber treatment, and if you go for the convertible, you'll even get heat-resistant/sun-reflective leather on the seats, so you don't get roasted when you forget to park in the shade.
Further standard features include dual-zone automatic climate controls, keyless entry and ignition, a power tilt and telescoping steering wheel and 16-way power heated front seats. A 10.2-inch display gives you the readouts for the iDrive system and shows you the feed from the rear-view camera and navigation. A 16-speaker Surround Sound audio system can be upgraded to a Bang & Olufsen unit and an Executive Package will further add LED headlights with auto high beams, ventilated front seats with massage, a heated steering wheel and a whole new crop of cameras and nanny systems to make sure you don't leave your lane when you don't want to or run into something when you're parking.
Of course at this level, the steering, transmission and suspension are all fully adjustable from Eco to Comfort to Sport to Insanity, where you can turn off all the stability-control features and destroy your tires in record time. Big complaints focus on the illogical gear shift in the automatic—can we just have a Park setting, danke schön?—as well as the predictably limited visibility due to the raked roof and long hood. As such, it's most at home eating up long miles on the highway, despite less-than-impressive fuel ratings of 14 mpg city/20 mpg highway for the automatic and 15/22 for the manual. But if you're the type of consumer who's thinking of an M6, I'm guessing fuel economy is last on your list of "must haves."
Updated
A CarGurus contributor since 2008, Michael started his career writing about cars with the SCCA - winning awards during his time as editor of Top End magazine. Since then, his journalistic travels have taken him from NY to Boston to CA, completing a cross-country tour on a restored vintage Suzuki. While his preference is for fine German automobiles - and the extra leg room they so often afford - his first automobile memories center around impromptu Mustang vs. Corvette races down the local highway, in the backseat of his father's latest acquisition.
What's your take on the 2015 BMW M6?
Have you driven a 2015 BMW M6?
Cars compared to 2015 BMW M6
Looking for a Used M6 in your area?
CarGurus has 286 nationwide M6 listings starting at $12,000.
Trims
Convertible RWD

Avg. Price: $52,238
Coupe RWD

Avg. Price: $56,570
Gran Coupe RWD

Avg. Price: $49,986
Quick Links