Looking for a Used Cayman in your area?
CarGurus has 441 nationwide Cayman listings starting at $15,995.
2014 Porsche Cayman
Overview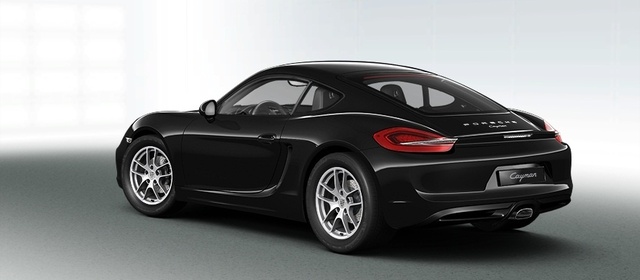 I've rarely had anything bad to say about the Cayman, and this year is no exception. It's the Porsche I've always wanted and the Porsche we all deserve.
And it just keeps getting better.
Not just a little better—a lot better. So much so that the boys at Stuggart have taken to lying about it, so as not to offend their sacred cow, the 911(or the wallets of those who worship it).
If you have to ask why, you haven't been paying attention. As the S version of Porsche's midengine golden boy has gotten more power, more precision and more panache, the extra money you have to parse out for a 911 seems harder to stomach. This year, Porsche has even admitted there's no difference in the 3.4-liter boxer engines powering both the Cayman S and the base 911. Edmunds straight asked Porsche's team leader for engine development, Dr. Martin Constien, about the actual difference between the two engines. Despite a listed 25-hp gap, the answer was telling: "Basically, nothing. They're the same."
And still, the 25-hp "gap" remains, on paper at least. For 2014, that means the Cayman S comes to the line with 325 hp and 272 lb-ft of torque, enough to get you to 60 in just 4.4 seconds if you choose the vaunted 7-speed PDK transmission.
But the best part of the Cayman is that you don't have to go for the S in order to have a good time, because 0-60 times aren't what make the Cayman great. We're here for feel, and the Cayman has that all over the 911. If you want to feel connected to the road, if you want your car to be an extension of yourself, midengine is the way to go.
Oh sure, you'll have to keep the 2.7-liter engine spinning in the Base trim in order to get the most out of the experience. And yes, that engine is down 0.2 liters from last year, but it's up 10 hp to 275, and if you choose the PDK, it'll even return 32 highway mpg! Torque stands at 213 lb-ft, and that's the one place the Base comes up a little short, but only if you let the revs drop too much in a 2nd-gear exit. Otherwise, that flat 6-cylinder screaming right behind your ear will deliver every time.
And this year the delivery is extra special, since there's more improvement for 2014 than just power. The Cayman is stretched now—it has a 2.5-inch longer wheelbase and is 1 inch longer overall, with shorter overhangs and bigger wheels. Inside you'll get a bit of extra space, and the seats are set down lower now as well, as if this thing needed an improved center of gravity.
Borrowing some of its aluminum architecture from the 911 only makes the differences less clear, as this new Cayman is 66 pounds lighter than last year, with rigidity up a claimed 40 percent! You also get standard engine decoupling and start/stop, which help with those impressive mileage ratings. Because of this, the Sport button, which was previously available only when opting for the expensive Sport Chrono package, is now standard as well, being the only way to disengage the fuel-saving tech for spirited driving. Makes you wonder how many people will leave that Sport button "permanently" engaged.
Sadly the Cayman also follows suit with the 911 with regard to its steering assist, now electronic instead of hydraulic. Porsche admits there's a loss of feel with this new system in a refreshing wash of honesty, but ruins it by claiming that it's only "negative feel" that you lose—and that's some swift semantics.
But for all these additions and improvements, the best part of the new Cayman is its look. The changes are subtle, especially on a car for which handsome was never a problem. But some exaggerated bulges and curves have finally pushed it past the 911 in aesthetics as well as performance.
Sure, the 911 still has the higher top speed, but Porsche had to leave it something, no?
Updated
A CarGurus contributor since 2008, Michael started his career writing about cars with the SCCA - winning awards during his time as editor of Top End magazine. Since then, his journalistic travels have taken him from NY to Boston to CA, completing a cross-country tour on a restored vintage Suzuki. While his preference is for fine German automobiles - and the extra leg room they so often afford - his first automobile memories center around impromptu Mustang vs. Corvette races down the local highway, in the backseat of his father's latest acquisition.
What's your take on the 2014 Porsche Cayman?
Have you driven a 2014 Porsche Cayman?
Cars compared to 2014 Porsche Cayman
Looking for a Used Cayman in your area?
CarGurus has 441 nationwide Cayman listings starting at $15,995.
Trims
Base

Avg. Price: $46,598
S

Avg. Price: $55,417
Quick Links