Looking for a Used Corvette in your area?
CarGurus has 8,997 nationwide Corvette listings starting at $5,900.
2014 Chevrolet Corvette
Overview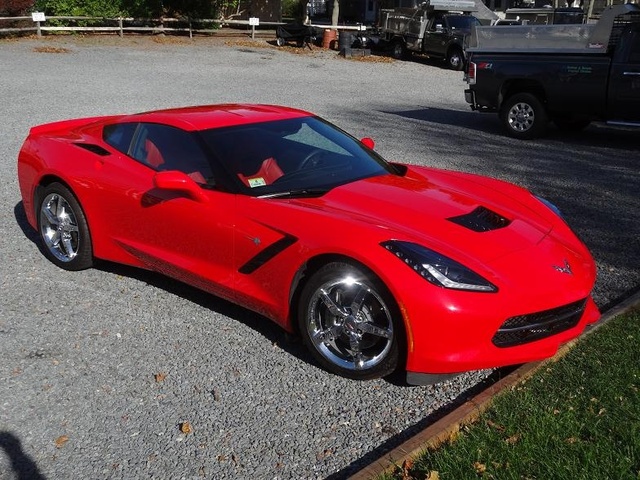 Everyone is talking about how Chevrolet has made the old new again with 2014's C7 Corvette, and America's sports car has certainly seen some impressive updates with this latest version. However, this is ignoring an important aspect of the claim. In order to make the old new again, you first must have the old.
This has never been a problem for the Corvette, a vehicle—much like the Mustang and the 911—which in a lot of ways refuses to evolve. Not grow up, mind you, but evolve. After all, the Mustang is still chugging along on its live rear axle, and the 911 still sits its engine at the wrong end. Tradition is important, and sacred cows are… well, sacred. But there's power in admitting mistakes, too.
For the Corvette, the formula has always been a pushrod V8 up front powering the rear wheels, an axle-to-dash length that provides enough hood space for picnicking and body panels in anything but steel. That seems like a recipe for success, but much like the Mustang, it has still resulted in more than Chevrolet's fair share of lackluster offerings.
Perhaps that's a good thing, providing some motivation to avoid further disappointment. But partially at least, it's technology that's caught up with the Corvette. The previous attempts at lightweight design were limited by steel and fiberglass, but now those are easily substituted with aluminum and carbon fiber—materials out of reach for anything but the super-elite until recently. This means increases in stiffness and decreases in pesky things like weight and cowl-shake. In fact, the move to aluminum means dropping nearly 100 pounds from the frame architecture and increasing stiffness nearly 60 percent. Those are desirable numbers in any era.
Suspension control arms and cradles are aluminum as well, and links, knuckles and bushings have all been similarly stiffened for the staggered—and narrower—18-inch front and 19-inch rear tires. Move up to a Z51 trim and you'll get upgraded Bilstein shocks and forged wheels 1 inch larger front and back, but every Corvette gets shod in run-flats designed by the same genius providing rubber for the Corvette Racing Team.
Other attempts at an update are less graceful, such as shoehorning modern tech like direct injection, variable timing and cylinder deactivation into an engine still sporting a valvetrain design that was dated when the Corvette debuted. Forgiveness comes easily in the face of 450 hp and 450 lb-ft of torque, however. Or at least you'll have little time to think about it when you're being pinned to the back of your seats during a sub-4-second trip to 60 mph. It's not a big jump from the previous peak, but Chevrolet assures us it's the power profile that will impress.
And not that you care, but all that tech also means you won't find much cause to curse when you're calculating mileage at the pump. The new setup promises to return 28 mpg highway.
Of course, part of that is due to the additional overdrive gear in the new 7-speed manual transmission the C7 sports. It has all the new tech as well: optional rev-matching, a dual-mass flywheel and a twin-disc clutch, all maximized by an electronically controlled mechanical limited-slip differential. And if taking care of transmission duties isn't to your liking, there's a paddle-shifted 6-speed automatic as well, and it's been upgraded, too, with a smaller torque converter that gets you faster, smoother shifts.
The body is designed to make things smoother and faster, too, with every scoop, vent and flying buttress intended to cool or slip or otherwise help the 'Vette stick. No more design for design's sake—purpose is prime here.
And finally we come to that most significant of sore spots in the colored Corvette chronicles: the interior. Chevrolet insists it has revamped the entire thing to host not an echo of past disappointments. Those of us who pay attention to such things have heard these assurances before. Forgive us if we're short on trust, but seeing "cut & stitched vinyl" and "fully redundant manual controls" won't do much to assuage those fears. Still, people seem happy with the new steering wheel and seats at the very least.
Does all this add up to a "new" Corvette? More specifically, does it add up to a Corvette that people will want to buy? The essential character of the beast seems to have survived, but depending on who's talking, that might not be a good thing. Even if what arrives in showrooms is a wholly new Corvette, it still must contend with decades of assumptions, bad memories and stereotypes. Thankfully, it's got a lot of history to stand on as well.
Updated
A CarGurus contributor since 2008, Michael started his career writing about cars with the SCCA - winning awards during his time as editor of Top End magazine. Since then, his journalistic travels have taken him from NY to Boston to CA, completing a cross-country tour on a restored vintage Suzuki. While his preference is for fine German automobiles - and the extra leg room they so often afford - his first automobile memories center around impromptu Mustang vs. Corvette races down the local highway, in the backseat of his father's latest acquisition.
What's your take on the 2014 Chevrolet Corvette?
Have you driven a 2014 Chevrolet Corvette?
Cars compared to 2014 Chevrolet Corvette
Looking for a Used Corvette in your area?
CarGurus has 8,997 nationwide Corvette listings starting at $5,900.
Chevrolet Corvette Questions
Trims
Stingray 1LT Convertible RWD

Avg. Price: $46,545
Stingray 1LT Coupe RWD

Avg. Price: $45,297
Stingray 2LT Convertible RWD

Avg. Price: $51,947
Stingray 2LT Coupe RWD

Avg. Price: $49,747
Stingray 3LT Convertible RWD

Avg. Price: $53,930
Stingray 3LT Coupe RWD

Avg. Price: $47,673
Stingray Z51 1LT Convertible RWD

Avg. Price: $53,221
Stingray Z51 1LT Coupe RWD

Avg. Price: $50,435
Stingray Z51 2LT Convertible RWD

Avg. Price: $53,593
Stingray Z51 2LT Coupe RWD

Avg. Price: $51,995
Stingray Z51 3LT Convertible RWD

Avg. Price: $54,785
Show 1 more trim
Quick Links