Looking for a Used Jetta in your area?
CarGurus has 11,251 nationwide Jetta listings starting at $1,800.
Review
The Good
A roomier cabin, available turbodiesel power and economy, feature-rich higher trims and the return of the turbocharged GLI spell passable value as well as a bit of excitement in the 2012 Volkswagen Jetta.
The Bad
Notwithstanding the above-average GLI, a serious depletion of Euro-flash across the rest of the lineup combines with less agility, a stiffer ride and a pokey base engine to drag the next-gen Jetta sedan from its once-lofty niche.
The CarGurus View
The 2012 Jetta isn't your father's Jetta. Cheaper and sporting less posh, this is a sedan aimed at the masses here in the States, a fact for which VW makes no apologies. The German automaker is counting on attracting a whole new marketing segment with its roomier, value-conscious sedan, but if there has to be a true European-style 4-door in the driveway, a serious look at the resurgent Jetta GLI is in order.
At a Glance
The 2012 Volkswagen Jetta begs the question: Is the U.S. ready to embrace yet another ho-hum family automobile? This is not to say that VW's 5-passenger midsize sedan isn't a good car; far from it. After a hefty redesign in 2011, this next-gen 4-door is leaner, longer and, above all, less expensive than before. An available turbodiesel powerplant, expansive 15-cubic-foot trunk, spacious cabin with added standard comfort and convenience goodies and decent, if not heart-pounding handling and ride characteristics are no doubt appealing, as is the traditional VW build quality. Nearly all reviewers claim, however, that today's Jetta is a mere shadow of its former Golf-inspired self, and purists are on the verge of revolt. Cabin materials are cheaper, design remains tepid, to say the least, and the base 2.0-liter engine provides just enough power to get this smallish sedan out of its own way – barely.
Be that as it may, however, the Jetta does regain the distinction of once again hosting the GTI-inspired GLI trim for 2012. After a two-year sleep, this sporty uber-sedan keeps all the good stuff that distinguished this midsize sedan in its formative years and may help dispel the growing dismay at the perceived diminution of a once proud name. Alas, the bland styling endemic to the rest of the current-generation Jetta lineup does splatter its nondescript self across the GLI as well, leading some to question just how effective this flagship trim will be in getting consumers in the U.S. to embrace the rest of the lineup. Nonetheless, touting a base MSRP of under $15,500, VW hopes the Jetta will eventually become truly a wagen for the U.S. volk.
In any case, with the addition of the GLI, the 2012 Jetta is now delivered in five basic trims, the lower-level S, lower midlevel SE, high-end SEL, torque-laden, economical turbodiesel TDI and the turbocharged GLI. Additionally, higher trims are subdivided into various option segments that include a Convenience package and/or sunroof for the SE, a Premium package including the sunroof and/or navigation system in the TDI, and again the sunroof for the high-end GLI Autobahn. Of course the gasoline-burning SE, SEL and GLI trims remain available as Partial Zero Emissions Vehicles (PZEV) in featuring engines that are slightly tweaked to meet stringent California emissions standards and can burn low-sulfur gasoline. All trims are, as is traditional, front-wheel drive (FWD), with no all-wheel or four-wheel drivetrains available.
The Honda Civic represents perhaps the 2012 Jetta sedan's most serious competition, surpassing the German sedan in overall refinement and equaling it in price. Then too, shoppers will want to look at Ford's competent Fiesta sedan, as well as the surprisingly adept Hyundai Elantra. Rounding out major rivals to VW's domesticated 4-door are Kia's personable Forte and the under-appreciated MAZDA3.
The more Euro-flavored Jetta GLI, meanwhile, will contend with the likes of Ford's new Focus ST, the under-achieving Mazdaspeed3, Kia's well-received Optima SX and its own GTI cousin. Dollar for dollar, the Jetta will stand up to at least a few of its adversaries, but many former owners and a host of reviewers still lament what amounts to the demise of a legend.
Drivetrain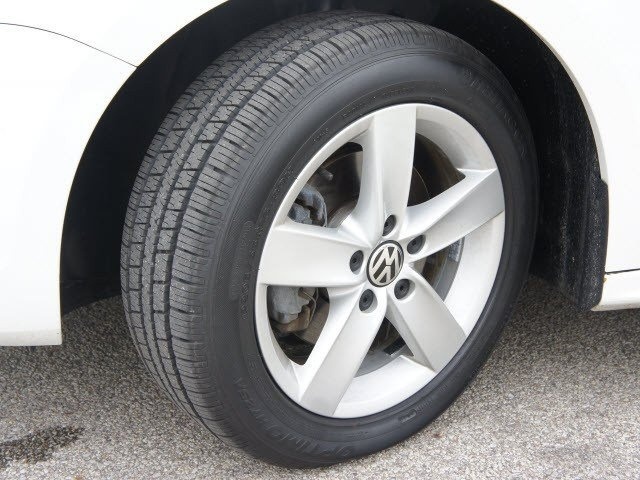 A choice of four engines and transmissions is available for the 2012 Jetta sedan lineup. Standard in the entry-level S trim is a 2.0-liter inline 4-cylinder engine (I4) and 5-speed manual transmission that put out 115 hp at 5,200 rpm and 177 lb-ft of torque at 4,000 rpm, with EPA mileage estimates running 24 mpg city/34 highway. A Tiptronic 6-speed shiftable automatic transmission with driver-selectable sport mode is additionally available for the base trim. It drops mileage to an EPA-estimated 23/29.
Next in line is a snappy 2.5-liter inline 5-cylinder powerplant (I5) that comes standard with SE and SEL trims. This lively five-banger delivers 170 hp at 5,700 rpm and 177 lb-ft at 4,250 rpm with the standard 5-speed manual transmission. Expect mileage in the vicinity of 23/33 with the stick shift, while the available Tiptronic 6-speed shiftable automatic, again with its driver-selectable sport mode, delivers mileage in the 24/31 range.
A torque-heavy 2.0-liter turbocharged I4 with a potent direct injection (DI) system inhabits the Jetta TDI. Stroking the standard 6-speed manual transmission, look for 140 hp and 236 lb-ft of torque out of the turbodiesel, to the tune of 30/42. If the available DSG automated manual transmission, also with the selectable sport mode, is chosen, its nifty steering-wheel-mounted paddle shifters allow drivers to climb through the gears or simply let the shifter do the shifting. Either way, this smooth automatic still operates at a wallet-friendly 30/42.
Finally, in keeping with its juiced-up nature, the Jetta GLI gets a turbocharged 2.0-liter inline 4-cylinder (I4) gasoline-burning powerplant that combines with a standard 6-speed manual transmission for 200 hp at 6,000 rpm and 207 lb-ft of torque at 5,000 rpm. Mileage in the GLI is estimated at 21/31 with the stick shift, while the available DSG 6-speed auto-manual transmission, also with the sport mode feature, is estimated to get an average of 24/33.
While it keeps the entry-level cost low, the 2.0-liter I4 is universally panned in reviews as underpowered, at best. Volkswagen testing claims a 0-60 time of 10.3 seconds, which isn't exactly jaw-dropping. The I5 that's standard in higher trims scoots from 0-60 in 8.2 seconds, according to VW, though one other test has a stick-shift version poking along at 8.4 seconds. In any case, expect an easier time of it merging and passing on the highway with the five-banger. The 2.0-liter turbodiesel, meantime, uses its hefty torque to grab a 0-60 time of 9.1 seconds, though a few reviewers cite its tepid horsepower as a bit inadequate in reserve, while others cite a noticeable turbo lag on acceleration. None dispute, however, the turbodiesel's truly inspiring mileage numbers. The turbocharged I4 found in the heady GLI is more than competent on the highway, according to reviewers, with plenty of pop off the line. At least one review claims a 0-60 time of just over 7 seconds. One small drawback to the GLI's turbocharged I4 is its taste for premium unleaded only.
Reviewers praise both the 5-speed manual transmission and the 6-speed shiftable automatic as perfectly adapted to the I5, though it's conceded that neither will wring miracles from the woeful I4. The 6-speed stick shift common to the TDI and GLI is also lauded in most reviews as easy on the clutch foot, with a smooth, short throw, while the available DSG shiftable auto-manual, also available in both trims, is lauded by many reviewers as a joy to toy.
Ride & Handling
Reviewers, though generally supportive of the 2012 Jetta's ride and handling capabilities, find that the switch from a multi-link rear suspension to a less responsive torsion-bar rear system in all but the GLI trims results in a marginal degradation in ride and agility. A number of reviews claim that this small but telling cost-saving measure will sit uncomfortably with those familiar with the previous-generation Jetta. In any case, the new rear suspension is complemented by a front independent suspension bolstered by MacPherson front struts, as well as a front and rear stabilizer bar. A number of reviews claim that cornering is still relatively stable, if not dead level, and steering is noted as effortless, yet convincingly true. Finally, brakes are described by most reviewers as delivering straight, powerful stops, with no noticeable pedal glitches.
The 2012 Jetta GLI, on the other hand, garners its fair share of kudos from reviewers, with most loving its sport-tuned suspension inherited from the legendary GTI. Additionally this cool sedan hangs on to the multi-link rear suspension system, making it putty in the hands of test-drivers. Of course, ride comfort is a tad compromised with the stiffer suspension, however the majority of reviewers claim a stability and forgiveness not often found with such heady agility.
The low-budget Jetta S trim mounts standard 15-inch steel wheels, while the SE rolls on 16-inch steel wheels or 16-inch alloys in the case of the SE with Convenience. The TDI also sports standard 16-inch wheels, in this case alloys, while the SEL and Base GLI trims boast 17-inch alloy wheels. The GLI Autobahn, meanwhile, boasts standard 18-inch alloy wheels. Most reviewers laud the SEL and base GLI for the way their 17-inch wheels handle bumps and dips, though the 15- and 16-inch tires are described as providing a competent if not plush ride. All in all, the consensus among reviewers is that VW's midsize sedan, with the obvious exception of the GLI, is not as comfy or as nimble as it once was, but still acquits itself adequately in most driving situations.
Cabin & Comfort
Though perhaps not as posh as its forebears, the 2012 Jetta lineup, at least in the higher trims, still manages to remain admirably well endowed with comfort and convenience features. Cabins are roomier now, especially in its class-leading rear-seat legroom, gauges are easy to read, and controls are well-marked and conveniently placed. One thing that does, however, dismay most reviewers is the noticeable cheapening of what was once a well-wrought, indeed a decidedly upscale cabin. Additionally, some reviewers take issue with the fact that Volkswagen likes to group options into those pesky sub-trims, leaving consumers little opportunity to pick and choose.
Low-budget materials and rigid options notwithstanding, the base S trim features such standard amenities as cloth upholstery and height-adjustable front seats, as well as remote power door locks, power-adjustable heated outside mirrors and air conditioning. These goodies go hand in hand with four one-touch power windows, telescoping tilt-wheel steering, front and overhead storage consoles and an MP3-capable single CD-player with 4 speakers. Optional in the S trim is a power glass sunroof, resulting in the S-with-Sunroof sub-trim. Further options include carpeted floor mats, Bluetooth hands-free phone service and an auxiliary iPod adaptor.
Moving up a notch, the Jetta SE adds to the list of standard amenities with leatherette upholstery, a rear-seat center pass-through armrest, cruise control and front and overhead storage consoles. Throw in the optional Convenience package with Bluetooth, 16-inch alloy wheels and a 6-speaker stereo to get the SE with Convenience, and then choose the available sunroof to behold the SE with Convenience and Sunroof variation. Additionally, the SE trim is eligible for upgraded 18-inch alloy wheels.
The turbocharged TDI piles on some posh with a standard leather steering wheel mounting cruise and audio controls as well as a leatherette-trimmed shift knob. Heated front seats and a trip computer are also standard, as are 6 speakers, Sirius satellite radio, a USB connection, memory card slot, phone pre-wiring and Bluetooth technology. Available for the Jetta TDI is the Premium package with sunroof, touchscreen audio control (Touchscreen Premium VIII) and the Fender premium audio system that begets the TDI Premium sub-trim, and a hard-drive-based navigation system that results in the TDI Premium with Navigation.
The upper-echelon Jetta SEL is delivered with all the bells and whistles that are optional for the TDI except the sunroof, which is a standalone option for this flagship trim. Additionally, the SEL gets standard 18-inch alloy wheels, the Fender premium 9-speaker audio system and keyless entry and ignition. An optional Sport package with sport-tuned suspension, sport pedals and sport front seats can also be delivered with this top-shelf trim, as can a Ground Effects package with front and rear valences and side sill extensions.
Finally, the Jetta base GLI sports the cloth upholstery of its S brethren, as well as most of the bells and whistles common to its SE siblings, while the Autobahn version acquires the SEL's more sophisticated bells and whistles, and throws in standard dual-zone climate control, too. Additionally, the GLI Autobahn sports a standard sunroof (thus the "Autobahn" designation), and is additionally eligible for the available hard-drive navigation system, thus becoming the Autobahn with Navigation.
Safety
Traditionally a leader in safety technology, VW has endowed its 2012 Jetta lineup with standard 4-wheel antilock brakes with emergency braking assist and electronic brakeforce distribution. The S and SE trims get front disc/rear drum brakes, while the TDI, SEL and GLI sport front and rear disc brakes. Then there's the standard traction and stability control across the lineup, as well as front and rear head airbags, dual front side-mounted airbags and front head-restraint whiplash protection. Additionally, daytime running lights and a post-collision safety system each come standard across the lineup. Finally, the SE and higher trims boast standard turn-signal-integrated mirrors, while the SEL and GLI also sport standard front fog/driving lights.
As the Insurance Institute for Highway Safety's (IIHS) Top Safety Pick in 2011, the mirror-image 2012 Jetta again scores the highest rating of Good in front impact, side impact and roof strength tests. The National Highway Traffic Safety Administration (NHTSA) also gives the 2011 Jetta high marks, safety-wise, with its second-best 4-star overall rating in more stringent testing. This includes 4 stars in front impact tests, a top-rated 5 stars in side impact protection and 4 stars in rollover testing.
What Owners Think
Those purists among owners of the 2011 and 2012 Jetta lineup can't help but lament its descent into mediocrity, with claims of bland styling, less agility, sluggish power in the base I4 engine and low-rent interior materials. Some visibility issues toward the passenger side plague a few owners, as does the potential for the lowered front chin to nail a curb or two. Finally, the lack of available power-adjustable seats and less cabin storage also has a number of owners yearning for the Jetta of the '90s and early 2000s.
On the positive side, those who have purchased their first Jetta in 2011 or '12 laud its roomy cabin, spacious trunk, spectacular diesel-sponsored mileage and the added cabin goodies common to the higher trims. Even VW diehards admit that the German automaker's build quality is still there, that the Jetta's I5, turbo I4 and turbodiesel powerplants are more than adequate, and that this midsize sedan represents a solid value in a family automobile. The GLI trim, meantime, despite its inherited tepid appearance, garners nothing but praise from owners for its agility, turbocharged performance and overall class.
Updated
Have Laptop. Will Travel. I'm retired and travelling the country in a 34' motor home. I'm really digging meeting people . . and sometimes their cars . . . getting a sense of what makes this nation tick. The plan is to visit all the national parks in the continental US, then cruise to Alaska to visit Denali, and to Hawaii to check out Haleakala and the Hawaii Volcano's national parks. Anyhow, when I'm not horsing the motor home around the roadways, I'm tooting around in the 2012 Ford Focus that we tow behind, or making runs to Home Depot and various malls with the 2004 F-150 that just won't die.
What's your take on the 2012 Volkswagen Jetta?
2012 Volkswagen Jetta Top Comparisons
Users ranked 2012 Volkswagen Jetta against other cars which they drove/owned. Each ranking was based on 9 categories. Here is the summary of top rankings.
Have you driven a 2012 Volkswagen Jetta?
Cars compared to 2012 Volkswagen Jetta
Looking for a Used Jetta in your area?
CarGurus has 11,251 nationwide Jetta listings starting at $1,800.
Volkswagen Jetta Questions
Trims
Base

Avg. Price: $7,583
Comfortline
Highline
S

Avg. Price: $7,770
S with Sunroof

Avg. Price: $8,176
SE

Avg. Price: $8,589
SE with Conv

Avg. Price: $7,779
SE with Conv and Sunroof

Avg. Price: $8,776
SEL

Avg. Price: $9,538
SEL Premium

Avg. Price: $9,724
Sportline
Show 8 more trims
Quick Links