Looking for a Used 5 Series in your area?
CarGurus has 8,507 nationwide 5 Series listings starting at $1,900.
Review
The Good
Potent and efficient engines, a posh ride complemented by available all-wheel drive, admirable safety scores, loads of standard features and a cabin rich in luxurious comfort are among the stars in the 2012 BMW 5 Series road show.
The Bad
Expensive options, little rear-seat room, a dearth of storage and cargo capacity, some noticeable throttle lag and a somewhat ponderous road feel in the 2012 5 Series next-gen luxury sedan can leave a bitter taste.
The CarGurus View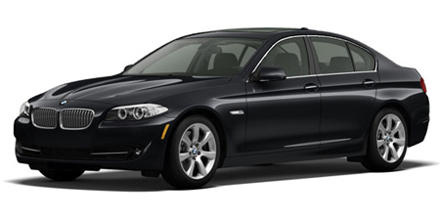 Still potent, still plush and still a kick to drive, the BMW 5 Series luxury sedan remains the standard in its niche. Some added girth for this princely conveyance and the addition of a straight four for 2012 have drawn the ire of many purists by sacrificing agility and acceleration for added comfort and economy. Don't, however, expect such trifles to detract much from the traditional respect given this proven high-end performer.
At a Glance
For those with the wherewithal, the 2012 BMW 5 Series offers traditional luxury, power and performance. It is not, however, the nimble 5-passenger quasi-sport sedan it once was. A total redesign in 2011 replaces much of this Beemer's agility with added luxury details and a larger cabin and, thereby, a hefty increase in curb weight. This sits uneasily with a considerable number of traditionalists, whether they be owners or reviewers. Nevertheless, this handsome sedan, again available in three trim levels, the entry-level 528i, midlevel 535i and the V8-powered 550i, is still a luxury automobile worthy of consideration. All three trims are available in an all-wheel-drive (AWD) configuration–euphemistically known as xDrive in Beemer-speak–and all offer turbocharged power, bountiful standard features, plenty of room and comfort, 14 cubic feet of trunk space and, curiously, optional split-folding rear seatbacks.
For 2012, a turbocharged, direct-injected (DI) inline 4-cylinder (I4) powerplant replaces the normally aspirated V6 engine in the 528i and boosts torque by some 30 lb-ft. Furthermore, this base trim at long last becomes eligible for the AWD option. Additionally, the unique engine stop/start feature, which allows the engine, at the driver's discretion, to automatically shut off at a stop and then restart when ready to accelerate, is added to the 528i and 535i as standard equipment. According to several reviewers, this feature is especially beneficial to the 535i in fuel savings, though a number of reviewers and owners complain that a noticeable hesitation off the line makes this feature of dubious advantage.
Traditional rivals such as Audi's A6, Infiniti's M, Jaguar's XF and the Mercedes-Benz E-Class are all described by reviewers as potent adversaries. Though all of the former sedans are formidable competitors, most reviewers note the fact that smaller, less weighty powerplants, like the 528i's new I4 turbo, are the future of the luxury sedan market. This should keep the 5 Series firmly at or near the top of this elite market. As to the tradeoff of size for agility, the jury's still out, with the classy German automaker hoping that added luxury will trump the sporty feel that made this sedan popular.
Drivetrain
The new direct-injection 2.0-liter turbocharged I4 engine gracing the 528i trims is mated with an 8-speed shiftable automatic transmission to put out 240 hp at 5,000 rpm and 260 lb-ft of torque at 1,400 rpm. The I4 is equipped with the driver-selectable stop/start feature for marginal additional fuel savings, while the popular brake hill-holder is built into this peppy drivetrain as well. The auto stop/start feature, along with variable valve timing (VVT), allows an EPA-estimated 23 mpg city/34 highway in the standard rear-wheel-drive (RWD) variant and 22/32 for the xDrive trim.
A 3.0-liter turbocharged direct-injected inline 6-cylinder (I6) engine once more powers the 535i, with the well-regarded 6-speed manual transmission standard in rear-wheel-drive trims and the shiftable 8-speed standard in AWD (xDrive) versions. The six-banger manages 300 hp at 5,800 rpm and 300 lb-ft of torque at 1,300 rpm with either transmission, and, again, auto-stop/start is standard with this potent powertrain, as is the brake hill-holder feature. With VVT, mileage for the turbocharged six-banger is estimated at 19/29 in the RWD configuration. The 8-speed shiftable automatic can be delivered with the 535i in the RWD variant, with mileage correspondingly increasing to 21/31. The 535i xDrive, meantime, is estimated at 21/30.
A turbocharged 4.4-liter direct-injected V8 engine allows the 550i to pound out 400 hp at 5,500 rpm, with either the standard 6-speed stick shift (RWD) or 8-speed shiftable automatic (AWD) managing 450 lb-ft of torque. Auto-stop/start and VVT mean mileage figures of 16/24 in the RWD trim and 15/22 in the xDrive version, with the brake hill-holder also standard with both the stick-shift and the xDrive automatic.
The xDrive (full-time "intelligent" AWD) trims, meanwhile, boast a mechanical, limited-slip center differential. The xDrive system allows rear-wheel-drive torque in normal driving conditions, and when road conditions change in worsening weather or on uneven terrain, moves torque from the wheels that slip to those that grip. Additionally, all trims are eligible for the available Sport Automatic Transmission w/steering-wheel-mounted paddle shifters.
Reviewers are generally favorable toward the 528i's new, more efficient turbocharged I4, citing its lower weight and turbocharged power as superior to the old V6. At least one reviewer, however, notes a somewhat distracting roughness in the I4 at idle. All three engines nonetheless deliver seamless acceleration, according to most reviews, and the 6-speed manual transmission standard with the 535i and 550i is noted as glitch-free and a hoot to drive. BMW claims a 5.7-second 0-60 time with the stick-shift I6 and a 5.0-second 0-60 time for the V8, while independent testing cites 0-60 times of 5.9 seconds and 5.2 seconds respectively. Even the turbocharged I4 is claimed by BMW to deliver a 0-60 time some 0.4 seconds faster than the old straight-six it replaces. Driving Dynamics Control, available with either the Sport or M Sport packages and featuring driver-selectable Comfort, Normal, Sport and Sport + settings, is claimed by a few reviewers to cause a noticeable throttle lag in the Normal and Comfort settings. Additionally, the 8-speed shiftable automatic detracts a bit from the 5 Series' overall sportiness and is claimed by both reviewers and owners to be somewhat balky in low-speed stop-and-go driving. The auto-stop/start feature in the 528i could also use some work eliminating a pesky vibration, as the engine tends to labor a bit when slowing for a stop, according to a number of reviews.
Ride & Handling
Though touted as roomier and more comfort-oriented, the 2012 5 Series sedan has, in the minds of nearly all reviewers, given up a sinful amount of the agility that made it legendary. Make no mistake, however—this present generation sedan remains the standard-bearer in ride comfort for its class. The 4-wheel independent suspension sports a double-wishbone front end and multi-link rear suspension system complemented by front and rear stabilizer bars. Bumps and ruts are well padded in all trims, with the 528i and 535i boasting the most comfortable cruise. The 550i, though a riding bit stiffer than its siblings, still offers a plush drive with the standard suspension, but add the available Sport or M Sport Package with Driving Dynamics Control offering four selectable ride modes (Normal, Comfort, Sport and Sport +), Dynamic Damping Control of the electromagnetic shock absorbers and 19-inch wheels mounting performance tires, both available to all three trims, and the ride gets noticeably stiffer.
Those same Sport packages, however, offer significantly better handling, with Active Roll Stabilization taking care of body lean in fast corners and allowing the 5 Series to remain composed and alert on those winding, hilly back roads. The standard suspension, though competent enough, can't, however, quite compensate for the added girth of the present generation sedan, thus costing this once legendary Beemer an appreciable amount of its former glory, at least in the opinion of most reviewers. There is, though, Integral Active Steering, standard for all trims, which allows the rear wheels to turn some 2.5 degrees for a bit of added maneuverability. The traditionally strong antilock brakes (ABS) in this high-end sedan continue to be powerful and true with no appreciable pedal glitches.
Finally, the 528i boasts standard 17-inch alloy wheels, with the 535i and 550i sporting standard 18-inch alloy wheels. All three trims mount run-flat tires that, according to a number of owners, could use some tweaks for proper performance. Complaints of losing air and a disconcerting delicacy in even normal driving conditions has led to a growing demand that Beemer at least equip this storied carriage with a spare tire, if not a total rethinking of the whole concept of run-flat tires.
Cabin & Comfort
As a family-oriented, commuter-friendly luxury sedan, the 2012 5 Series boasts a standard opulence that targets the discriminating driver. The base 528i, for instance, is delivered with a standard power glass sunroof and heated, reverse-tilt, 10-way power-adjustable mirrors outside, with leatherette upholstery, a leather steering wheel and alloy and wood trim gracing a notably posh cabin. Power-adjustable front seats, telescoping tilt-wheel steering and dual-zone climate control with extended cabin cooling are among the comfort fittings delivered in this classy conveyance. Then there are such standard convenience amenities as cruise control with steering-wheel-mounted controls and memory settings for two drivers, including seat, mirror, audio and steering-wheel. A 180-watt audio system supports an MP3-capable single-CD player with 10 speakers, including 2 subwoofers, with all of it complemented by a USB connection. The standard BMW Assist directions and communications service is bolstered by Bluetooth hands-free technology and phone pre-wiring. Finally, BMW's unique iDrive system also endows the 528i with a 10-inch display and includes buttons for accessing radio, CD, phone and navigation functions, while providing 12GB of music storage.
To all this, the 535i adds premium leather upholstery and 18-inch alloy wheels, while the 550i tacks on 18-way power-adjustable front seats, auto-dimming interior courtesy lights and memory settings for the front passenger seat. Additionally, the top-shelf 550i sports a standard universal garage door opener, front and rear parking sensors and a hard-drive-based navigation system with real-time traffic alerts, all of which are optional on the lower trims.
Options are plentiful in the 5 Series lineup, though they tend to be uncomfortably pricy. In any case, all trims are eligible for keyless ignition and remote engine start, as well as radar-interfaced active cruise control, a power-operated trunk lid and automated parallel parking assist. Then there are add-ons like BMW Apps, which allows select internet access via a personal iPhone, a rear-view camera with top and side view, a windshield head-up display, upgraded four-zone climate control, heated front and rear seats and steering wheel (the Cold Weather Package), satellite radio, premium digital audio components with 14 speakers and 2 subwoofers, not to mention rear-seat DVD entertainment. Most of these are available in either package form or as free-standing options, with further optional upgrades being the Sport and M Sport packages, each sporting Driving Dynamics Control with its four driver-selectable modes, as well as automatic suspension damping and a higher top speed. The M Sport Package additionally boasts an aerodynamic body kit and distinct "M" steering wheel.
Comfy front seats, large, legible gauges and the simplified hands-free iDrive audio, navigation and communications system all draw praise from reviewers. A plush cabin ambiance, easy entry/exit and decent front-seat head- and legroom also draw applause from reviewers, though a few blind spots are noted and the rear bench seat sits a tad low for many. Only modest cabin storage is noted by most reviews, while virtually all question the less-than-cavernous trunk space and lack of standard split-folding rear seatbacks which are available only as a costly option. Finally, a number of reviews claim that one or two of the 5 Series' upholstery colors appear drab rather than upscale, though such nitpicking seems as much a matter of taste as of objective opinion.
Safety
One area in which the 2012 5 Series truly shines is in standard and available safety features. All trims boast 4-wheel disc antilock brakes with electronic brakeforce preparation and emergency braking assist, as well as traction and stability control, all of which can be enhanced by the optional active cruise control with emergency braking preparation. Dual front side-mounted airbags, front and rear head airbags and front head-restraint whiplash protection, as well as a post-collision safety system that includes the BMW Assist program's emergency service, collision notification and stolen vehicle tracking, also come standard across the lineup. All of this is complemented by daytime running lights, front fog/driving lights, cornering lights, xenon high-intensity-discharge (HID) headlights and a remote antitheft alarm that are all standard for all trims, as well.
Optional safety equipment that's available across the 5 Series spectrum includes an Active Blind Spot Detection system, and Lane Departure alert, automatic hi/lo-beam headlights and an infrared night vision display with pedestrian detection.
The National Highway Transportation Safety Administration (NHTSA) gives the mirror-image 2011 BMW 5 Series its best 5-star rating in overall safety competence, while the Insurance Institute for Highway Safety (IIHS) rates this high-end sedan a Top Safety Pick for 2011 and 2012.
What Owners Think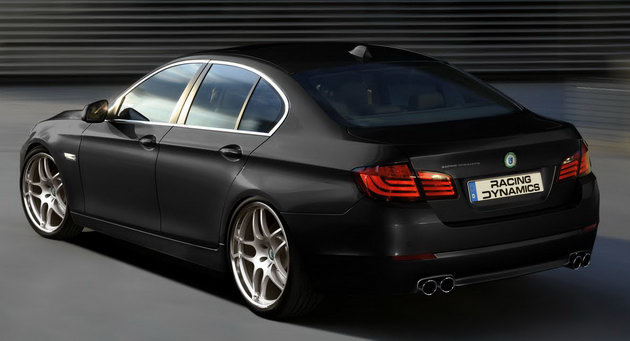 Some issues with the 8-speed automatic transmission, as well as the expense of replacing those imperfect run-flat tires, are two of the major complaints that owners have with Beemer's 2011 and 2012 5 Series. Pricy options, occasionally ponderous steering response and a few problems with overall reliability also make the list of owner rants. Furthermore, a cramped rear bench seats, and a sense that BMW customer service has much to learn about actual service leaves a number of owners questioning the value of this posh sedan. Finally, a few gripes about acceleration with the turbocharged I4 engine may, perhaps be more a matter of perception than of fact.
In any case, good looks, a luxuriously appointed cabin, heady performance from the I6 and V8 powerplants and its still-niche-topping agility impress enough owners that they would recommend this Beemer despite a glitch here and there. Then there are those owners who laud the almost epic mileage delivered by the I4 turbo. Lastly, the available premium digital audio, not to mention the vast number of standard techno-features that grace the 5 Series sedan, each garners enthusiastic kudos from owners.
Updated
Have Laptop. Will Travel. I'm retired and travelling the country in a 34' motor home. I'm really digging meeting people . . and sometimes their cars . . . getting a sense of what makes this nation tick. The plan is to visit all the national parks in the continental US, then cruise to Alaska to visit Denali, and to Hawaii to check out Haleakala and the Hawaii Volcano's national parks. Anyhow, when I'm not horsing the motor home around the roadways, I'm tooting around in the 2012 Ford Focus that we tow behind, or making runs to Home Depot and various malls with the 2004 F-150 that just won't die.
What's your take on the 2012 BMW 5 Series?
2012 BMW 5 Series Top Comparisons
Users ranked 2012 BMW 5 Series against other cars which they drove/owned. Each ranking was based on 9 categories. Here is the summary of top rankings.
Have you driven a 2012 BMW 5 Series?
Cars compared to 2012 BMW 5 Series
Looking for a Used 5 Series in your area?
CarGurus has 8,507 nationwide 5 Series listings starting at $1,900.
Trims
528i Sedan RWD

Avg. Price: $13,375
528i xDrive Sedan AWD

Avg. Price: $13,638
535i Sedan RWD

Avg. Price: $15,366
535i xDrive Sedan AWD

Avg. Price: $15,961
550i Sedan RWD

Avg. Price: $16,387
550i xDrive Sedan AWD

Avg. Price: $17,566
Quick Links