Looking for a Used Impreza in your area?
CarGurus has 14,293 nationwide Impreza listings starting at $1,949.
Bottom Line, Subaru's Are The Way To Go!
by Tiffany
— It has enough get up to where the gas mileage is decent, however I would prefer a it to be faster like the WRX. The turning is amazing and I love the handling all together! It feels safe and is comfor...
Read More
Awesome
by Allan
— great car just got it and love it. looks great and runs great. could use alittle more power but i can take care of that. service has been great. I also race a subaru and know what they can do
Read More
Godd Little Car, Could Improve In Some Areas
by Olivier
— I've owned my 09 Subaru Impreza Outback Sport for 6 months now. I like the car overall, which has good looks and great handling. I had never driven in the snow before, but I did try the car in upstate...
Read More
Review
The Good
Phenomenal handling, gut-wrenching acceleration, and brakes that would stop a comet combine with some refreshed styling to make an even better Subaru Impreza for 2009.
The Bad
With all the upgrades and refreshes the Impreza has received over the years, you'd think they could address the horribly out of place hard plastics that dominate the interior, or the lack of lumbar support in the seats, which prevent it from truly being a touring machine.
The CarGurus View
There are a lot of options with the Impreza, letting you choose pretty much anything from a sporty compact to as close to a track-ready rally king as you can get off a lot. Decide what's best for you, as the pricetag will jump quite a bit depending on which you choose. Unless you're really looking to tear things up, test drive the STi and then go for one of the more tame versions.
At a Glance
After a bit of shuffling and some power upgrades, there's a lot to say about the 2009 Impreza. The WRX gets a 41-hp increase, and a new trim is introduced, the 2.5GT, which replaces the old WRX, albeit with an automatic transmission.
This year, all Imprezas get an STi-themed grille, STi-themed gauges, and smaller style changes in yet another minor refresh for the model. The Impreza, available as a hatchback or sedan, shares the same 2.5-liter engine and all-wheel-drive platform across all trim levels, although with significant differences in horsepower, with the WRX STi producing almost twice the power of the 2.5i.
Drivetrain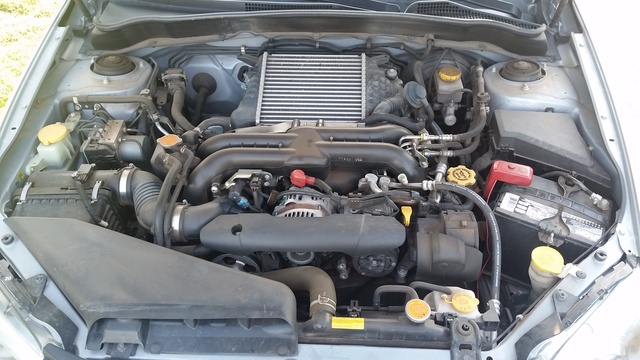 All Impreza trims come with a horizontally opposed, 2.5-liter four-cylinder boxer engine, in various degrees of tune. Across the five trims, 2.5i, Outback Sport, 2.5GT, WRX, and WRX STi, horsepower ratings vary considerably. 2.5i and Outback Sport Imprezas are naturally aspirated at 170 hp, while the remaining trims are turbocharged. The 2.5GT has 224 hp, while the WRX has 265, and the WRX STi has a ground-pounding 305 hp. A five-speed manual is standard on all models excepting the 2.5GT, which comes with a four-speed automatic with manual shift capability, and the WRX STi, which comes with a six-speed manual. The four-speed automatic is also available on the 2.5i and Outback Sport.
Big news comes from the WRX, which gets a 41-hp bump as a result of a larger turbocharger, a high-flow catalytic converter, and a larger diameter exhaust. All models accelerate adequately, increasingly so as horsepower increases, although turbocharged models do suffer some lag under 3,500 RPM. However, once past the lag, WRX models especially have disturbingly aggressive acceleration all the way to redline. Engine noise is prevalent and intrudes into the cabin almost continually. While turbocharged Imprezas come with the recommendation for premium-grade gasoline, 2.5i and Outback Sport trims do just fine on regular. Gas mileage varies across trims from 20/27 mpg for a 2.5i to 17/23 for the WRX STi.
Ride & Handling
Complaints from 2008 WRX owners, who will no doubt feel cheated when they see this year's version, center around its unusually soft suspension. This has been righted for 2009 by use of forty-three percent stiffer springs in front and forty-two percent stiffer springs in back, a 1mm increase in stabilizer bar diameter front and back, and a matching increase in shock dampening. Surprisingly, this has improved the suspension without creating an overly harsh ride. Expect to feel the inconsistencies in the road, but don't worry about your teeth rattling out of your head.
Additionally, because of the use of wider 225/40 tires, versus last year's 205/50's, a stronger valve was utilized in the steering box to compensate for the added grip. This has created a responsive steering feel, but one that's honestly still lacking a bit for a car with aspirations as competitive as the WRX's.
The 2.5GT gets the same suspension upgrades, while the Outback Sport's raised suspension increases the body lean that was minimal in other trims. STis have a performance suspension that still manages to avoid the harsh ride typical with such options. All versions come standard with full-time AWD.
Cabin & Comfort
While controls have been well-received both in styling and functionality, overall complaints regarding the cheap-feeling hard plastics in the Impreza continue in 2009. A slight exception comes in the WRX STi, simply because while the hard plastics still dominate, at least it's different than other trims, with its sport-inspired design.
Room is better than average for the class, which honestly isn't hard to beat. Still, anyone who isn't well over 6 feet tall should have no problem with the Impreza. Even entry and exit is accomplished without excess effort, no small feat in the sport-compact segment. Cargo room especially shines, with almost 45 cubic feet in the hatchback.
Red thread is now used on the checkered black upholstery and leather-wrapped steering wheel, and has been met with mixed reviews. Subaru finally offers a power moonroof as an option, which has been long awaited. The driver's footrest has been upgraded to aluminum to match the pedals, and electroluminescent gauges, similar to those of the STi, have been made standard across all trims.
Safety
The Impreza's available safety features include four-wheel antilock disc brakes, traction control, and antiskid, as well as front and curtain side airbags. NHTSA ratings were five stars for front impacts involving the driver and passenger, as well as side impacts for the driver, and four stars for rollover and side impact for rear passengers.
What Owners Think
2008 Impreza owners, those who bought the WRX especially, are sure to feel slighted with all of the upgrades to the 2009. Hard plastics still abound, but as well-received as the rest of the car has always been, it's hard to find too many owners willing to complain at length.
CarGurus
https://www.cargurus.com
Updated
A CarGurus contributor since 2008, Michael started his career writing about cars with the SCCA - winning awards during his time as editor of Top End magazine. Since then, his journalistic travels have taken him from NY to Boston to CA, completing a cross-country tour on a restored vintage Suzuki. While his preference is for fine German automobiles - and the extra leg room they so often afford - his first automobile memories center around impromptu Mustang vs. Corvette races down the local highway, in the backseat of his father's latest acquisition.
What's your take on the 2009 Subaru Impreza?
Have you driven a
2009 Subaru Impreza
?
Cars compared to 2009 Subaru Impreza
Looking for a Used Impreza in your area?
CarGurus has 14,293 nationwide Impreza listings starting at $1,949.
Have questions?
Ask a question
Subaru Impreza Questions
Check Engine, Traction, Cruise Control Lights
I have a 2009 subaru impreza 2.5I and yesterday I had my winter tires swapped out with summer tires. After that I turned on my car and my cruise control light is blinking, check engine, and tractio...
Back Up Camera Only Works When Hatch Back Is Open
2009 Subaru Impreza, 100,000 miles. Back up camera stopped working. Upon further investigation the camera actually does work but only when the hatch back is in the fully up position. 1/3 of the w...
Why Did My Car Die While Running ?
My car had a check engine light that came on and off on occasions then my car died on way back from work it had low oil and won't stay on it kind of buckled ? Before it died still turns on but tur...
Engine Light On In My Subaru Impreza 2009
My engine light is on. I thought it was the spark plugs, I changed them and my engine light went off then, came back on a few hours later. I then realized that my engine is knocking. I hear it when...
Changed Plugs Wires And Coil Pack Still Misfire 2&4 On A 2009 Subaru Imprez...
2009 Subaru Impreza I changed plugs,wires,and coil still misfire on cylinder 2&4
Trims
2.5GT

2 national listings

Avg. Price: $9,018
2.5GT Hatchback

1 national listing

Avg. Price: $9,549
2.5i

Avg. Price: $6,567
2.5i Hatchback

Avg. Price: $6,994
2.5i Premium

Avg. Price: $6,609
2.5i Premium Hatchback

Avg. Price: $7,667
Outback Sport

Avg. Price: $7,637
Find great deals from top-rated dealersTM
Search
Quick Links