Looking for a Used A3 in your area?
CarGurus has 2,174 nationwide A3 listings starting at $2,499.
Review
The Good
The 2009 A3 provides a welcome reprise to Audi's successful line of premium compact cars, owning enough pop under the hood and more than enough class, both inside and out, to maintain its position as the car to beat.
The Bad
If it has flaws, they would be that Audi's 2009 A3 comes up a little short in fuel economy, rear-seat space, and the fact that its AWD and optional Magnetic Ride Control give such an impressive ride that to own any of the other trims is automatically a step down.
The CarGurus View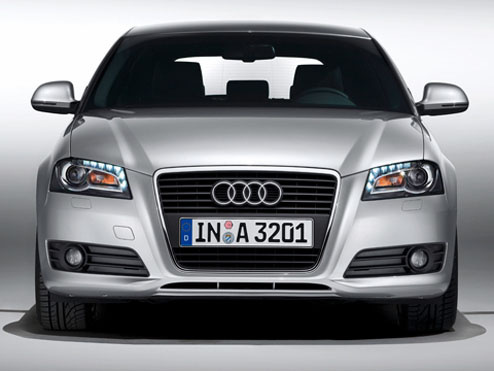 The Audi A3 is no stranger to having accolades thrown at its feet, and the 2009 carries on the tradition with a touch of this, a touch of that, and a whole lot of attitude in both look and feel. It has a few drawbacks, but under scrutiny they're mostly for want of something to say. Overshadowing them are the superlatives, which like Audi starts with an A.
At a Glance
Broadly speaking, the 2009 Audi A3 is not a spanking new vehicle, it just seems that way with its mix of small changes going toward making its already first-class merits even better. By massaging the A3 a little here and a little there, Audi keeps the entry-level U.S. model in the A series at the top of its game until its next big overhaul.
Innovative technologies such as the S-Tronic dual-clutch transmission and Audi magnetic ride, the suspension control system, make for even greater driving pleasure. Its sharper, more striking look lends even greater expression to the A3 and its various trims. It comes in four trims: the 2.0T, offered with a manual transmission or a DSG automatic, and the 2.0T quattro and 3.2 quattro, which are all-wheel-drive machines.
New visual details for the '09 bring its stretched, sporty profile into the foreground. The front lid and fenders are more expressively styled, and the bumper and large single-frame radiator grille have been modified. A curved trim element in the headlamps known as the "wing" accentuates their technical perfection. Daytime running lights are standard features, and the optional bi-xenon headlamps incorporate LEDs. Down the sides, the highlight features are exterior mirrors with integral turn indicators, new door handles, and attractive wheels. At the tail end, the modified bumper and the lights help this car make a grand exit; the five-door A3 now has innovative fiber optic rods arranged in a flat, continuous strip that creates an impressive optical effect in the dark.
Drivetrain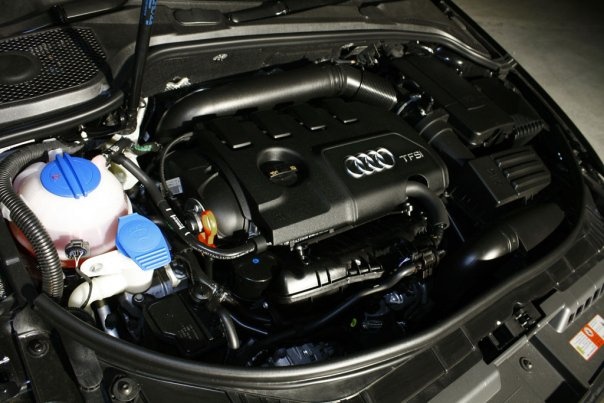 Under the hood sit the engines carried over from 2008, which in the case of this machine is no bad thing. The base engine is Audi's 2.0-liter TFSI four-cylinder, boasting 200 hp with 207 lb-ft, while those looking for more vavoom can opt for the larger 3.2-liter V6, which serves up 250 hp and 236 lb-ft of torque.
An important change is found mounted to these engines: the S-Tronic dual-clutch transmission is now available optionally on the 2.0-liter motor and exclusively on the 3.2 liter. With dry-running clutches and the option of shifting via steering-wheel-mounted paddles or with the selector lever, the six-speed S-Tronic offers superior performance to Audi's standard six-speed manual box. When fitted to the 2.0T, the '09's dash time of 0-60 mph comes in at 6.7 seconds. With the manual, it clocks a respectable 6.9 seconds. The turbo four cylinder lags in low-speed power delivery, then supplies it with a rush. The 3.2s are also slightly tepid on takeoff, but strong thereafter, clocking a 0-60 mph time of 5.9 seconds. The manual transmission is super smooth, and the automatic's shifts are rewardingly similar and prompt when used in manual mode. In some tests, the A3's slurred automatic-mode shifts introduced some low-speed driveline jerkiness. The 2009 A3 charges along using premium 91 unleaded fuel that in Consumer Guide testing takes the 2.0T automatic as far as 23.3/25.4 mpg, and the 3.2 S gets 18.6/19.4. Towing with the A3s isn't recommended. Like its design, this car has zero drag.
Ride & Handling
The 2.0T models have a firm but reasonably absorbent ride with their base suspension setup. In a sense, they're two cars rolled into one, offering a luxury plush ride and athletic responses in the same vehicle. All A3s are stable at highway speeds and agile, but base-suspension 2.0Ts suffer from some noseplow in tight, fast turns. Rapid takeoffs induce minor torque-steer in the 2.0T. The 3.2's AWD traction is a boon in all conditions. The front-drive A3 simply does not fully share the excellent driving dynamics of the all-wheel-drive models. On wet country roads, the turbo A3 quattro delivers near-flawless performance, especially when matched with the six-speed S-tronic sequential gearbox, which has been improved to provide even faster upshifts and which will still blip the throttle to perfectly match revs on downshifts. Braking is strong. Wind rush is low at highway speeds. Both engines sound classy while accelerating.
Like costlier Audis, A3s impress with clear gauges and handy switchgear, though their complex dual-zone climate controls require familiarization. A single console control knob governs most navigation-system functions. The navigation also absorbs and complicates many audio controls.
Cabin & Comfort
Slip inside the 2009 A3 and behold a cabin that is handsomely assembled from tasteful, high-quality materials. Headroom and legroom are plentiful, even for 6-footers, as long as the front seats are not set far back. The seats are all-day comfortable. Oddly, even power seats include some manual adjustments. The rear roofline slightly impedes driver vision aft and to the right rear. Doors open wide, but entryways are not that large. The A3 has less space than a small station wagon, but is far more versatile than a compact sedan. The hatch door lacks opening glass but lifts high for access to a usefully roomy, flat-floor cargo bay. Rear seatbacks fold easily to extend the load area but don't lay completely flat.
Inside the car, too, the designers fine-tuned the atmosphere of sporty elegance. The cabin has good small-item storage. Aluminum-look elements on the air vents, light switches and center console accentuate the premium character of the Audi A3. The switches and controls beneath the audio system have been given a new, modern look. The instruments have black dials and red needles to reinforce the impression of precision and advanced technology, and a shift indicator displays the recommended gear in any given circumstances in the driver information system. The 2009 A3 continues Audi's tradition of "first-class" in all things visual and tactile. Real metal rings around the dash vents and audio controls are accented by the solid action of the gear selector and climate-control dials.
Standard features on the 2.0T include dual-zone automatic climate control, 17-inch alloy wheels, one-touch power windows, keyless entry and a 10-speaker sound system. Step up to the 3.2 Quattro, and the list grows to include amenities like leather seats, a power driver seat, and satellite radio. Options include xenon headlights, a navigation system, a sunroof, and an upgraded sound system. But go crazy on the options and the A3's sticker will rapidly approach uncomfortable levels.
Safety
Although crash test ratings aren't available, the 2009 A3 is loaded with all the same safety equipment as the vaunted 2008. In its duty to help protect passengers and driver the car promises four-wheel ABS, traction control, an antiskid system, a tire pressure monitor, rear armrest with first aid kit, driver/front passenger head/thorax airbags, front side airbags, rear side airbags, and curtain side airbags. Optional with either engine is Audi's Magnetic Ride Control adjustable suspension, which allows drivers to choose between Normal and Sport modes. Its predecessor was lights out when it came to safety, prompting the saying "safe as houses" to ring true of Audi's latest in this line.
What Owners Think
Based on what owners of the 2008 A3 thought of their A-rides, there's no reason to think the 2009 shouldn't be as equally celebrated. The A3 isn't just a passing fancy with a short-lived sense of pleasure. Sixteen months later one owner says, "I am still having every bit of fun driving it like the very first ride out of the dealership." Compared to its competitors, the 2009 A3 is turning driving on its head. "Call me crazy," says one owner, "but I have the [BMW] Z4 as my everyday car and the A3 as my Sunday car. Go figure!" Because the A3 is not a cookie-cutter car, and because of the killer tweaks to the 2009, expect the honeymoon period for 2009 owners to last for many oil changes to come.
What's your take on the 2009 Audi A3?
Have you driven a 2009 Audi A3?
Cars compared to 2009 Audi A3
Looking for a Used A3 in your area?
CarGurus has 2,174 nationwide A3 listings starting at $2,499.
Trims
2.0T Premium Wagon FWD

Avg. Price: $7,758
2.0T quattro Premium Wagon AWD

Avg. Price: $9,005
2.0T quattro S-Line Wagon AWD
2.0T quattro Wagon AWD

Avg. Price: $8,393
2.0T S-Line Wagon FWD

Avg. Price: $8,501
2.0T Wagon FWD

Avg. Price: $7,685
3.2 quattro S-Line Wagon AWD
Quick Links