Looking for a Used 8C Competizione in your area?
CarGurus has 2 nationwide 8C Competizione listings and the tools to find you a great deal.
2009 Alfa Romeo 8C Competizione
Overview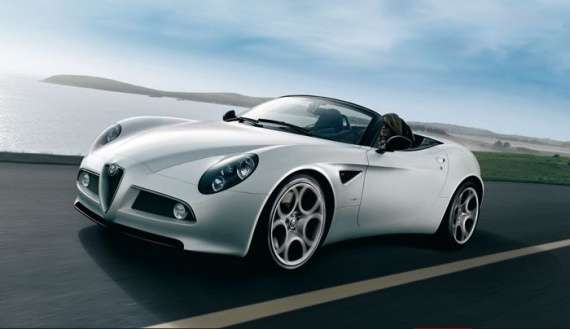 The 8C Competizione is Alfa's new halo car that will blaze the company's way back into the U.S. market; out of the 500-car production run, less than 100 will be sent to the U.S. And unfortunately, those 100 are already sold. It also represents the coming together of three of Fiat's legendary automobile greats: Maserati, Ferrari, and Alfa.
The heart and soul of any sports car is its engine - even more so with an Italian sports car. And what could be more "soulful" than starting with a Ferrari engine. The block goes back to the 360 Modena V8, which later found a home in the Maserati GranTurismo and Quattroporte. For use in the 8C, the engine was bored and stroked out from 4.2 to 4.7 liters, also receiving a dry-sump oil system, DOHC, four valves per cylinder, and new Alfa heads. Its variable intake camshaft timing adds to the production of 450 hp at 7,000 rpm, with a 7,500-rpm redline. Torque comes in low, with 80% of the engine's maximum 354 lb-ft available from 2,000 rpm. Set in a 3,500-pound expression of automotive art, 0-60 flashes by in 4.2 seconds, with the car's top end arriving just shy of 190 mph.
The only transmission available is a six-speed from the first version of the Maserati Quattroporte that allows for automatic or manual shifting. In Sport mode, the transmission employs the Magneti Marelli system used in the Ferrari F430 and 599 Fiorano, speeding up shifts from 0.4 to 0.2 second and accompanying downshifts with perfect rev blips. The gearbox is in the rear, where it forms a transaxle unit with a ZF limited-slip differential. The clutch remains up front with the engine, but the engine (following current Ferrari powertrain philosophy) is set entirely behind the front axle, achieving a 49:51 front/rear weight balance.
The 8C sits on a shortened version of the Maserati GranTurismo platform. With an 11.7-inch-shorter wheelbase, the Alfa is 19.7 inches shorter overall than the GT. Some reviewers have likened its size to the Nissan 350Z's. The aluminum double-wishbone independent suspension control arms are by Maserati, but the unadjustable shocks, springs, and anti-roll bars are from Alfa. ABS and ESP are standard, and braking is accomplished with vented front and rear discs, 14.2 inches and 13.0 inches, respectively. So good is the braking system that it set a Road and Track best by bringing the car from 60-0 mph in just 105 ft.
Let free in its "natural environment" - the road - the 8C receives unanimous accolades for handling prowess. Capable of pulling 1.02g in lateral acceleration, the 8C impressed Motor Trend as being beyond its Maserati genes: "much sharper, much more the racer." When pushed into the level that separates great cars from the merely very good, "the 8C still feels crisp and fluent and beautifully throttle responsive." Road and Track enthuses, "it is certainly among the best rear-wheel-drive cars we've ever tested." The 8C even surprised reviewers with its ability to absorb bumps, its chassis tune reminding them more of "a well-rounded Corvette" than a "track-oriented Viper."
Aurally, there seems to be nothing like the 8C - neither Ferrari nor Maserati. When in Sport mode the exhaust butterflies open, sharpening the engine's tone to keep up with quicker throttle response, faster shift speeds, and more rapid reflexes, due to less electronic stability intervention. Reviewers have likened it to the wail of a Formula 1 car: "gloriously rich, angry and assertive," "spitting and hissing like a cornered leopard," with downshifts accompanied by a "glorious garble of pops and burps."
An Alfa-styled body of carbon fiber, gloriously sensuous in a way that only Italians can articulate, wraps the 8C. Reviewers express amazement at how much the body looks like the hand-formed aluminum popular during the good old days of Italian automotive art. 47% of the 8C's weight, 1,645 pounds, is made of carbon fiber. The interior is rich in this material, along with leather and genuine polished aluminum. The seats are carbon fiber wrapped in leather, with bolstering that holds your hips and torso in place. Edmunds calls the interior "one of the best-looking cabins this side of the Bugatti Veyron." And Motor Trend finds it "a true Italian sports car cabin that celebrates both craftsmanship and driving passion." What more could you ask for?
The Alfa Romeo 8C Competizione is built on the same line as the Quattroporte and GranTurismo in Maserati's Modena factory. There will be an 8C Spyder, but only 500 of them. So you'd better sell your house quickly to get in on this newest Italian work of art.
What's your take on the 2009 Alfa Romeo 8C Competizione?
Have you driven a 2009 Alfa Romeo 8C Competizione?
Cars compared to 2009 Alfa Romeo 8C Competizione
Looking for a Used 8C Competizione in your area?
CarGurus has 2 nationwide 8C Competizione listings and the tools to find you a great deal.
Alfa Romeo 8C Competizione Questions
What is so great about this car? Have you ever driven one?