Looking for a Used Mariner Hybrid in your area?
CarGurus has 13 nationwide Mariner Hybrid listings starting at $5,900.
2007 Mercury Mariner Hybrid
Overview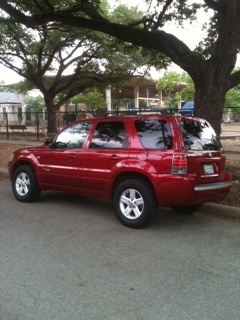 Mercury is very proud of its entry in the hybrid market: a smooth-riding, trail-capable SUV. Owners of the Mariner Hybrid enjoy the distinction of driving a certified Advanced Technology Partial Zero Emissions Vehicle.
The 5-passenger SUV works its environmentally-friendly magic with a gas engine/electric motor combo. The electric motor runs the show until the car exceeds 25 mph, and then the gasoline engine takes over. While the gas engine runs it simultaneously recharges the 330-volt, nickel-metal-hydride battery (which is located beneath the cargo area) for the electric motor. The two work together to produce the power of 155 horses.
But here are the numbers everyone wants to hear about: 32 city/29 highway. The range on a tank of gas is perhaps 400 miles, but that varies considerably based on driver habits and type of driving. The brains behind it all is the Vehicle System Controller, which manages engine operations, shutting it down at the right times, managing the engine/battery/generator functions, and controlling other processes within the powertrain.
The gas engine features an Atkinson cycle, which increases efficiency by delaying the closing of the intake valve.
The Electronically Controlled Continuously Variable Transmission improves fuel efficiency by taking power from the gas engine and electric motor to run the wheels. This also lowers emissions and keeps acceleration smooth. Speaking of smooth driving, the rack-and-pinion steering and four-wheel independent suspension make for a very nice ride.
Every Mariner Hybrid features the Intelligent 4WD System. The brains of the powertrain constantly monitors traction at each wheel (Mercury says it does this 5000 times per second) and then communicates how much additional torque is needed in the rear wheels to control slip.
Color choices are limited, with 5 exterior finishes to choose from, two of which are new for this model year. All Mariners have a Pebble interior in either cloth or leather. Some new options have been introduced for 2007, including the Safety Canopy Package, which adds front seat-mounted airbags and side-curtain units with rollover sensors.
One of the few complaints about hybrid vehicles is that the battery is expensive to replace. Well, this one comes with an 8-year/100,000-mile warranty, so that should help.
Get this: when the brakes are applied the electric motor takes some of the kinetic energy and transfers it to the battery pack for recharging purposes. You can't beat this direct recycling of energy!
What's your take on the 2007 Mercury Mariner Hybrid?
Have you driven a 2007 Mercury Mariner Hybrid?
Cars compared to 2007 Mercury Mariner Hybrid
Looking for a Used Mariner Hybrid in your area?
CarGurus has 13 nationwide Mariner Hybrid listings starting at $5,900.
Mercury Mariner Hybrid Questions