Looking for a Used F-150 in your area?
CarGurus has 103,845 nationwide F-150 listings starting at $1,999.
1984 Ford F-150
Test Drive Review
Replacing the F-100 as the base model in the lineup, the 1984 Ford F-150 advances the light-duty pickup.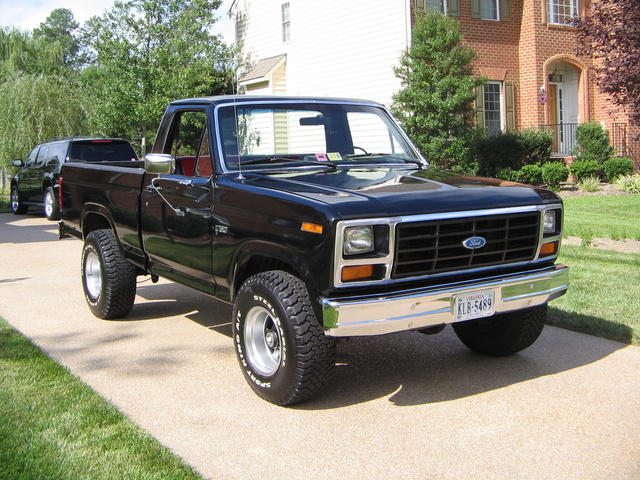 The Ford F-150 full-size light-duty pickup truck comes into its own in the middle of the seventh generation (1980-1986) of the Ford F-Series, as the F-100 is discontinued. More power, modern styling, and impressive standard features justify the number upgrade from F-100 to F-150, as the Ford truck has gone mainstream on the boot heels of the "Urban Cowboy" craze.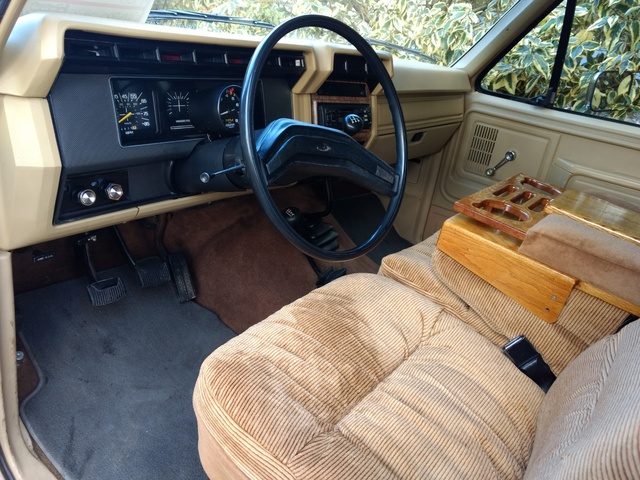 The 1984 F-150 comes roaring out of the gate with a boxy, straight-edged style, a "macho" (Ford's descriptor) statement of no-nonsense strength. Wearing the blue Ford Motor Company oval in the center of its grille, the F-150 makes a virtue of rectangles, right angles, and straight lines. The grille itself is a four-by-four grid of stacked rectangles, flanked on each side by rectangular headlights and turn signals. A strong, straight concave groove goes down each side of the body. The only modest concession to the curve is the slightly rounded wheel arches.
The cab is offered in Regular, SuperCab, or Crew Cab configurations. Styleside beds are standard at 6.5 or 8 feet for Regular Cab and SuperCab, while Crew Cab models only come with an 8-foot Styleside bed. A 6.5-foot Flareside bed is available for the Regular Cab model only.
Regular Cab models come with either a 116.8-inch or 133.0-inch wheelbase, while SuperCab models come with a 138.8-inch or 155-inch wheelbase. Crew Cab models get a 168.4-inch wheelbase.
The F-150 comes in a choice of 14 exterior colors: Raven Black, Polar White, Light Charcoal Metallic, Bright Canyon Red, Dark Canyon Red, Light Blue, Medium Blue Metallic, Midnight Blue Metallic, Desert Tan, Walnut Metallic, Light Desert Tan, Medium Copper Metallic, Dark Teal Metallic, and Bright Copper Glow. Several "Tu-Tone" paint options are available, as are tape stripes and lower body protective molding. A popular Explorer package of options includes a chromed grille, which complements the standard chromed front bumper.
The interior is available in Charcoal, Dark Blue, Canyon Red, or Tan, and echoes the exterior's rectangular themes, from the pattern on the cloth seats to the rectangular instrument panel hood and gauge housings.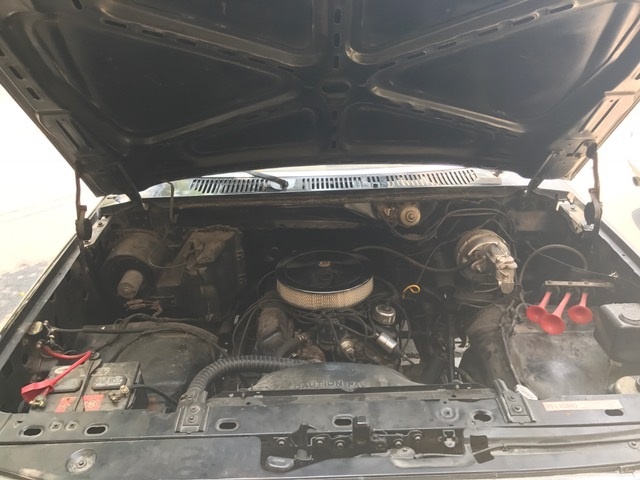 The standard engine for the 1984 F-150 is a carbureted 4.9-liter inline six-cylinder (122 horsepower/255 pound-feet of torque). For a bit more performance, a carbureted 5.0-liter Windsor V8 engine (133 hp/233 lb-ft of torque) is available as an upgrade. The hot ticket, though, is the combination carbureted/fuel-injected 5.8-liter V8 (210 hp/280 lb-ft of torque). Rear-wheel drive (RWD) is standard, and four-wheel drive (4WD) is available. Automatic locking hubs are optional. RWD models come with a standard three-speed manual transmission, while 4WD models get a four-speed manual. The SelectShift automatic transmission is available as an option on all models, with a further upgrade to automatic overdrive also available.
The seventh-generation F-Series pioneered the use of independent front suspension in a full-size pickup, and the 1984 F-150 benefits from this feature, too. A solid rear axle with leaf springs handles the rear suspension. Brakes are drums all around.
The ride in the 1984 F-150 can generously be described as truckish, which is part of the charm of this pickup. Without a load in the bed, there can be some unwanted bouncing on rough surfaces, and there's a healthy amount of body roll through corners. But the solid, sturdy feel of the F-150 cannot be denied, especially when you put it to work hauling or towing. Properly equipped and configured, an F-150 can handle loads up to 4,350 pounds and can tow up to 7,700 pounds.
Even though pickup trucks like the F-150 have become lifestyle accessories, it's good to know they are still tools, designed and engineered to do real work.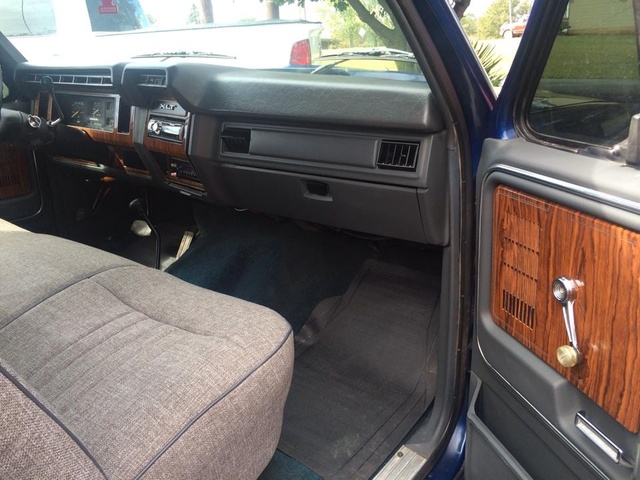 The F-150 is a simple vehicle, really, with a boxy shape that maximizes its pure utility. The two bed designs, Styleside and Flareside, offer different looks and functionality. The Styleside has a work advantage, with double steel sidewalls that can absorb some minor bumps and dents in the bed without looking any worse for the wear on the outside. The Flareside, on the other hand, looks great and offers easier access to the inside of the bed with its integrated step. It's all about getting the truck that fits your needs.
In the cabin, the story is similar. The Regular Cab is not without its charms but lacks much storage space, beyond a glove box and a bit of hard-to-reach space behind the seat. The SuperCab is great for occasional passenger use but really shines as a secure mobile storage space. The second row folds away, leaving a flat load floor that is extremely useful. Dog owners will appreciate the space as a perfect hideaway for their best friends, avoiding the uncomfortable discussion with a spouse over rightful possession of the front passenger seat. The Crew Cab transforms the F-150 into a useful family-hauler, as three seating positions in the second row are actually functional—even for adult passengers—for a short haul. The easy access to the rear cabin also allows it to double as a cargo compartment, which is very handy, especially in inclement weather.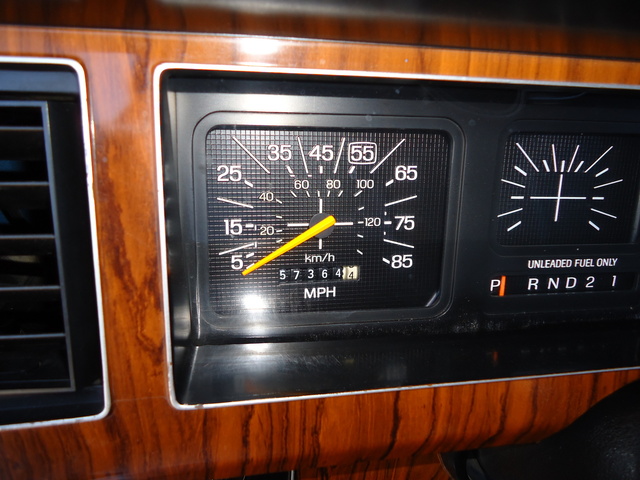 An AM radio is standard on the 1984 F-150, with upgrades to AM/FM stereo and even AM/FM stereo with cassette available. Power windows, power door locks, power steering, and a tilt steering wheel (manual) are also options, while power brakes are standard. Cruise control is available, a great option for long drives. Halogen headlamps are standard on all F-150 trim levels. Air-conditioning is available, but the old standby door vent windows are standard.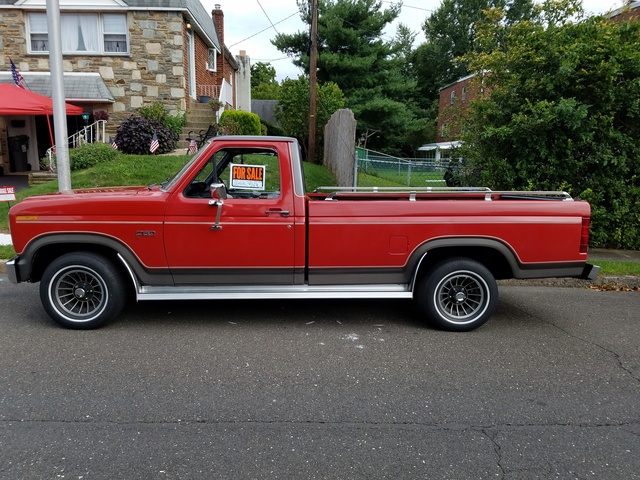 Don't look for airbags, anti-lock brakes, traction control, or other electronic nannies on the 1984 F-150. Mass is your friend, so be sure to strap in with the standard seatbelts and hit something smaller than you. Crash-test ratings from the National Highway Traffic Safety Administration (NHTSA) and Insurance Institute for Highway Safety (IIHS) are not available.
The 1984 F-150 debuts a clutch interlock on the pickup for the first time, preventing the engine from starting unless the clutch pedal is depressed. Ford also moved the hood latch release inside the cabin, improving security.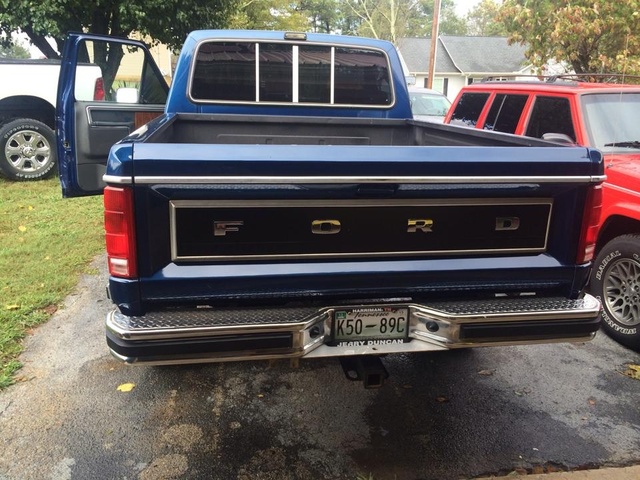 The F-150 lineup has been streamlined for the 1984 model year, with the Lariat trim level dropped for the time being. There are four trim levels: STD (base); XL; XLT; and XLS. The F-150 starts at around $7,800 for an STD Regular Cab Short Bed RWD model and goes up to near $11,000 for an XLS Crew Cab Long Bed 4WD.
The full-size pickup truck landscape in 1984 is pretty much Ford, GM, and Dodge. Ford is the volume leader, as it has been since 1977, but there are GM (Chevrolet/GMC) folks and Dodge folks. Brand loyalty is fierce in the pickup world. Pricing is very competitive between the brands.
Looking at a picture of the 1984 Ford F-150, it's hard to argue with the perfection of this design. While we could hope for better performance or more breakthrough technologies, the pureness of intent and execution of this particular pickup shines through. If that's not enough to make you a Ford pickup fan, perhaps nothing ever will.
Updated
Jason Fogelson has reviewed hundreds of cars, trucks, SUVs, motorcycles and ATVs for websites, magazines and newspapers. He is based in the Detroit area.
What's your take on the 1984 Ford F-150?
Have you driven a 1984 Ford F-150?
Cars compared to 1984 Ford F-150
Looking for a Used F-150 in your area?
CarGurus has 103,845 nationwide F-150 listings starting at $1,999.