Looking for a Used F-150 in your area?
CarGurus has 95,761 nationwide F-150 listings starting at $2,100.
1979 Ford F-150
Test Drive Review
Ford aims to maintain its hold on bestselling truck status by making only minor changes to the 1979 F-150.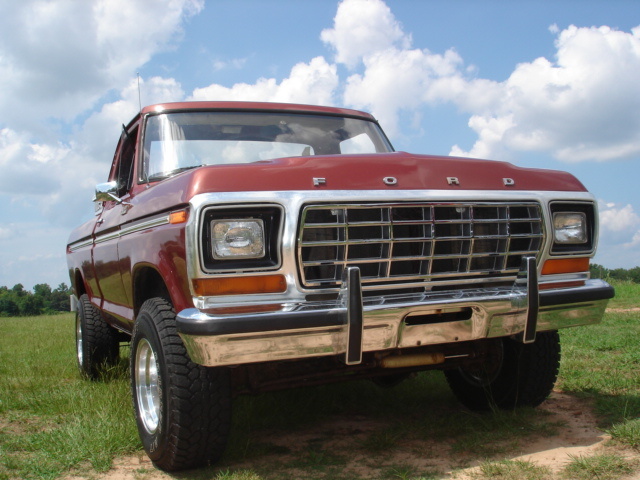 Americans do love pickups and, based on last year's sales figures, their favorite is Ford. Chevrolet, GMC, and Dodge offer strong competitors, but it was the 1978 F-Series that earned the title of best-selling truck.
Ford offers the F-Series in several grades ranging from the F-100 to the heavy-duty F-350, but we're focusing on the most popular version—the F-150. For 1979, the truck carries over largely unchanged, though eagle-eyed observers will notice that square headlights are now standard across the lineup. Trim levels include the Custom, Ranger, Ranger XLT, and the Ranger Lariat, all available with a selection of six- and eight-cylinder engines, a rear-wheel drive (RWD) or four-wheel-drive (4WD) drivetrain, Regular Cab or SuperCab body styles, and a choice of cargo beds.
Shoppers particularly fond of the current generation F-150 may want to visit a dealership sooner than later, as a completely redesigned truck is set to debut for the 1980 model year.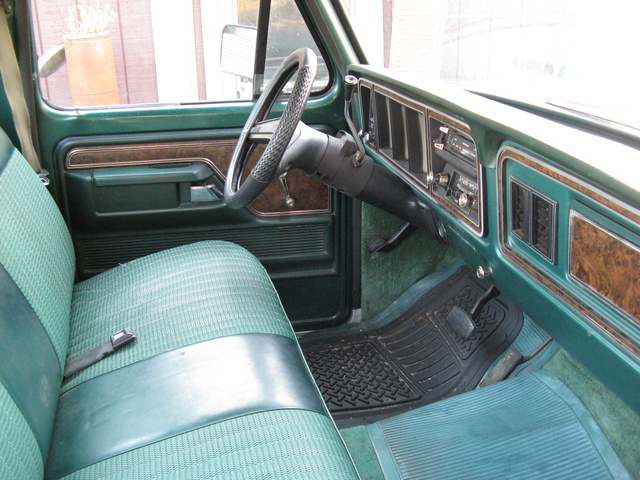 Our impression of the F-150 pickup truck's look and feel starts with the door handle. It's solid and purpose-built, suggesting it will withstand years of use. An equally durable interior is highlighted by body-color metal surfaces on the doors, dashboard, pillars, and roof. In Custom trim, Ford equips the truck with a floor mat, a vinyl bench seat, and a simple headliner. Move up to one of the pricier variants for premium vinyl or cloth upholstery, full carpeting, and a quilted material overhead. All versions include door panels with built-in armrests placed right where they should be, as well as a wide, thin steering wheel that can be upgraded with a five-position tilt feature.
All models come with a bench seat, though SuperCabs get a split seatback. Ford likes to point out the abundance of padding, and rightfully so. While not on par with Cadillac, the F-150 is plenty comfortable given its purpose. A driver and two passengers can park their backsides in the truck and, in many cases, have elbow room to spare. Unfortunately, if you'd like to adjust the seat or have the back of your head more than a few inches away from the rear window, you're out of luck. That last part isn't an issue with the F-150 SuperCab, which offers a pair of fold-down jump seats or another bench. The kids will love it back there, but your well-fed adult friends? Not so much.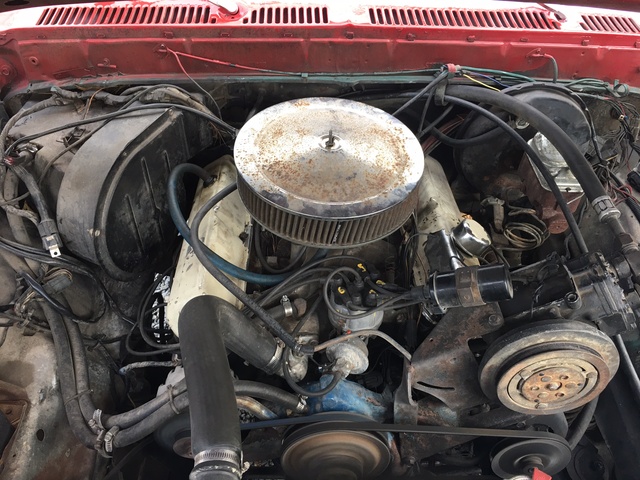 Prop up the 1979 F-150's wide hood and you'll uncover one of five engines. Starting things off is the venerable 4.9-liter inline-six that puts out 116 horsepower, followed by a 130-hp 5.0-liter V8, 160-hp 5.8-liter V8, 169-hp 6.6-liter V8, and 220-hp 7.5-liter V8. Transmission choices include a standard three-speed manual, four-speed manual, four-speed manual with overdrive, or Ford's SelectShift three-speed automatic. According to the automaker, the 1979 F-150 will carry a 2,320-pound payload and tow up to 6,000 pounds when properly equipped.
For this review, we're looking specifically at the 4.9-liter, or 300 cubic-inch, inline-six. Though low in horsepower, this engine shines with torque that makes this Ford pickup feel like an ox. Hook it up to whatever needs moving and it will forge ahead steadily and with seemingly little effort. Nothing feels quick or abrupt, especially when paired with a three-speed manual transmission featuring a sloppy shifter with long throws. But, with a light clutch pedal and predictably lazy throttle response, you end up with a vehicle that's easy to drive. That said, those looking for grunt and refinement may be better served by the automatic transmission, coupled with one of the available V8s.
All F-150s are fitted with Ford's stout double I-beam front suspension, but the optional power steering makes the truck feel ponderous and disconnected from the road. An optional handling package addresses that issue with a front stabilizer bar and heavy-duty shocks and springs.
Truck shoppers on the lookout for a versatile vehicle will find much to like with Ford's full-size pickup. In its most basic configuration, the 1979 F-150 provides a spacious cab with room for not only passengers but also items that you'd like to keep dry or safely secured. Actual storage provisions are limited to a push-button glovebox (dressed up with a woodgrain applique) and enough space behind the bench seat for a jack, tow straps, extra washer fluid, and more. Door pockets deep enough to hold a few folded maps are an available upgrade.
The F-150 SuperCab includes a split seatback that allows for quick access to the rear, though placing large, bulky items back there can be a challenge. The available rear bench can be folded to create a flat load floor, which may prove helpful in some situations.
When it comes to the F-150's bed, you have your choice of a standard eight-foot-long bed or, optional with the SuperCab, a so-called short bed that's just under seven feet. Both feature a single-latch tailgate. For those who have difficulty reaching into the Styleside bed, the Flareside offers a handy built-in side step, yet can still accommodate your standard sheet of plywood. Regardless of your height, you'll want the convenience that comes with the optional rear bumper and, if your budget allows, consider adding the locking storage compartment available with Styleside models. It's a great way to store commonly-used small tools.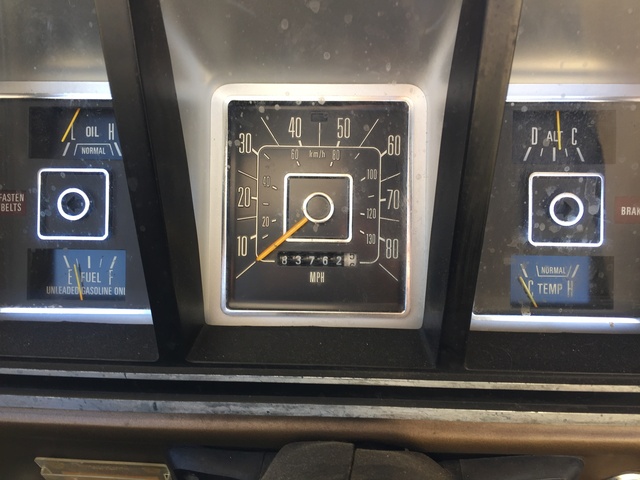 Pickups aren't known for coddling drivers with amenities, and the 1979 F-150 is no exception. However, today's buyers are using their trucks more often and in a growing variety of ways, meaning they want some of the creature comforts found in a family sedan.
To satisfy demand, Ford allows you to spec your new F-150 with a generous assortment of upgrades, either as individual options or equipment on higher trim levels. Among them is a cigarette lighter, interval windshield wipers, and a new-for-1979 CB radio. Depending on where you live, adding air conditioning or a rear-window defroster may be worth spending a bit more, or perhaps your money would be better spent on an AM or AM/FM radio.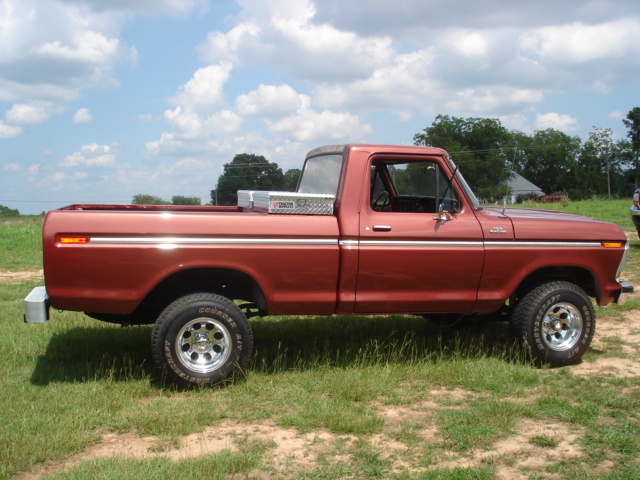 Crash-test scores have not been published for the 1979 F-150, but we can tell you that Ford's half-ton truck comes equipped with power front disc brakes and an energy-absorbing instrument panel. Other federally-mandated safety items include an energy-absorbing steering column and side-intrusion beams. Together, these features work to mitigate the injuries that may result from a collision.
While it might seem off-topic, visibility also contributes to keeping the F-150's occupants free from harm. Drivers are treated to a vast expanse of windows that provide a clear view of everything around them. Swing-out or fixed trailer mirrors can be added.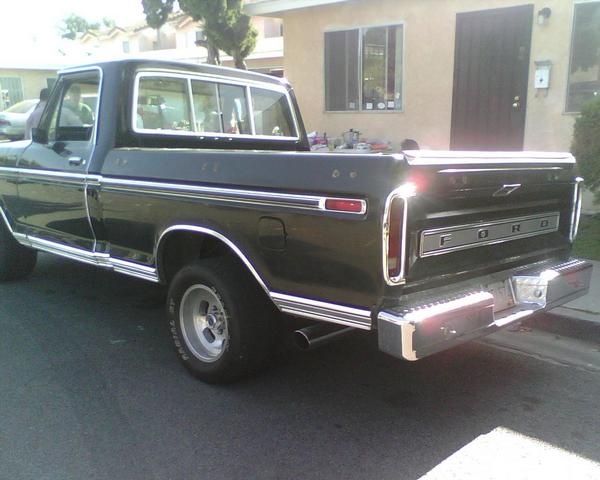 Prices for the 1979 F-150 Regular Cab start at about $5,500, or $6,300 for the SuperCab model. For comparison, base prices for the Chevrolet C10 and Dodge 150 Custom are about $5,100 and $5,400, respectively. Clearly, the F-150 may be the best-selling truck, but the Chevy is the most affordable.
Buyers who want their new F-150 equipped with 4WD will need to shell out an extra $1,500. Power steering adds another $200 to the bill, while air conditioning increases the base price by $600.
In our eyes, the F-150 Custom lacks the upper trims' shiny chrome grille but performs every task you'd ask of a full-size Ford truck. Unless you live in a consistently hot locale like Arizona or Florida, tilting the front vent windows is the only air conditioning needed the expensive 4WD option can be reserved for serious off-roaders. But, having driven trucks without it, freeing the wallet of $200 for power steering seems like a no-brainer.
Updated
Thom is a lifelong car nut, owning cars ranging from Datsuns to Mustang GTs and, currently, a Hemi-powered Ram 1500. He has spent the past 15 years writing objective, thorough vehicle reviews and consumer-focused feature articles for Autobytel.com, Kelley Blue Book, The Boston Globe, Cars.com, and other leading websites and publications.
What's your take on the 1979 Ford F-150?
Have you driven a 1979 Ford F-150?
Cars compared to 1979 Ford F-150
Looking for a Used F-150 in your area?
CarGurus has 95,761 nationwide F-150 listings starting at $2,100.