Superior Ford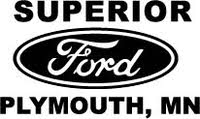 Internet Approved, Blue Oval Certified, Quality Checked
9700 56th Ave N
Minneapolis
,
MN
55442
Mapa e indicaciones
Ventas: (763) 710-2350 Servicio: (877) 735-4755
Hoy
8:30 A M - 9:00 P M
(Abierto ahora)
Mostrar horas de atención
Ocultar horas de atención
Buscar usados
Buscar nuevos
Por auto
Por carrocería
Por precio
Filtrar resultados
Otros concesionarios cercanos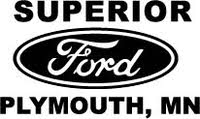 Hoy
8:30 A M - 9:00 P M
(Abierto ahora)
9700 56th Ave N
Minneapolis
,
MN
55442
Evaluaciones del concesionario
Todas las evaluaciones son de visitas verificadas al concesionario. –
Más información
The vehicle was supposed to be ready for us and it was not for our appointment. The vehicle needed to be jump started and when we started our test drive the warning light for no gas came on a minute into our drive.
6 dic. 2019
Respuesta del concesionario actual:
Thank You for the review, we will use this as a learning tool to become better.
Got back to me immediately with follow ups. I leased a 2019 F-150 from them. It was the best deal I have found. Very little b.s. The salesman was great as was the finance guy. I didn't plan on leasing a new vehicle, but I couldn't turn it down. The truck also was exactly what I was looking for.
25 oct. 2019
Respuesta del concesionario actual:
Thank you for your nice response!
I just got off the phone with Derek Jones about an older Subaru Outback. He sent me 3 pictures that only showed about 50% of the car . I was merely asking if the car had rust, because these type of cars are often plagued with it in the rear quarter panels. After some discussion about what was said in some emails (I thought I made and offer, but I didn't -no biggie), he got frustrated with me and hung up on me after saying "well, clearly you're looking for a new car, good bye!" Now I speak to a lot of dealerships because I often buy, fix and resell cars as a hobby. I can tell you, I have never been hung up on, nor have I had such and awkward conversation and felt like I was not worth their time because its "only an $1,800 car." Needless to say, I quickly sent him an email stating that this is not how you handle customers, no matter how much the car is selling for. I mentioned in the email that he can call me back if he wanted further feedback, which he did exactly 2 minutes afte
22 oct. 2019
Respuesta del concesionario actual:
Thank you for you wonderful review!
Very quick response, and helpful to boot!
Good response time. Answered all my questions.
Salesman was very polite ! One of the best experiences I have ever had. No pressure sales
Got back to me right away. Super nice!
Responsive, professional.
Quick response and good follow-up to determine if I was still interested.
Very good derek did a great job.
Didn't end up buying the car, but the dealership answered my questions. The reason I gave them 4 stars instead of 5 was because it took a few days to get answers to my questions and I talked to someone new each time, but overall a solid experience.
Sales staff ok, but Ford's decision to stop production and an already higher rate of depretioation nixed the option of the C-Max. Otherwise, nice vehicle.
Replied quickly and truthfully
very good, helpful, I bought the car
Mostrar evaluaciones anteriores del concesionario
23
The dealer, Mr Jones, not only helped me get the vehicle I wanted but worked to get me the best interest rate and a great deal on a warranty.
I don't like to give critical reviews, but on this occasion I felt it was needed. Originally contacted this dealer to see what they could do for pricing. Their vehicle had roughly 15-20k more miles than 3 others I was looking at from competing dealers. I asked them if they could be more competitive with pricing as theirs was also 2-4k more expensive than the lower mile vehicles. These vehicles were all the same year model and same trim. I was immediately contact and told "WOW APPLES TO ORANGES". I will admit there vehicle did have the technology package, which is nice, but even from the sticker price it is only about 1200 more. It was also using the cheaper i4 versus the v6 in the others. Then you have to look at mileage which meant this car was overpriced. I pointed this out and was quickly snapped at again. I was basically called a liar and told I did not know what I was talking about. This is NOT customer service. This was a dealer trying to bully a customer in to buying their car without asking important questions to get a fair deal. The way this dealer treats their customers is enough to never do business here. The other dealers I am working with have been bending over backwards to be more competitive and make the experience pleasant. Superior Ford could stand to learn a thing or two from them. So my question is this. If they treat a customer looking to drop 25k with their company like this... what kind of support do you suppose a person who already paid for the car would get? I am guessing next to none. Buyers Beware!!
23 oct. 2017
Respuesta del concesionario actual:
Good evening Thomas . I remember dealing with you on this Edge . I do have all the emails from you to me as well as the ones I sent you and I did review them all . You left out the fact that the car with less miles was front wheel drive and mine was all wheel drive . Also my Edge had a panoramic vista roof and the other one did not. Yes you are correct it had less miles but given the fact that my vehicle was certified and came with a 7 yr warranty vs the Edge in white bear that did not . Last the MSRP on mine was $38980 and our selling price certified was $21988 . White bear lincolns Edge MSRP
Más ...
Pleasant email exchange. Never went.
I contacted dealer twice thru CarGurus. The first time I did not receive a response. I waited 48 hours and contacted again thru CarGurus. I received an email back stating the car shouldn't have been online as it was sent to auction. My opinion about this dealership would not lend to a positive nor negative experience.
Received an email promptly answering my questions.
Car is a good deal but has too many scratches on the hood and passenger side exterior paint.
Great experience, hassle free, definnently will deal with again in the future.
Please avoid this dealership at all costs! We were warmly greeted by a salesman who offered to show us several vehicles we were interested in. He was extremely friendly and had no issues with us asking to look in 5 different vehicles. We narrowed our selection down to two that we wanted to test drive and he was happy to let us to take them without him. I asked that he evaluate our car for trade in while we were gone and he assured it would be done before we got back. Before we left he asked for a payoff amount for the vehicle we were looking to trade in, I gave him a ballpark answer and what kind of payment we wanted, I said below $600. After driving the vehicles we were ready to close the deal and drive it home that day but before I made the final decision I thoroughly inspected the vehicle and when doing so asked a lot of questions that I knew the answer to but wanted to test his knowledge on. Most of the things I asked about he did not know but answered incorrectly with confidence. This was my first red flag. We went in to the dealership where he said "good news, we can get you in at $598 a month ", second red flag, I did the math quick on my phone while we were test driving and knew where we should have been payment wise. He was quoting me a payment based on 9% interest! He didn't even ask personal information so couldn't know that we had 725+ credit scores and could qualify for less than 3% from our own bank. Then he comes in with the trade appraisal, "good news, your car is worth more than you owe!". How much more? Well just a few hundred over what we got from your bank as a payoff amount. Third and last red flag. Little did he know we were at a dealership 11 miles up the road just minutes before we stopped there and they offered us $3500 more for our trade and a dealership closer to our home was more than $4000 above this offer. I demanded they return my keys and walked out as they were asking me to stay. Not a chance, the two men I worked with there are lowlife scum! The scam, in short, is do what they need to do to make your payment as high as you can afford so they can collect the kickback on interest and offer just a little more than you owe on your trade no matter what the value. I wish I was able to remember the names of the scammers but at all costs, stay away, if you don't do your homework you will get scammed
23 oct. 2017
Respuesta del concesionario actual:
Good afternoon Dale . I actually recall you being here although you didn't work with me personally I feel sad that you had a bad experience. I read your review and it sounds like you are interpreting the deal different . First when we quote monthly payments we use an average apr . We did not have your credit information so we quoted what seemed to be a normal rate for ours banks. Had you wanted to proceed with the deal we would have shopped for the bank that gave you the best rate . As far as the trade in we evaluated the trade in using the same system most metro dealers use. I do actually kno
Más ...
Bad service..,took forever for a staff to assist us. They were rude. Didn't seem to want to see their vehicles.
Good at getting back to you.
Great low pressure experience.
very fast they got back to so fast I for got were I called
Contacted me about 3 days after my initial inquiry, it appears they responded to my inquiry because they had nothing else to do that day.
23 oct. 2017
Respuesta del concesionario actual:
At the time you sent this inquiry we were not signed up as a car guru dealer and we were getting the lead information from a 3rd party email source
Slow responses thru email.
We had a no pressure experience. They already had the lowest price around and we know they were priced right.
Quick to respond and received honest answers regarding the condition of the car I was inquiring about. Would highly consider using them in the future.
Prompt reply to my email. After doing weeks of research, found a car I wanted to look at and set up an appointment. Loved the car, loved Derek, and bought my 2010 Nissan Altima coupe. Couldn't be happier, and they best my banks loan rate!
Terrible sales person more concerned with telling me their losing money on vehicles.
23 oct. 2017
Respuesta del concesionario actual:
I do apologize that you had a bad experience with your vehicle purchase . I will say that we are a volume dealer which means that the majority of the vehicles we sell are going to be loss leaders or cars to keep our marketshare in a certain range so that we can compete with other dealers.
Nice digs but extreme high pressure sheisters like all the urban dealers. Did not follow through on details. Sorry i went there.
23 oct. 2017
Respuesta del concesionario actual:
Here at Superior Ford we pride ourselves on the "customers for life " approach. We never want you to be in a high pressure situation however its important that we explore all options on making the deal while you are here. The next time you are in need of a vehicle please contact me personally and I will make sure we tailor the process to your liking. Thank you
My name is Derek Jones and I am the internet sales manager here at Superior Ford