Port Orchard Ford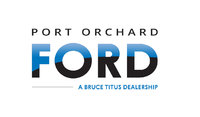 Hoy
9:00 A M - 7:00 P M
(Cerrado ahora)
Mostrar horas de atención
Ocultar horas de atención
Buscar usados
Buscar nuevos
Por auto
Por carrocería
Por precio
Filtrar resultados
Otros concesionarios cercanos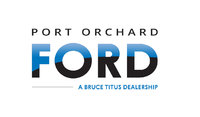 Hoy
9:00 A M - 7:00 P M
(Cerrado ahora)
1215 Bay Street
Port Orchard
,
WA
98366
Evaluaciones del concesionario
Todas las evaluaciones son de visitas verificadas al concesionario. –
Más información
Rey excellent response and good interactions with staff
Professional and to the point. Asked them to keep an eye out on exactly what I am looking for when it comes in and to call me....hopefully I get a call.
No complaints. They were far more helpful than some other dealers whose trucks I was looking at...not calling back etc. They even held the truck for me once they knew I was serious (took it off their website) until I could get over to see it. I was impressed. And the truck is awesome!
Bruce Titus Port Orchard Ford exceeded all of our expectations. Our sales and financial representatives were phenomenal! We drove 6+ hours to the dealership and it was well worth it! From the price of the vehicle to the genuine customer service, we can't say enough good things about this dealership. We are very happy with our purchase!
We were given enough time and privacy to make up our mind, no pressure was felt from the salesman to make a deal. We did purchase the van and everything went smoothly.
Fast to respond to my questions with good follow up.
You can not order a car with all the options and come up with the price they had on the car I was interested in. And a car they did not have, because they would not even show me a copy of the window sticker. When I found out what my trade in is worth at Kelly Blue book, and told them I knew of the Ford cash incentive. The only way I would be able to buy from this dealer is if I was to over pay by $10,000.00.
Very easy to work with, and accommodating to my needs.
Decent dealership, as they go...
I'm from Alaska. It took 5 weeks to complete the purchase of a vehicle from these guys. It was horrible, I never knew how far along the purchase was. Hours on the phone and emails they never answered. They forgot to undercoat the vehicleI before it was shipped. Then it was a month before I got my money back. I give them 1 star for answering the phone at the first call.
Didn't end up getting this vehicle. I got a RAM transferred from Tacoma. Overall the buying experience was great. The staff was courteous and I also got a decent offer on my trade.
They were prompt and efficient. A+
Absolutely the best car sales people I have ever dealt with.
they the sales person did not have knowledge of the vechile and it was in the shop and would not be ready for sale for several more days the took a stock photo wrong color and posted on cargures so a waist of my time as i was ready to buy
The internet sales staff were very fast to reply and provide information on the vehicles that I were of interest. If they would have had the exact used vehicle in their inventory, I would have bought from them.
Awsome to deal with very fast to respond to my questions thank you
Fantastic service, very helpful and friendly.
Mostrar evaluaciones anteriores del concesionario
51
There a dealership, but don't deal very well. Drove a long way, because of an email that sounded pretty enticing after giving all the information for my trade, payment looking for, and vehicle interested in. Got shut down real quick and was stuck driving all the way back home... #dontwasteyourtime
They were fine, but couldn't beat a price I found elsewhere. No complaints, would try them again.
We've emailed back and forth few times and they also followed with several phone calls. I was not interested in manual transmission so no deal.
Emily Spencer was very prompt in answering my questions and requests. Very friendly and not pushy.
Was a good experience, definitely felt well taken care of by the dealership and found my purchase to be well worth it after all was said and done.
Good but the car was not the engine I wanted. Engine to small.
I have never been treated so well They were there when I needed them and no pressure just always helpful Going out of there way to help me and give me the deal I wanted I would highly recommend them and have\ Just unbelievable what a difference from past experiences with high pressure sales
Em C was a great sales lady, they don't have a white with leather like I would like. But she was trying.
Amazing experience with everybody involved in my purchase of this vehicle!
Fast, friendly service. From 1st contact to deal completion, everyone was very helpful. I didn't expect to be buying a car on a Sunday afternoon, but they made the whole process fast and easy, and pretty painless. I would highly recommend them!
Great to work with. No pressure at all. Purchased the vehicle on 6/15/17.
Dealer was there to help right away and it all went smoothly.
Sales were fine. We looked at a few different vehicles. Then you start talking about the dreaded financing. I felt like I was offered a low number for my trade in. Instead of working with my I was explained why it isn't a low number. I was offered more at 3 different dealerships so I bought elsewhere.
Super prompt and courteous. Would be on my could buy from list.
The price in the ad for a Shelby GT350 was listed at $5,000 under MSRP. After being close to closing the deal, I was told their asking price is actually $15,000 over MSRP. Blamed it on one of their minimum wage employees.
Great response and follow up from Shelby.
shelby was very professional and persistent. Made an appointment, but the car sold first. she called to let me know and took my wish list. Would recommend
Talk to 3 different on the phone all following up. Good experience.
A ways to get to but as far as dealers go better than most. Process too slow, needs to improve transaction time.
Make sure you check to see if the vehicle you are interested in is there as they do not hold sales for people. They are very far out for the drive from the Seattle area and it can mean an all day trip. Plus the internet price considered the price they won't move from. Although in this age everyone uses the internet so to treat it like a secret deal is a bad move. I doubt I will buy from them regardless of the 1-200 savings in taxes.
Never going back. Worst experience I've ever had trying to buy a car. I will do them a favor by not giving names. However, be aware!! I was given an out the door price based off of a price from another store by their internet manager before I came in. In other words, a price match. After I came in they lied and told me they weren't the same trim package (which they 100% were, I've done my homework and even the stickers said they were the same), giving them the benefit to jack the price so high. And not just high, astronomically high. Let's just say it was a Ford Focus ST3 package that normally sells around the high 20's-low 30's if it's a fair deal. They wanted 41k with payments of high 700s to 800s depending on what deposit I must choose on an 84 month loan. And another proposed deal of 44k. I was immediately insulted. Does this sound like a good deal? Heck no!! That's the total cost of a Focus RS!! I asked the salesman if I could see the %apr I'd be paying and my trade in value. But he wouldn't and he said everything that's on the paper is what he can show me. He even tried to get me to sign for a shady hand written deal and would take no for an answer. It read: "if I pay $400 a month, I will buy this car". Nothing else, no total cost, apr, etc. Talk about shady. They also raise the MSRP by about 5-6k higher than everyone else to make it seem like you're getting a great deal on a car. What a joke. Bruce Titus Ford in Port Orchard needs to do themselves a favor and clean house with all the disgustingly dishonest people. I'm looking at you, management. How can these people go to sleep at night knowing they're ripping people off so bad who work hard for their money.
This dealer will not respond to communications except once. I've sent several Emails.
Responded promptly to the truck I was looking at. They had a moderate understanding of the F150. But things started to break down when I made an appointment to test drive it. It's a two & one half hour drive to get to the dealer which they knew. But I was passed on to a salesperson that knew nothing about trucks ecsept what he could see on his computer screen. When I asked a simple question. (what is the price of a new truck compared to the used one that I was looking to buy?) I started to get the runaround. I showed him the car gurus app on my phone and he said it didn't show all the cost that the dealer has to charge. When I wanted a moment to think about it. I noticed that they were quite busy. Thinking if they were really interested in selling the truck that they could call me so I left. No response for two weeks. In the meantime they dropped the price of the truck I was interested in. When they did respond they told me the advantage of buying from them was lifetime free car washes & certified mechanic's of which I wouldn't be using. When I told them I thought the truck was just a way of getting free advertising and to get guy's like me in to their showroom they said they just sold it.
Sales side is great. Highly recommend purchasing there, but get your own financing in advance to save you the trouble.
Gary responded very quickly with all the information about the vehicle that I was inquiring about!
wrong info given same ole u better do your home work
Dealer responded---purchased vehicle--Recommend dealership
Thank you Debbie. She went beyond res[ponding tyo a call and dug deeper to try and help me. Very courteous.
They responded quickly to my inquiry, but got flaky on trade in quotes. I asked about another truck at another one of their dealerships, and they made it available on their lot the next day. This truck was a good deal, my trade in a fair deal, so even though it wasn't what I wanted, it was good enough to get it done so I bought the truck. Then I spent a considerable amount of time waiting to do the paperwork. Once we got going I was assured it would be as painless as possible. That didn't turn out to be the case: he continuously tried to sell me an extended warranty no matter how many times I declined, explained why, and told him I didn't want to revisit the subject. It got so bad that another person came in and the two of them tried to convince me to buy the warranty. I kept my cool, did not take the warranty, and they finally gave up and got back to the paperwork. These guys don't know when to quit: I bought the truck, but left with a fat headache, and doubt if I'll return. I will say that Nathan, my salesman was good to work with, no problem, I'll recommend him. The financial, closing end, was aggravating and tiresome. If it weren't for the good deal on the price of the truck I probably would have walked out. I'll rate the experience as "fair," and that's it.
Very fair and easy to do business with. No pressure!
Good people very courteous
We didn't buy the advertised car, we bought a 2016 Fusion SE Hybrid. We bought on a membership plan & did not negotiate price.Twhey were competent & professional throughout. We resisted strong pressure to buy an extended service warranty, but that' not out of the ordinary.
Runaround on pricing compared with the listed price.
Verry Good Deal, I think Onest Sales Reps , I personaly hate Dealers due to previous experiences, This time was a DEAL , Not perfect but realy realy good, not too much presure,