Auto Wholesale Company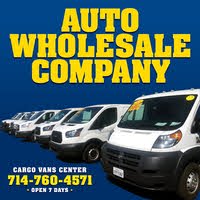 Hoy
9:00 A M - 6:00 P M
(Abierto ahora)
Mostrar horas de atención
Ocultar horas de atención
Buscar usados
Buscar nuevos
Por auto
Por carrocería
Por precio
Filtrar resultados
Otros concesionarios cercanos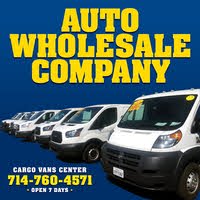 Hoy
9:00 A M - 6:00 P M
(Abierto ahora)
1013 North Harbor Boulevard
Santa Ana
,
CA
92703
Evaluaciones del concesionario
Todas las evaluaciones son de visitas verificadas al concesionario. –
Más información
Buying a car is never a fun process. The owner here Max was very nice. I think I'm a pretty good judge of character and this is a good honest man who I believe is a really good member of society Thanks Max. The van runs great.
Mostrar evaluaciones anteriores del concesionario
22
They call me back next day - I will stopping by in the week end - Thank u
They provided me with good information in the car I'm interested. Great feedback! .
Nothing spectacular, the original person on the phone took additional photos of the jeep before i drove there to see it, which helped. the woman that helped me never asked my name or gave hers but otherwise was friendly. it was during lunch time so the main person was not there to assist and she was helping me, someone on the phone and helping a part delivery guy at the same time...so that could be good or bad. i took the wrangler for a test ride but chose not to buy it after thinking about it the rest of the day, it does have a lot of cosmetic issues and it may not bother you but it did me. small vehicle selection, small lot as this dealer appears to do a majority of fleet vehicles i.e. vans, trucks, etc. i would recommend this place for fleet vehicles or if they had a specific vehicle you were in search of. no pressure at all and answered the few questions i had. Bonus points for being across from wienerschnitzel which i did stop at and ate lunch. :)
Very good experience and not pressure at all to buy the vehicle,,,honest people
Max & Lorena were great! They were extremely helpful with the purchase of my 2009 Chevy express cargo van, they made it easy & painless. Max went out of his way to accommodate my needs. I would recommend this dealer to my friends & family.
Max and his staff were very helpful, patient and considerate. I ended up buying an XLT model from them.
27 nov. 2016
Respuesta del concesionario actual:
Thank you for your feed back it was a pleasure doing business with you.
Friendly,helpful,professional and honest family business.
Responded right away. Nice folks. Gave us a good price. Car was as advertised. Paid cash so quick & easy. Very happy with the vehicle we bought.
They replied to my request for info almost immediately with courteous service.
Had a great experience with Auto Wholesale Company. Just purchased the car from them on Saturday and I love it. They were friendly, fair, and had great customer service. The car is as described.
10 jul. 2016
Respuesta del concesionario actual:
Mary, thank you for taking the time to write a great review about us! We hope you remember us for any future car purchases. Thanks again!!!
Good to work with, although I did not buy anything from this dealer
14 feb. 2016
Respuesta del concesionario actual:
Thank you Joe! We appreciate your time and effort for this review! We're glad you had a positive experience with Auto Wholesale Company and we hope you consider us for any future vehicle purchases and referrals! Again, thank you Joe!
I bought a 2012 Nissan Sentra, great price, great value. Max helped me through the entire process. Never felt pressured. Thank you Auto Wholesale Company.
No little negotiation on cash payment though they got decent cars
Awesome Auto wholsale. Toni is the top. Professional and easy to deal with. They helped me with my old car and sold me with a great deal on a newer car. It was a very comfortable experience.They took great care of me. Thank you!
**** got back to me quickly.
Very prompt response. Sold the vehicle I wanted but wasn't pushy in trying to get me in something else. Wanted to truly help me find a car I would love
Great Help thank you! Jose was awesome took me for test drive.